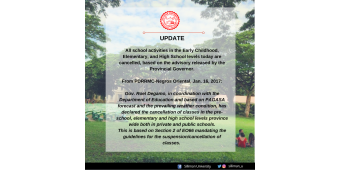 Advisory on Cancellation of School Activities
All school activities in the Early Childhood, Elementary, and High School levels today are cancelled, based on the advisory released by the Provincial Governor.
From PDRRMC-Negros Oriental, Jan. 16, 2017:
Gov. Roel Degamo, in coordination with the Department of Education and based on PAGASA forecast and the prevailing weather condition, has declared the cancellation of classes in the pre-school, elementary and high school levels province wide both in private and public schools.
This is based on Section 2 of EO66 mandating the guidelines for the suspension/cancellation of classes.