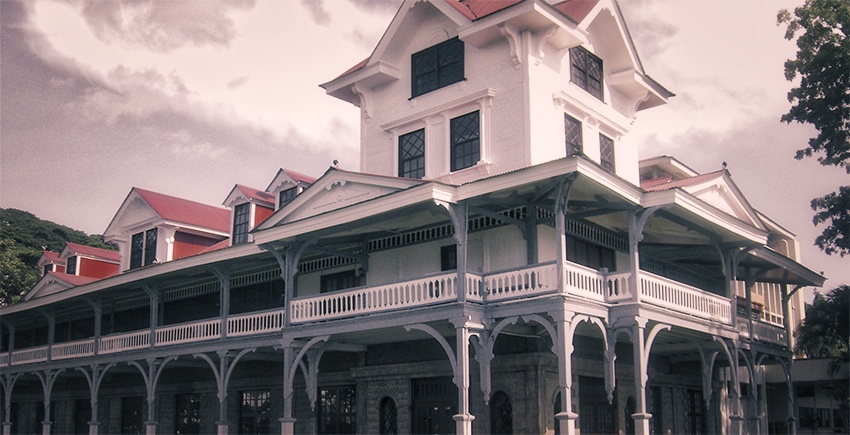 Be Strong, Take Courage
---
(Delivered during the celebration of University Christian Life Emphasis Week on February 4, 2012, Udarbe Memory Chapel)
Text: "Joshua 1: 8-9;" "Luke 4: 18-19;" "Isaiah 42:6"
Meditating on the theme based on the Scripture text taken from Joshua 1: 8-9, "Be Strong and Take Courage," takes me back in time as I address the students and faculty of four equally dynamic academic units which, at one time or another, I have either had some association with, I am currently involved in, or I would hope to have some connection in the future.
I mention this in the light of your own experiences as students in these academic units. Strength and courage are essentially sterling virtues that you have to possess to survive in your present undertakings. Unlike our student lawyers, however, although I may have the physical strength to tackle law school immediately after I earned my doctorate a few years ago, I buckled at the immensity of one's preparations to become a good lawyer and, thus, my defenses were weakened and I lost sufficient courage to pursue the insurmountable task of reading volumes and volumes of law books and pages after pages of case analysis.
Our medical students are likewise on the same frame of mind. Trying to beat the odds of passing or failing in your daily long exams in all subjects is a gargantuan task that would require both physical strength and unwavering courage. Similarly, we admire the strength of character and the unstinting courage to adamantly survive despite the various challenges one meets in pursuing graduate studies and in espousing good governance even if it may be difficult for others to do. Thus, the Graduate Studies Program and the School of Public Affairs and Governance have managed to surmount the obstacles and remained steadfast in their pursuit for excellence. If that is not attributed to strength and courage, perhaps, you have a more specific description because I would not know how else or where else this can be credited to.
Such is the enigma of the virtues of strength and courage as epitomized by Joshua who had to play second fiddle to Moses, the great leader who came before him. But, even as the Scriptures admonish us to "be strong and courageous, not to be terrified, and not to be discouraged," human frailties and the uncertainties that life brings take its toll on us and, oftentimes, we lose our grip and we let go. We have not fully appreciated the meaning of the verse that said in the most definite of terms: ". . . do not be discouraged for the Lord our God will be with us wherever we go." Unfathomable, but true, if we have unwavering faith in God.
Last night, while I was preparing for my reflection this morning, I got an urgent text message from a very dear high school classmate whose older sister was asking for prayers as she would undergo breast surgery today, perhaps, right at this very moment while I speak, at the Perpetual Succour Hospital in Cebu City. According to her sister, who is also a very dear friend of mine, she was told by the doctors that there is a 40 percent possibility that the biopsy would be malignant. The sister, the one who would undergo an operation, said that she is very, very scared, but she draws her strength on the larger percentage of the biopsy to be benign. Her courage is admirable in the midst of such an extremely difficult and trying situation.
Some people are strong physically, but are weak emotionally. There are people we know who may both be strong physically and emotionally, but may lack spiritual strength because of their quest for profound answers to some of their more profound questions. Strength and courage should be synonymous like in Joshua's example who was a reluctant leader, but became an excellent one in the end as he took on the challenge to lead the Israelites to the Promised Land.
It must have been far-fetched in Joshua's mind that he would be capable of leading a throng of people just as Moses did. But, it is precisely during these trying moments in our life do we realize what we are capable of doing after all. Not only do we gather the strength to be able to move mountains, so to speak, but we also muster the courage to finish what we had started up to the very end. At times, after having successfully hurdled an extraordinarily difficult task, we marvel at our own selves, thinking how in the world were we able to do all those things, given our weaknesses and frailties. Only much later, after the trials and difficulties or the so-called "storms" in our life have subsided do we look back and say, it is our ultimate trust in the Lord that has enabled us to live through life's vicissitudes.
Our lack of faith also makes us worry about mundane things. I have to admit that I am a worrisome person – I worry a lot. I may not outwardly show it because even if I worry about little things, I choose to keep them to myself and not verbalize it to other people. Lately, after a lot of soul-searching and praying and talking to God, I have slowly learned to lift everything up to Him and let His wondrous ways work for me.
For example, I worry a lot about my 82-year-old widowed mother who is living alone in our house in Cagayan de Oro City – and Rev. Saa knows where we live because it is right beside Pilgrim Christian College where he had served as a member of its Board of Trustees. The recent devastation wrought by Typhoon Sendong made me even more worried about my mother's safety, all the more because my family was unable to visit her last December. When I spoke to her on the phone a few days after the typhoon struck, I asked her how she was and how she managed to stay safe at the height of the typhoon. Fortunately, the area where we live was spared from the heavy flooding in Cagayan de Oro, but it was my mother's very calm and serene answer to my frantic question that also gave me peace of mind. She said although she knew the city was getting a strong lashing, she was able to sleep through the night not hearing any falling branches or trees or rooftops being blown away because she gave her full trust in the Lord our God that He will be beside her to protect her from any harm. It is my mother's strength of character and courageous spirit that have allowed her to lend a hand to our relatives and neighbours. She herself was amazed at her own strength as she cleared our backyard of debris and fallen branches in the aftermath of the typhoon.
Our very own chairperson of the University Board of Trustees, Prof. Leonor Magtolis Briones, who was the speaker for the faculty and staff Christian convocation last Monday, is also an example of a strong and courageous woman. She has been hurt many times over, but always in the end, by God's grace, she is able to pull through her trials. She was herself a victim of Typhoon Sendong as the family's paradise of a home in Valencia, Negros Oriental was wrecked as it was ravaged in Sendong's path.
It was not, however, the first time that Prof. Briones and her husband lost everything that they had worked for. But, as Prof. Briones says, losing everything is a blessing. To quote Ma'am Liling, as we fondly call her, "Just being alive is a blessing. While life is full of threats, twists, and turns, it is also full of blessings, sometimes under the guise of disaster and seemingly insurmountable crises." Taking action on issues on social justice while being a graduate student in the University of the Philippines in 1960 challenged Prof. Briones to put her Christian faith to action. She said she witnessed poverty of such magnitude and rampant injustice that it was impossible not to speak out. According to her, making herself an instrument to battle the ills of society is in fulfilment of Jesus' words when He spoke at the synagogue and quoted Isaiah: "The spirit of the Lord is on me, because He has anointed me to preach good news to the poor. He has sent me to proclaim freedom for the prisoners, and recovery of sight for the blind; to release the oppressed; to proclaim the year of the Lord's favour" (Luke 4: 18-19).
During martial law, Prof. Briones and her husband, Caloy, who also shares her ideology experienced fleeing the authorities with nothing except the clothes on their backs, a few hundred pesos, a typewriter, a book on first aid, and a Bible. Because it was dangerous at that time, she and her husband left everything behind – her collection of books, furniture and fixtures, and kitchen equipment. She said she was weeping when her husband burned all documents that would serve to identify them – her passport, IDs, pictures; in a way, she said they left their whole lives behind.
While they were trying to hide their identities, all imaginable difficulties followed. Her husband built a small hut at the end of a row of huts, near the toilets. The clotheslines, according to Ma'am Liling, were black with huge flies. To top it all, she discovered she was pregnant. It was a complicated pregnancy for her because of a full-blown case of psoriasis brought about by all the stress she was going through. She described her entire body as being covered with ugly skin lesions.
Finally, as she relates, she and her husband were granted amnesty after almost four years of hiding. By that time, she said she had already forgotten what it was like to wear shoes, and when she heard classical music for the first time, she could not help but weep. Prof. Briones possesses a melodious voice and is, in fact, part of a church choir in Manila.
She shared that the greatest lesson she learned out of those four years living each day with the threat that you would no longer see the light the following day was that she rediscovered her family who stood by her. She admitted that her marriage bonds became even stronger as a result of a life of extreme deprivation. She said she learned that it is not only the rich or the powerful who can give help. She shared that she and her husband survived because they were helped by people who loved and accepted them, regardless of their stature in life. Most important of all, Prof. Briones emphasized that she regained her faith she thought she had lost. To quote what she said, "What I thought was the biggest catastrophe of my life turned out to be the biggest blessing."
Our Lord God, indeed, accepts us for who we are, regardless of our social status, our mental abilities, our strengths, our weaknesses, and our faults. Because each and everyone of us has been created in His likeness, we ought to live by His ways, too and, like Joshua, be strong and courageous because that was what He commanded. As Isaiah 42:6 displayed, "I am the Lord, I have called you in righteousness. I will also hold you by the hand and watch over you."
In the midst of trials, difficulties, and challenges as a student, as a teacher, as a child of this earth, as stewards of God's creation,  as members of the Christian community of faith, let us take solace and comfort in God's assurance that He will never fail us, even if we often fail Him.
It is my sincere hope that we imbibe the teachings that we have learned to appreciate not only in this UCLEW celebration, not only for mere lip service, but to live by it, through it, and with it all the days of our life. Lord God, our Savior and Redeemer, we are mere instruments of your grace. Help us to be worthy of your love through our work, actions, and speech which we all lift for your greater glory.
---
ABOUT THE AUTHOR :
Ma. Cecilia Madroñal Genove
BS Journalism (1977); MA Education (2000); Doctor of Education (2004);
Dean, College of Mass Communication, Silliman University