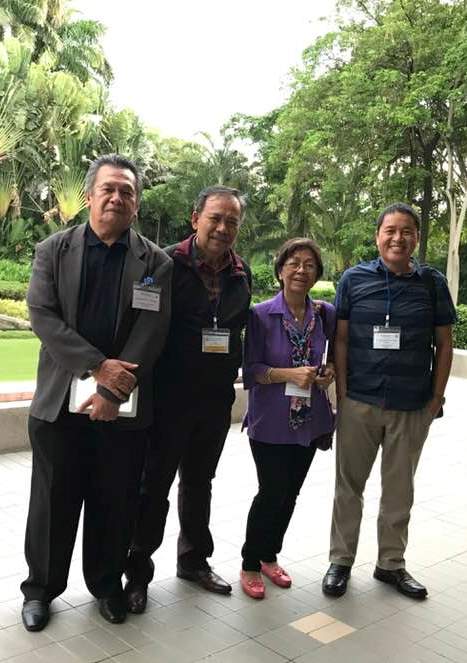 Dr. Cleope Trains in Advanced Leadership of Higher Ed for Southeast Asia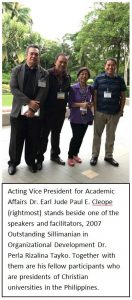 Acting Vice President for Academic Affairs Dr. Earl Jude Paul E. Cleope was one of few university Asian leaders who qualified and participated in the Advanced Leadership Seminar for Southeast Asia: Leading the Whole Person Way, organized May 2 to 5 by the United Board for Christian Higher Education in Asia at the Assumption University in Bangkok, Thailand.
The seminar sought to respond to the changing higher education landscape during what the United Board described as "volatile, uncertain, complex (and) ambiguous times". It reinforced the need for shifts from "knowing what to think and do" to "how to think what to think and do"; from a position of 'fixed mindset" to that of "growth mindset"; and from a focus on "content or subject matter discipline" to "human systems process learning."
Speakers were a rich mix of professionals, from the academe, consultancy and development work, and the financial sector. One of them was 2007 Outstanding Sillimanian in Organizational Development Dr. Perla Rizalina Tayko. Carefully designed to further capacitate the participants in the management of higher education, the different sessions covered optimizing leadership potential, internationalization, human resource development, financial management, resource mobilization, good governance and ethics, and strategic and systemic thinking.
Dr. Cleope, who is a professor in history, is one of the key persons in Silliman who conceptualized and operationalized the "whole person education" approach to teaching-learning. A professor in history, he concurrently heads the College of Arts and Sciences as Dean, and had been Dean of the College of Education and Director of Instruction.