Start
May 28, 2018 - 8:00 am
End
May 30, 2018 - 5:00 pm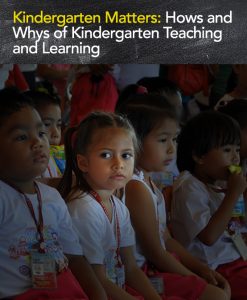 Target Participants: Kindergarten teachers and administrators
Venue: Silliman Hall, Silliman University, Dumaguete City
Date: May 28-30, 2018
Registration: P2,500 to cover 3 lunches (Days 1,2,3), 6 snacks (AM & PM, Days 1, 2, & 3);
workshop kit, certificates, and a campus tour
Deadline of reservation: May 18, Friday. Please fill out the attached Registration form and email to
Bebet Ozoa at [email protected], and cf Bernie Aranas at
[email protected] Please confirm your reservation by calling or
texting Bebet at 09152439734 on or before Monday, May 21. Upon
receipt of your registration form, we will email you a set of readings for your
perusal in preparation for the training.
Accommodation: Please refer to attached hotel brochures and make your own
arrangements.
Speakers: Prof. Yayi Espenilla-Fua, MAEd, LPT
Lecturer, College of Education, University of the Philippines-Diliman
PhD Student, Reading Education, University of the Philippines
Former Consultant/Trainer and Early Childhood Development Specialist, Basa
Pilipinas
Prof. Gina A. Fontejon Bonior
College of Education, Silliman University, Dumaguete City
PhD Candidate, Reading Education, University of the Philippines-Diliman
Former Consultant/trainer, Effective Literacy Instruction, Basa Pilipinas
Rationale
For a time, Kindergarten education has been relegated to the margins of Philippine basic education.
Kindergarten learners were seen as merely would-be elementary school learners and were usually treated and taught using the structure of formal instruction of which Kindergarten teachers were educated and trained. Research on child development and learning has shown that preschool children develop differently from their elementary-aged counterparts. Thus, Kindergarten learning and teaching requires a different perspective and, therefore, a different approach.
In 2012, Kindergarten became a compulsory part of Philippine basic education with the passage of the
Kindergarten Education Act and was included in the package of educational reforms institutionalized via the
Enhanced Basic Education Act of 2013 or the K-12 Law. Consequently, the Department of Education (DepEd)
issued a comprehensive guide to Kindergarten implementation in 2016 through the Omnibus Policy on
Kindergarten Education (DepEd Order 47, s2016). This opens up the opportunity for the Filipino Kindergarten
learner and teacher to be put front and center.
Description
This seminar-workshop aims to develop a deeper understanding of Kindergarten education anchored on universal principles of child development and learning. It also aims to familiarize participants with the national Kindergarten curriculum framework of the Department of Education.
Outline
I. The National Kindergarten Curriculum: Framework and Guidelines (Day 1)
II. Principles Child Development and Learning (Day 2)
A. Physical Learning
B. Socio-Emotional Learning
C. Child Creativity Uncovered
D. Getting Academic
1. Literacy Learning
2. Kindergarten Mathematics
3. Science Processes
III. Putting It All Together: A Developmentally Appropriate Kindergarten Curriculum (Day 3)
A. Integration
B. Transitions
IV. Assessment in Early Childhood
MORE DETAIL