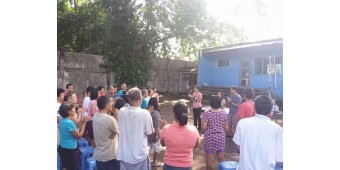 Extension Program Holds Christmas Fellowship at Talay Mental Rehab
The Silliman University Extension Program (SUEP) in coordination with the Silliman University Alumni Association Sydney-Australia Chapter held a Christmas fellowship with the patients and staff of Talay Mental Rehabilitation Center on December 20, 2016.
The fellowship is one of the activities of the Talay Advance Program through SU's Extension Program involving the different academic units, alumni, and friends. It enjoined patients and staff for a devotion and carol singing. After which, gifts were distributed to the patients. The Talay Advancement Program is a multidisciplinary and holistic program dedicated to addressing identified needs of the Talay Mental Rehabilitation Center.
The Extension Program warmly welcomes support for the Talay Advancement Program. For more information, please email Prof. Emervencia L. Ligutom, Director for Extension at [email protected]