First Woman Silliman President Assumes Post June 1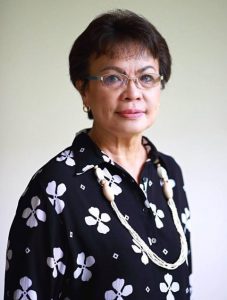 Silliman University installs its first woman President in a formal turnover ceremony on June 1 at the Silliman University Church.
Dr. Betty Cernol-McCann, a registered psychologist and certified specialist in social psychology, brings to the University a strong background in Asian higher education and an extensive network of academic institutions across Asia.
Born in Molave, Zamboanga del Sur, Dr. McCann was Vice President for Programs of the United Board for Christian Higher Education in Asia, a New York-based not-for-profit organization with an office in Hong Kong, for six years, until her optional retirement in 2013. Her stint with the United Board began in 2002 as Associate Director of its Asian Christian Higher Education Institute. She later became Program Director of the United Board for South Asia. Her last engagement as Vice President oversaw programs and grant administration in 13 Asian countries where the United Board works with over a hundred colleges and universities.
It was on December 14, 2016 when the Board of Trustees of Silliman University unanimously elected Dr. McCann as the University's thirteenth President, following a comprehensive search process. She succeeds Dr. Ben S. Malayang III, a renowned environmentalist and environmental policy expert who was President for a total of 12 years.
Prior to her engagement at the UBCHEA, Dr. McCann served Silliman for 21 years in different capacities in the areas of teaching and training, research, community engagement, and administrative work. She rose through the ranks from Assistant Professor to Full Professor in 1994. Dr. McCann became Department Chair, Dean of the College of Arts and Sciences then Vice President for Academic Affairs for two terms, 1990 to 1992 and 1999 to 2002. From 1992 to 1994, she headed Silliman as Acting President.
Before her long service to Silliman, she taught Psychology and Political Science at the Divine World College in Legazpi City in 1970. In 1972, she served as Chair of the Psychology Department and later, as founding Director of the Social Science Research Center at the University of St. La Salle in Bacolod City.
Dr. McCann holds a doctorate degree in Psychology, with a field of concentration in Social Psychology, from the Ateneo de Manila University and a Master of Arts in Education, with a major in Guidance Counseling, from the La Consolacion College. She completed her undergraduate, a double major in Psychology and Political Science, magna cum laude, from the Divine Word University of Tacloban.
She has three children, Alexander, Jeremy and Jose Ma., and is married to Dr. Dennis Patrick McCann, a retired professor in religious studies and business ethics and currently Director of Research for Rothlin, Ltd., a management consultancy firm promoting corporate social responsibility, with offices in Beijing and Hong Kong.
The investiture of Dr. McCann is scheduled on August 25 this year, timed with the 117th founding anniversary of Silliman University.
(Know more about Dr. McCann: The 13th Silliman President)