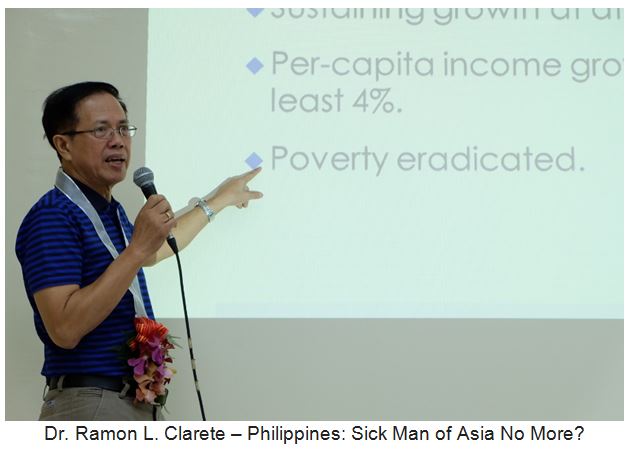 Generation of Quality Jobs is Key to Philippine Growth – UP Economics Professor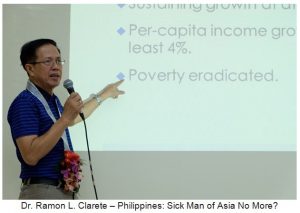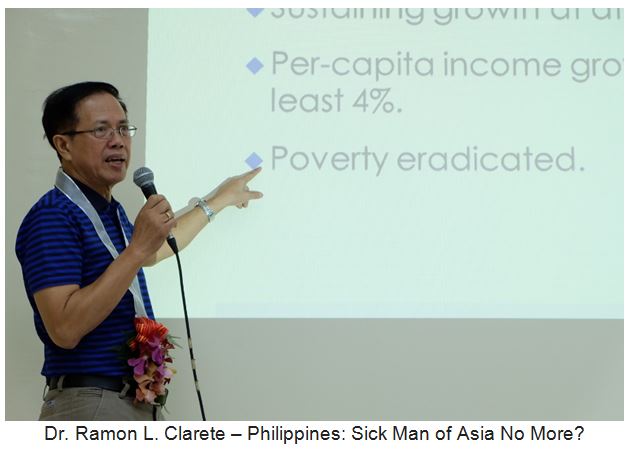 University of the Philippines economics professor Dr. Ramon L. Clarete highlighted the importance of creating more quality jobs in spurring the country's growth and development, at a lecture held October 2 at the Guy Hall.
Titled "Philippines: Sick Man of Asia No More?" Dr. Clarete discussed the country's economy, its highs and lows throughout the years, and conditions under different administrations.
He highlighted that in order to continue putting the Philippines on the right track, the country needs an economy that is responsive, adaptive, resilient, inclusive and driven by productivity growth. And in order to achieve economic progress, fundamental is the creation of more and better quality jobs for the growing number of Filipinos.
Productivity growth and resilience in the country, he said, can only happen with competitive enterprises generating high quality jobs and workforce. Along with this, Dr. Clarete added that it is also critical to have a government that is citizen-centered, responsive and accountable, and an effective and efficient way of managing the environment and the country's natural resources.
Dr. Clarete's research interests include agricultural and food policy, international economics and trade policy, development economics, and public sector economics. His talk was part of the University's General Integrative Lecture Series.