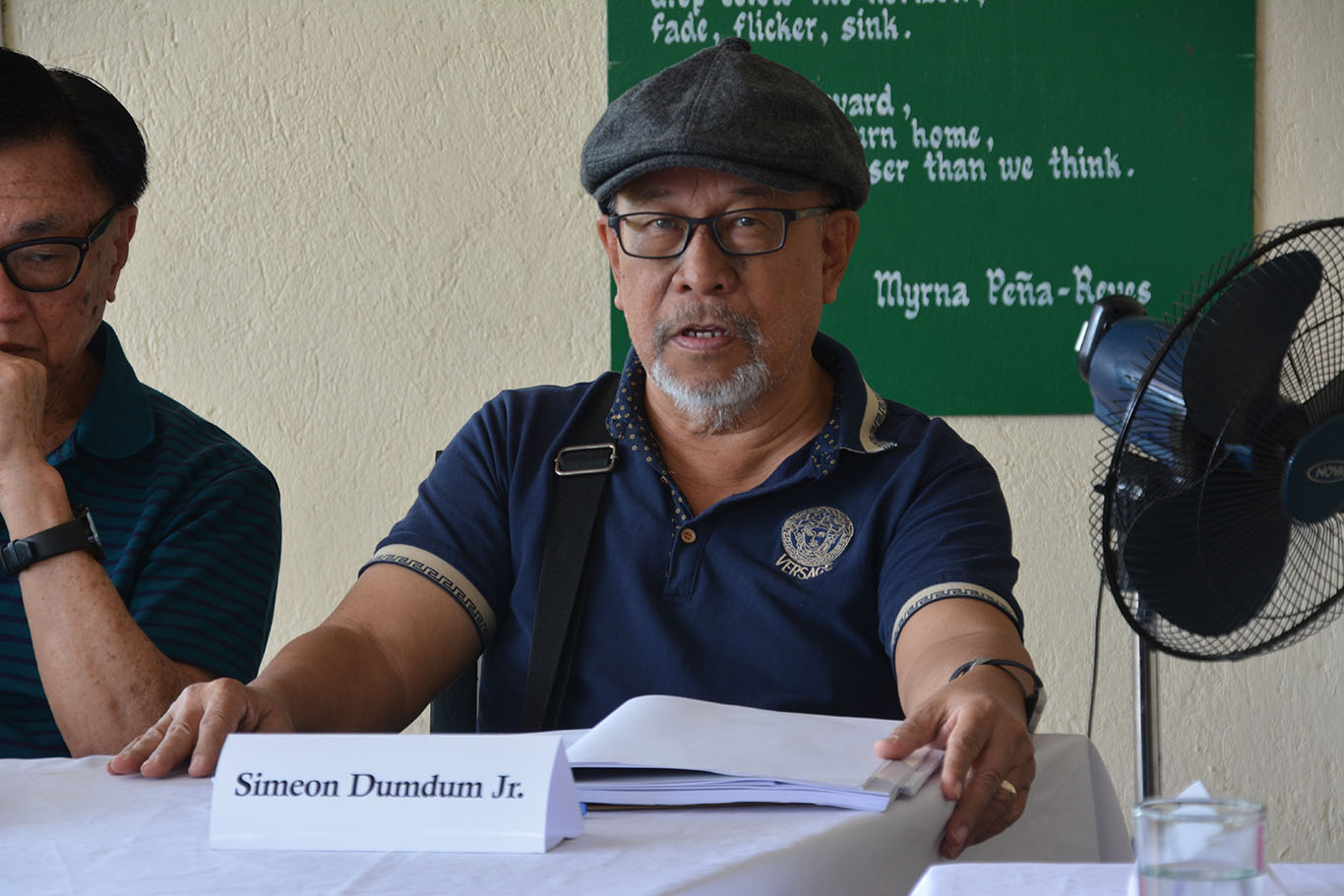 National Artist discusses Visayan poetry with SU National Writers fellows
Resil B. Mojares, National Artist for Literature, discussed the balak (Visayan poetry) with award-winning writer Simeon Dumdum, Jr. during a roundtable discussion on the second day of the 58th Silliman University (SU) National Writers Workshop April 30 at the Rose Lamb Sobrepeña Writers Village, Camp Lookout, Valencia, Negros Oriental.
The writers were joined by Anthony L. Tan, Workshop director-in-residence; César Ruiz Aquino, resident panelist; Alfred A. Yuson, regular panelist; Rica Bolipata-Santos, guest panelist; and the 12 Workshop fellows, all of whom attended the opening program April 29.
Dumdum and Mojares recalled how they used to read Visayan poems published in magazines like Liwayway, citing humor, vulgarity, and suggestiveness as distinguishable features. However, both Cebuano writers said, they use English in their work.
"I was not conscious that there was such a choice until much later," said Mojares, on why he writes in English.
Mojares also said that as a language, Cebuano (Visayan) is not as well-taught in schools compared with English, but many young writers now who are writing in Cebuano are also studying the language.
After the discussion, the workshop panelists and fellows held a workshop session discussing one of the balak entries by Jefferson Del Rosario, a workshop fellow from Danao City, titled "Bangka-bangka."
The SU National Writers Workshop started accepting submissions for the balak category for the first time last year. This recent addition of the balak, said Asst. Prof. Lady Flor Partosa, workshop coordinator, enriches the workshop's discussions.
"We take a look at how literary expressions are rendered in different languages: in English, and in a Philippine language. With Binisaya (Visayan) and the corresponding translation by the author, you could really see how different experiences like specific communities, specific sensations are rendered into that language so it enriches the discussion," said Partosa.
Moreover, Partosa said, having balak in the workshop is a "recognition of our locatedness" and desire to develop literary expressions using Philippine languages. 
The 58th SU National Writers Workshop, the oldest creative writing program in Asia, opened last April 29 with 12 fellows and concluded May 10.
During the opening program, a moment of silence was offered for the founders of the SU National Writers Workshop, Edilberto and Edith Tiempo, as well as for Leoncio P. Deriada, who was the former chairperson of the SU Department of English and Literature and the Father of Contemporary Literature in Western Visayas. Deriada passed away last month.
"You could see that in people like Leoncio Deriada, for example, they used what they've learned, probably with their interaction with Edilberto and Edith Tiempo and with the workshop; (they) used (what they learned) to start their own workshops, start their own development, in fostering the growth of literary expressions in their local language," said Partosa.
####
(PHOTO CAPTION)
"BALAK MOJARES.jpg"
"BALAK DUMDUM.jpg"
Simeon Dumdum Jr.
"BALAK THREE.jpg."
Mojares and Dumdum with Anthony L. Tan, the 58th SU National Writers Workshop's director-in-residence
"BALAK GROUP.jpg"
The 58th SU National Writers Workshop panelists and fellows discuss the balak, April 30 at the Rose Lamb Sobrepeña Writers Village.