Psychology Junior is New Student Government President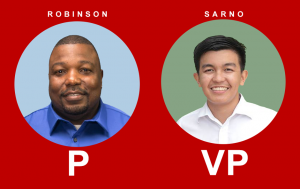 A Psychology junior and an Accountancy junior won as president and vice president in the recently concluded Silliman University Student Government elections.
Daryl Robinson, who is one of the University's international students form the United States, was declared SG president for the upcoming school year, 2018-2019. He ran under the banner of the Students' Union for Reforms party.
Garnering more votes, Vnzichro V. Sarno emerged as the new SG vice president. He belongs to the Concerted Action for the Upliftment of Student Endeavors party. (Photo credit: The Weekly Sillimanian)