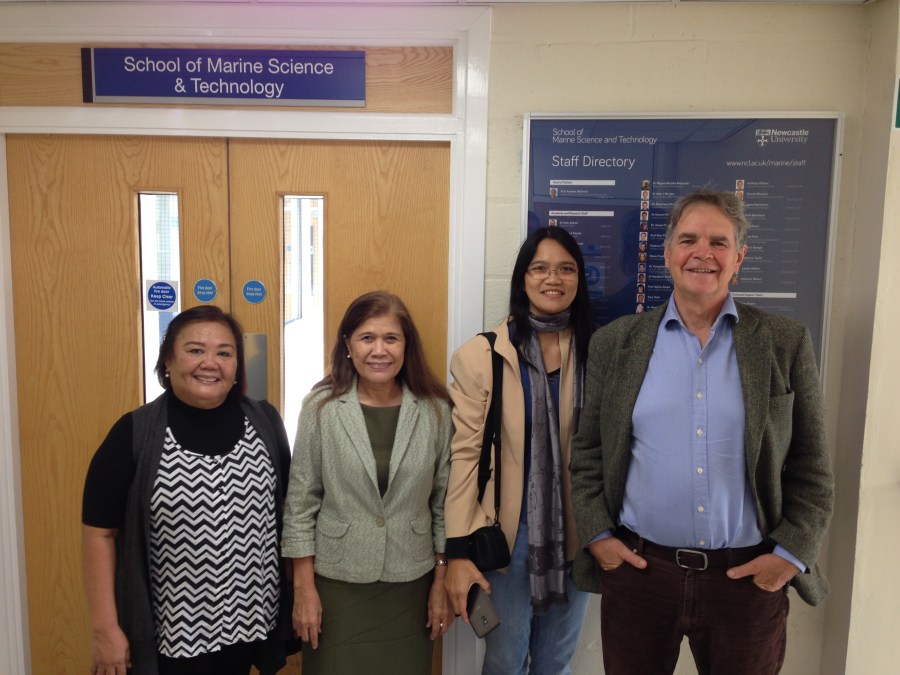 SU Discusses Joint Tropical Biological Oceanography Offering with Newcastle University 
(Silliman University Institute of Environmental and Marine Sciences professors Dr. Janet S. Estacion, Dr. Hilconida P. Calumpong and Dr. Aileen P. Maypa with Dr. Nicholas Polunin, Professor of Marine Environmental Science and Leader, Marine Biology, Ecosystems and Governance at Newcastle University.)
Three professors at the Institute of Environmental and Marine Sciences (IEMS) are in Newcastle University (NU), Newcastle upon Tyne, United Kingdom, from August 14 to 17, in connection with the Joint Development of Niche Programmes (JDNP) of the Commission on Higher Education in partnership with the British Council.

Under this program, IEMS is partnering with NU's School of Marine Science and Technology for a Joint Research and Curricular Offering in Tropical Biological Oceanography.

Dr. Nicholas Polunin, Professor of Marine Environmental Science and Dr. Hilconida P. Calumpong, Director of IEMS are the two institutions' focal persons for this project.  While at Newcastle, the team talked with faculty, staff and students, and visited the Dove Marine Laboratory.
Together with Dr. Calumpong in NU are Dr. Janet S. Estacion and Dr. Aileen P. Maypa.
Silliman is one of the ten Philippine Universities which qualified under the JDNP because of its international TNE partnerships, the number of recognized Centers of Excellence and Development, and its autonomous status.
Silliman had faculty student exchanges sponsored by the British Council in the 1990s with NU,  specifically with the Centre for Tropical  Coastal Management. NU is one of the research universities of the UK and a Russel group member.
JDNP is an initiative for higher education partnerships between UK and the Philippines, providing opportunities for Philippine higher education institutions to connect with people and institutions in the UK.