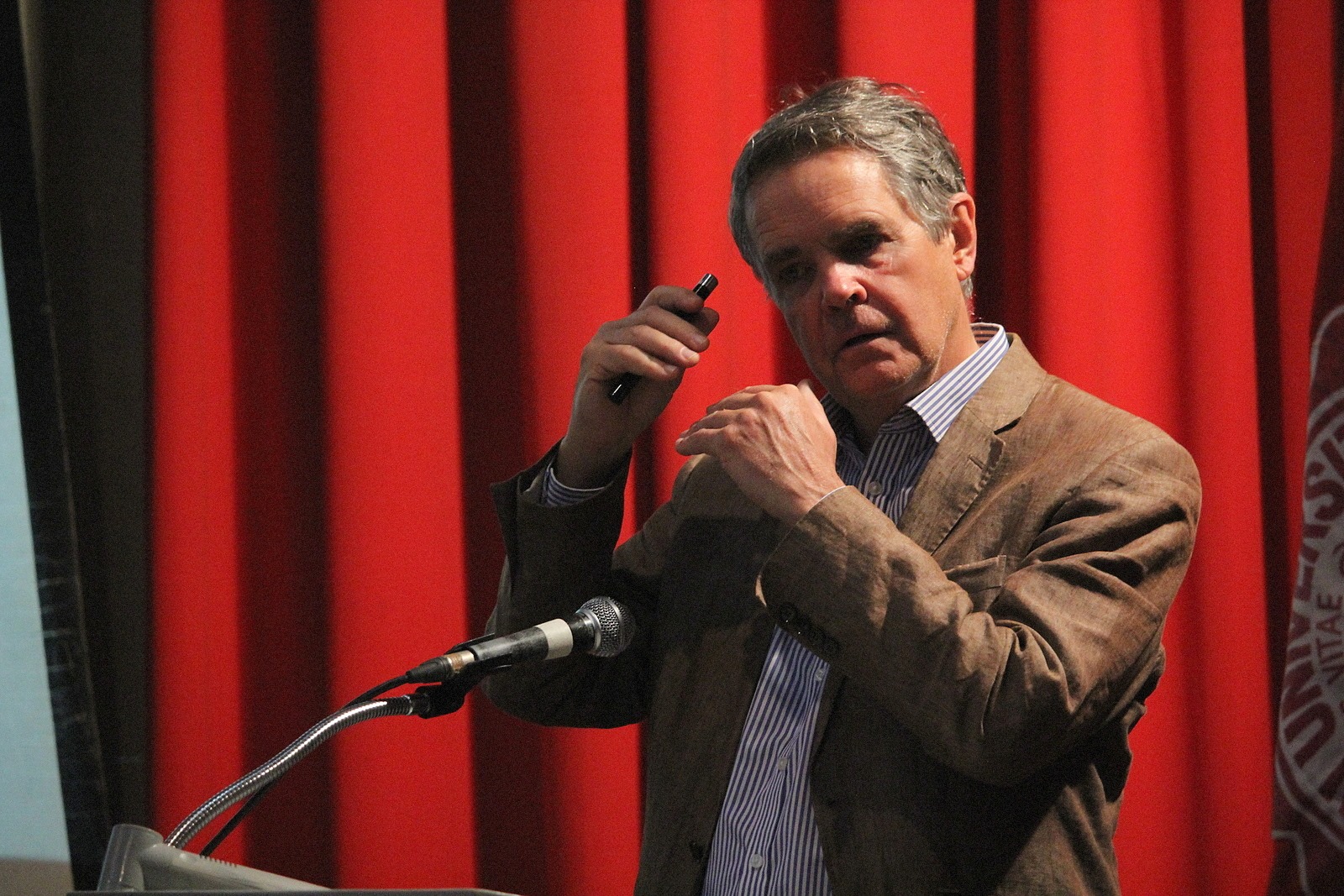 Tropical Biological Oceanography Offering Firming Up with Visit of Newcastle University Profs
The Institute of Environmental and Marine Sciences (IEMS) hosted Dr. Nicholas Polunin and Dr. Benjamin Wigham of Newcastle University, one of England's notable universities.  Both were on campus to discuss with their counterparts from IEMS, headed by Director Dr. Hilconida P. Calumpong, the joint research and graduate curriculum offering in tropical biological oceanography.
This academic collaboration between Newcastle and Silliman is pursued under a partnership between the Commission on Higher Education (CHED) and British Council known as the Joint Development Niche Programs through Philippine-United Kingdom Linkages.
Part of the engagement of the professors from Newcastle was a talk by Dr. Polunin on marine food-web ecology and the use of stable isotopes to study the structure of marine biological communities, held September 22 at the Cyber Lecture Hall.
Dr. Polunin is regarded for his scholarly publications in the areas of marine and environmental science which are among those with high citation indexes. He was also the brainchild of the Master of Research in Marine Ecosystems and Governance at Newcastle University.
The identification of tropical biological oceanography as the field of focus of the joint graduate offerings by Silliman and Newcastle was a product of a comprehensive review of Philippine graduate education done by CHED. Silliman President Dr. Ben S. Malayang III was the chairman of the review committee which tasks included identification of critical competencies that the Philippines need in order to move forward.
Based on the review and Silliman University's own assessments, tropical biological oceanography was among those that the country has strong in potential but deficient in number of experts. Dr. Malayang said the joint graduate offering in the field between Silliman and Newcastle would then produce more scientists and scholars who can understand the interaction of large ecosystems and their effect on common people.
The joint graduate offering in tropic biological oceanography will aim to develop a method of one interdisciplinary environmental science that will analyze the systematic and inter-systematic connectivity of the marine ecosystem. As a country that has more water than land, and where almost 70 to 80 per cent of the protein consumption comes from the sea, Dr. Malayang highlighted the importance of pursuing studies in the area of tropical biological oceanography for food and environmental security.
Through an arrangement with the British Council, Silliman University will take the lead among ten universities in the Philippines to go into tropical biological oceanography. This will also be the first time for the university to offer master's and PhD degrees by research.