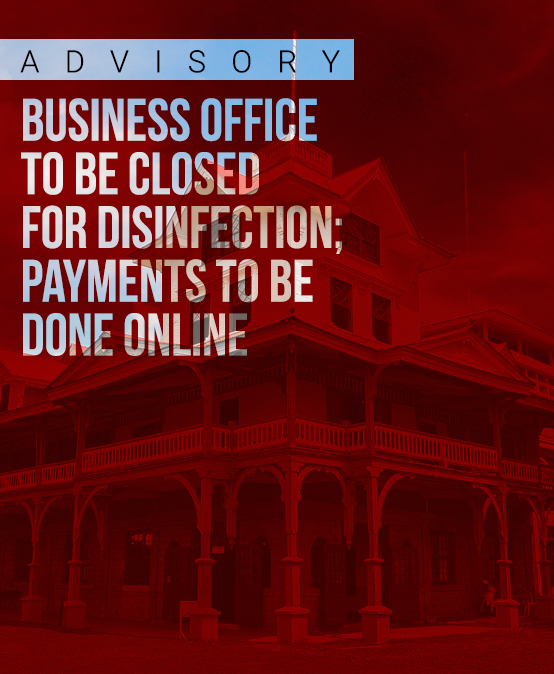 ADVISORY! BUSINESS OFFICE TO BE CLOSED FOR DISINFECTION; PAYMENTS TO BE DONE ONLINE
BUSINESS OFFICE TO BE CLOSED FOR DISINFECTION; PAYMENTS TO BE DONE ONLINE
The Business Office of Silliman University, as with the whole Administration Building, will be closed on July 27, 2020 for disinfection. While the Business Office has been regularly disinfected on a daily basis, further disinfection will be done following the report that a female health worker from Sibulan, who has transacted at the Business Office on July 15, 2020, was later on found to be COVID positive.
Gate 7 and the gate at Hibbard Hall will be closed. For the gates that are open, triage will be conducted. Because of the increased number of COVID positive cases in Negros Oriental, those who enter the campus are required to wear a face mask at all times and observe physical distancing (a distance of at least 2 meters from the nearest person). They will be strictly directed to either wash their hands at the hand-washing stations near the entrances or apply alcohol before entering. SU strictly implements these health protocols amid the COVID-19 pandemic to protect the campus and the entire community.
All payments shall be done online, through bank and/or other modes of payment as indicated in the website (for payments, go to https://su.edu.ph/costs/payment/ for more details). Face-to-face transactions at the Business Office and other offices will be suspended immediately. We enjoin everyone to be compliant with health and safety protocols in this time of pandemic. We do not allow anyone who is non-compliant to enter our offices.