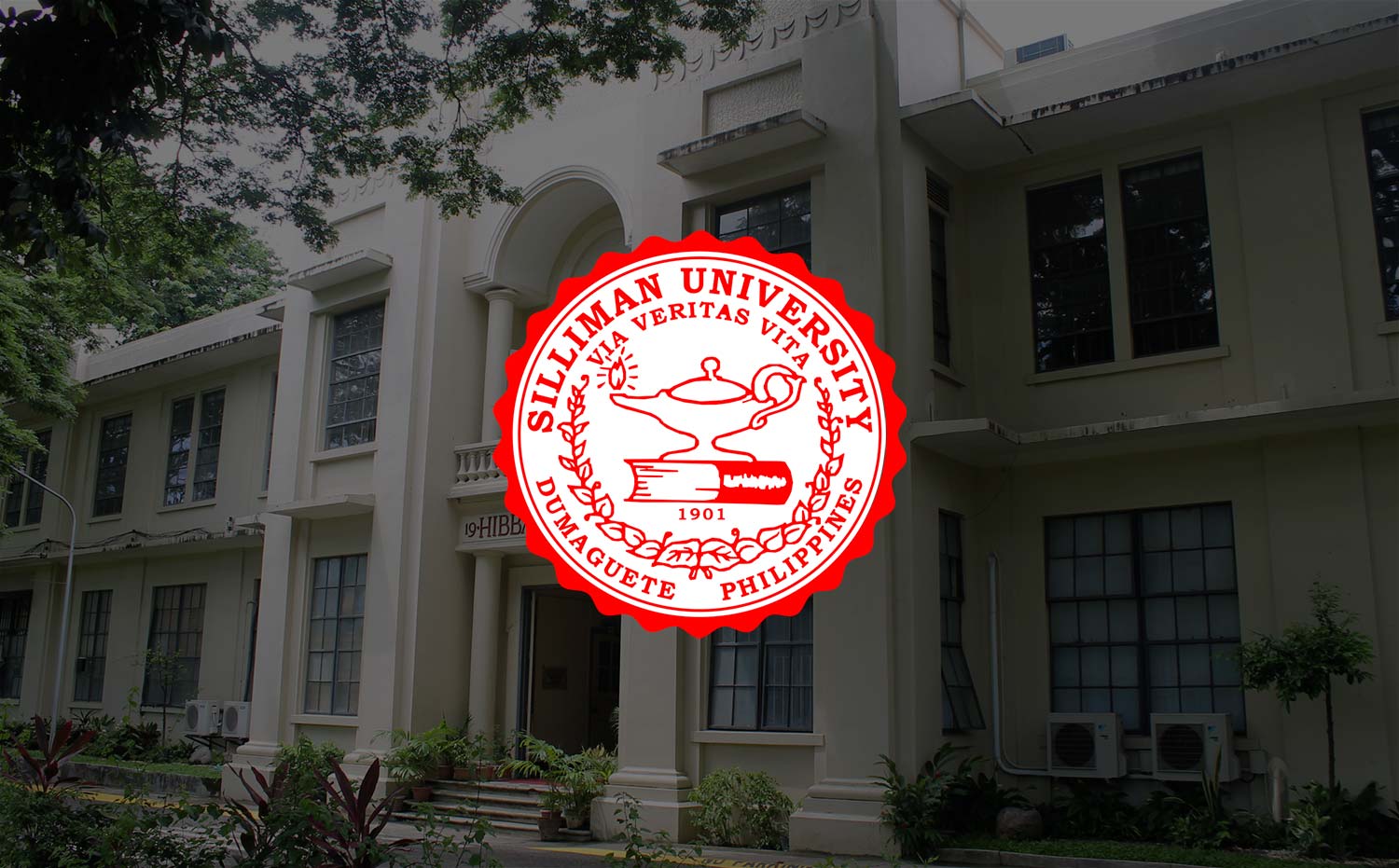 Alumni Update Letter April 2014
Dear Fellow Sillimanians and Friends:
The month of April gave us time to reflect and observe the Lenten Season. Lent offers us all a very special opportunity to grow in our relationship with God and to deepen our commitment to a way of life, rooted in our baptism. In our busy world, Lent provides us with an opportunity to reflect upon our patterns, to pray more deeply, experience sorrow for what we have done and failed to do, and to be generous to those in need. The Easter sunrise service at the amphitheater last April 20, 2014 brought together the Silliman community to listen to the message of hope. Truly, there is hope with the risen Christ.
The Silliman Alumni Chapter of Dumaguete's recent summer gathering at the Silliman Hall was highlighted by the KINAIYAHAN Award for National Scientist DR. Angel C. Alcala. The 2014 award on Excellence in Environmental Advocacy recognizes Dr. Alcala's "pioneering works which paved the way for other environmental advocates, earning him the distinct honor of being the world's Father in Coastal Resources Management."
Mrs. Naomi L. Alcala received the award on behalf of her husband who was out of town on a research project. Also present during the awarding were two of Dr. Alcala's daughters, Grace Alcala-Gloria and Emily Alcala-Layos, both active members of the Dumaguete Alumni Chapter.
Previous KINAIYAHAN awardees were Dr. Nona Calo for her reforestation work in the CARAGA Region, Congresswoman Belma Cabilao for her environmental programs in Zamboanga-Sibugay, and Rene "Tatay Ite" Vendiola for his save-the-forest advocacy in Liptong, Bacong, Negros Oriental.
SUHS 1965 Scanner Donation Turnover
The office of the Silliman University Alumni and External Affairs wishes to express its gratitude to the SU High School Class of 1965 for recently donating 3 Canon scanners. Recipients of the donation are: SU Library, Sillimaniana Section of the Library and the Alumni and External Affairs office. Representing SUHS '65 during the turnover were, Leo Mamicpic, Mirzah Rodriguez, Elgie Ygnalaga-Melad and Flordeliza Eugenio.
The newly elected officers of the Silliman Alumni Association Inc. (SAAI) Dumaguete Chapter recently took their oath as chapter officers for 2014-2016. The newly elected officers are: Roberto D. Montebon as president; Dr. Profetiza Sun-Lim, vice president; Leo Mamicpic, secretary; Arlene Delloso-Uypitching, treasurer; Rosewell Cataylo; and Moses Joshua Atega as PRO. The new chapter Directors are: Jocelyn Somoza-dela Cruz, Jocelyn Sy-Limkaichong, Atty. Pristine Martinez-
Raymond, Luz Camacho-Forbes, Dr. Gervacio Salatandre, Atty. Nina Rica Ruperto-Teves, Atty. Riodil D. Montebon and Lorna Peña-Reyes Makil.
Silliman University Church Senior Minister Rev. Jonathan R. Pia will soon be ending his term (May 31, 2014) after serving the church for 4 years. A despedida was held at the church lawn recently to say thank you and goodbye to a well-loved pastor. His inspiring sermons we will truly miss. Quoting from the Plaque of Appreciation presented to Rev. Pia by the Silliman Park-Bantayan Bible Study Cluster, "with unfailing dedication and integrity he inspired all his listeners by his very presence as a true and honorable servant of the Lord… His passion for leading people closer to God and his caring friendship became manifest in his faithful service… and will forever be remembered as a mark of his distinguished term as Senior Minister of Silliman University Church for which we will be forever grateful." Rev. Pia facilitates the Silliman Park-Bantayan Bible Study Cluster each Saturday. To Rev. and Mrs. Jonathan R. Pia, Godspeed!
The despedida also honored Rev. Jeremias M. Lagahit whose term as Student and Campus Chaplain comes to an end after 6 years of service (June 2008 – May 2014). SU Church Choir Director Prof. Joseph B. Basa was also recognized for his 18 years of directing the Covenant Choir. Prof. Basa retires from the university and closes his exemplary dedication to the music ministry of the church spanning nearly two decades. The fellowship was also a time to welcome Pastor Mark Agusto who has been called by SU Church as one of its Associate Pastor for a two-year term (June 2014 – May 2016).
Outstanding Sillimanian Awardee Dr. Perla Rizalina M. Tayko has been chosen as Bagong Bayani Outstanding Employee for 2014. The Bagong Bayani Awards (BBA) is a national search for the country's outstanding and exemplary Overseas Filipino Workers (OFW). The award seeks to recognize and pay tribute to our OFWs for their significant efforts in fostering goodwill among peoples of the world, enhancing and promoting the image of the Filipino as a competent, responsible and dignified worker, and for greatly contributing to the socio-economic development of their communities and our country as a whole.
For the past 17 years Dr. Tayko has been with the Graduate School of Business, Assumption University of Thailand as its Director for Organization Development Institute (ODI). She is an author of 3 books, namely: Making It to the Big 4: A Journey of a Decade (2014); On the Ball – Leveraging the Future You in Want with WBL (2012) and Whole Brain Literacy: Key to Wholistic Education & Success in Today's World (2010).
Thanking our Cebu Alumni
The SU Alumni and External Affairs office wishes to express its appreciation to the Silliman University Alumni Association Inc. (SAAI) Cebu Chapter for hosting the Silliman University Gratitude and Goodwill Ambassadors (SUGGA) to lunch and dinner. The SUGGA, directed by Dr. Elizabeth Susan V. Suarez, performed at the Cebu Bradford Church last May 4, 2014 to help raise funds for Bradford Church's continuing campaign for super typhoon Yolanda victims, particularly the rebuilding of the UCCP Madredijos church building in Bantayan Island, Cebu. Thank you to the following active members of the Cebu Alumni Chapter: Mr. Winglip K. Chang, Engr. Mamerto Pietro III S. de la Torre, Engr. Siegfred G. Sia and Mr. Jose Melgredo B. Castillon.
SAITE Offerings
The School of Agro-Industrial and Technical Education (SAITE) is calling on high school graduates interested to be trained in a specialized skill. The on-going programs are Animal Production NC II and Horticulture NC II. Other certificate programs that will soon be offered are:
| | |
| --- | --- |
| Program | Duration |
| Automotive Servicing NCII | 524 HOURS 66 Days |
| Food and Beverage Services NC II | 336 HOURS 42 Days |
| Shielded Metal Arc Welding NCII | 268 HOURS 34 Days |
| Dressmaking NC II | 275 HOURS 35 Days |
| Machining NC II | 337 HOURS 43 Days |
| Artificial Insemination (Large Ruminants) NC II | 204 HOURS 26 Days |
| Artificial Insemination (Swine) NC II | 127 HOURS 16 Days |
| Organic Agriculture Production NC II | 232 HOURS 29 Days |
| Motorcycle/Small Engine Servicing NC II | 278 HOURS 35 Days |
| Driving NC II | 118 HOURS 15 Days |
| Carpentry NC II | 162 HOURS 21 Days |
| Masonry NC II | 258 HOURS 33 Days |
| Plumbing NC II | 162 HOURS 21 Days |
| Plumbing NC III | 168 HOURS 22 Days |
| Pipefitting NC II | 202 HOURS 26 Days |
| Consumer Electronics NC II | 438 HOURS 55 Days |
| Tailoring NC II | 275 HOURS 35 Days |
| Health Care Services NC II | 996 HOURS 125 Days |
| Household Services NC II | 216 HOURS 27 Days |
| Security Service NC I | 170 HOURS 22 Days |
| Security Service NC II | 223 HOURS 28 Days |
| Computer Hardware Servicing NCII | 356 HOURS 45 Days |
| Medical Transcription NC II | 396 HOURS 50 Days |
| Gas Metal Arc Welding (GMAW) NC II | 268 HOURS 34 Days |
| Flux Cored Arc Welding (FCAW) NC II | 268 HOURS 34 Days |
| Gas Tungsten Arc Welding (GTAW) NC II | 280 HOURS 35 Days |
| Submerged Arc Welding (SAW) NC II | 194 HOURS 25 Days |
| Gas Welding NC II | 312 HOURS 39 Days |
| CNC Lathe Machine Operation NC II | 236 HOURS 30 Days |
| CNC Milling Machine Operation NC II | 236 HOURS 30 Days |
| Food Processing NC II | 568 HOURS 71 days |
| Slaughtering Operations NC II | 280 HOURS 35 Days |
| Fish Products Packaging NC II | 152 HOURS 19 Days |
| Bartending NC II | 286 HOURS 36 Days |
| Housekeeping NC II | 436 HOURS 55 Days |
| Tour Guiding Services NC II | 196 HOURS 25 Days |
| Travel Services NC II | 196 HOURS 25 Days |
| Bread and Pastry Production NC II | 141 HOURS 18 Days |
| Tourism Promotion Services NC II | 72 HOURS 9 Days |
| Cookery NC II | 316 HOURS 40 Days |
SAITE was established to provide specialized training to high school graduates who may not be able to enroll in a formal four-year degree program. It seeks to develop their skills and enhance their preparedness for employment and livelihood opportunities. (Note: all students in these programs are scholars of TESDA)
Requirements for enrollment:
1. High School Card
2. Two (2) statements of Good Moral Character
3. Three (3) copies 2×2 picture (latest)
4. Official copy of Birth Certificate issued by NSO
5. Physical examination certification issued by a registered physician attesting to the student's fitness for school. (Chest x-ray, CBC, Dental)
The School of Agro-Industrial Technical Education can be reach through [email protected] or 63 35 4226002 local 363.
IN MEMORIAM: Mr. Batch C. Divinagracia (AB History 2011) on April 5, 2014; Emilio T. Yap (Honoris Causa '98) on April 7, 2014; Josephyta E. Catapusan (HS '64) on April 11, 2014; Jorge P. Juliano Sr. (Former Faculty of the College of Agriculture 1951-1957) on April 19, 2014
Thank you for always being there for dear old Silliman.
President Ben S. Malayang III has requested this office to update you regularly about the happenings on campus. We are also interested in knowing what you and your alumni chapters are doing.
Please keep in touch and update your file with our office if you have not done so. We would truly appreciate it. You may reach the President's Office through this email address: [email protected] You may also contact the Alumni Affairs Office through this address: [email protected].
Sincerely,
The Officers and Staff of the Alumni and External Affairs