Betty C. McCann, Ph.D., RPsy, CSSP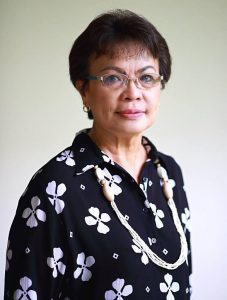 Dr. Betty Cernol-McCann has devoted all her professional life to higher education.  She started her academic career in 1970 as a teacher of Psychology and Political Science at the Divine Word College in Legazpi City. In 1972 she joined the University of St. La Salle (formerly La Salle College), Bacolod City, where she served as Chair of the Psychology Department and as the founding Director of its Social Science Research Center.
She has spent the better part of her academic career at Silliman University, actively engaged in teaching and training, research, community engagement, and administrative work.  Starting as an Assistant Professor in 1981, she rose through the ranks as she became Department Chair, then Dean of the College of Arts and Sciences and eventually Vice President for Academic Affairs from 1990 to 1992 and 1999 to 2002. In 1992-94 she served as acting University President.
In 2002 she joined the United Board for Christian Higher Education in Asia (UBCHEA), a New York-based not-for-profit organization. She was assigned in Hong Kong to serve as Associate Director at the Asian Christian Higher Education Institute (Asian Institute) from 2002 to 2006. In 2003, she took on the role as Program Director for South Asia. She became Vice President for Programs in 2007 until her optional retirement in 2013.  In this position, she had general oversight of grant programs and special projects in 13 countries in Asia (China, India, Hong Kong, Taiwan, Japan, Korea, Indonesia, Myanmar, Thailand, Cambodia, Laos, East Timor, and the Philippines), where over 100 colleges and universities received grants from the United Board.
Over the years, she has managed to balance teaching, conducting research and training activities. She has a track record of publications and research related to community engagement and higher education. She has conducted numerous training workshops and presented papers in national and international fora on the psychosocial dimensions of various topics such as child labor, gender and development, natural resource management, service-learning and whole person education.
She has received numerous grants and awards, notably grants from the Canadian International Development Agency, United States Agency for International Development, Australian Agency for International Development, Belgian Integrated Agricultural Reform Support Programme, Philippine Department of Environment and Natural Resources, Philippine Department of Health, and the United Board for Christian Higher Education in Asia, as well as academic visits to Bethel College (USA), Dalhousie University (Canada), Hood College (USA) and University of Kassell (Germany). Professional bodies have accorded her national recognition as Outstanding Psychologist (given by the Psychological Association of the Philippines) and for her Outstanding Contribution to Women's Studies in the Philippines (awarded by the Women's Studies Association of the Philippines).
Dr. Cernol-McCann's vision for Silliman is for the University to serve as the Via, Veritas, Vita for the nation, Asia and the rest of the world. She aims to build up whole person education in Silliman's teaching and non-teaching programs and services, and to ensure that Silliman's leadership and administration demonstrate integrity of purpose, sound fiscal management, and financial stability.
She is a registered psychologist with the Board of Psychology of the Professional Regulation Commission of the Philippines and a certified specialist in social psychology (CSSP) by the Psychological Association of the Philippines.  In 1987, she earned her doctorate degree in Psychology (with a field of concentration in Social Psychology) from the Ateneo de Manila University. In 1975, she obtained her Master of Arts in Education, with a major in Guidance and Counseling, at the La Consolacion College.   In 1970, she completed a double major in Psychology and Political Science (magna cum laude) at the Divine Word University of Tacloban. Her other areas of study were in social science research (summer grants from the Philippine Social Science Council, with courses taken at the Ateneo de Manila University) and interdisciplinary training on agroecosystems in the humid tropics from the Environment and Policy Institute of the East-West Center in Honolulu, Hawaii.
She was born on 10 November 1950, in Molave, Zamboanga del Sur where her father had a government job. Her parents are from Leyte where the family eventually returned in 1959. Dr. Cernol-McCann spent a considerable period of time in Mahaplag and Tacloban until 1970. She is a resident of Dumaguete City since 1981. She has three sons (Alexander, Jeremy, Jose Ma.), all of whom are graduates of Silliman University, as well as three grandsons (Joshua Gabriel, Nathan Michael, Joseph Joaquin) and three granddaughters (Kathleen Alexandra, Bea Angelica, Maria Alexa). Her husband, Dennis Patrick McCann, until his retirement in 2011 was professor of Religious Studies and Business Ethics, with a Ph.D. in Christian Theology in 1976 from the University of Chicago.  He currently serves as Director of Research for Rothlin, Ltd., a management consultancy firm promoting corporate social responsibility, with offices in Beijing and Hong Kong.