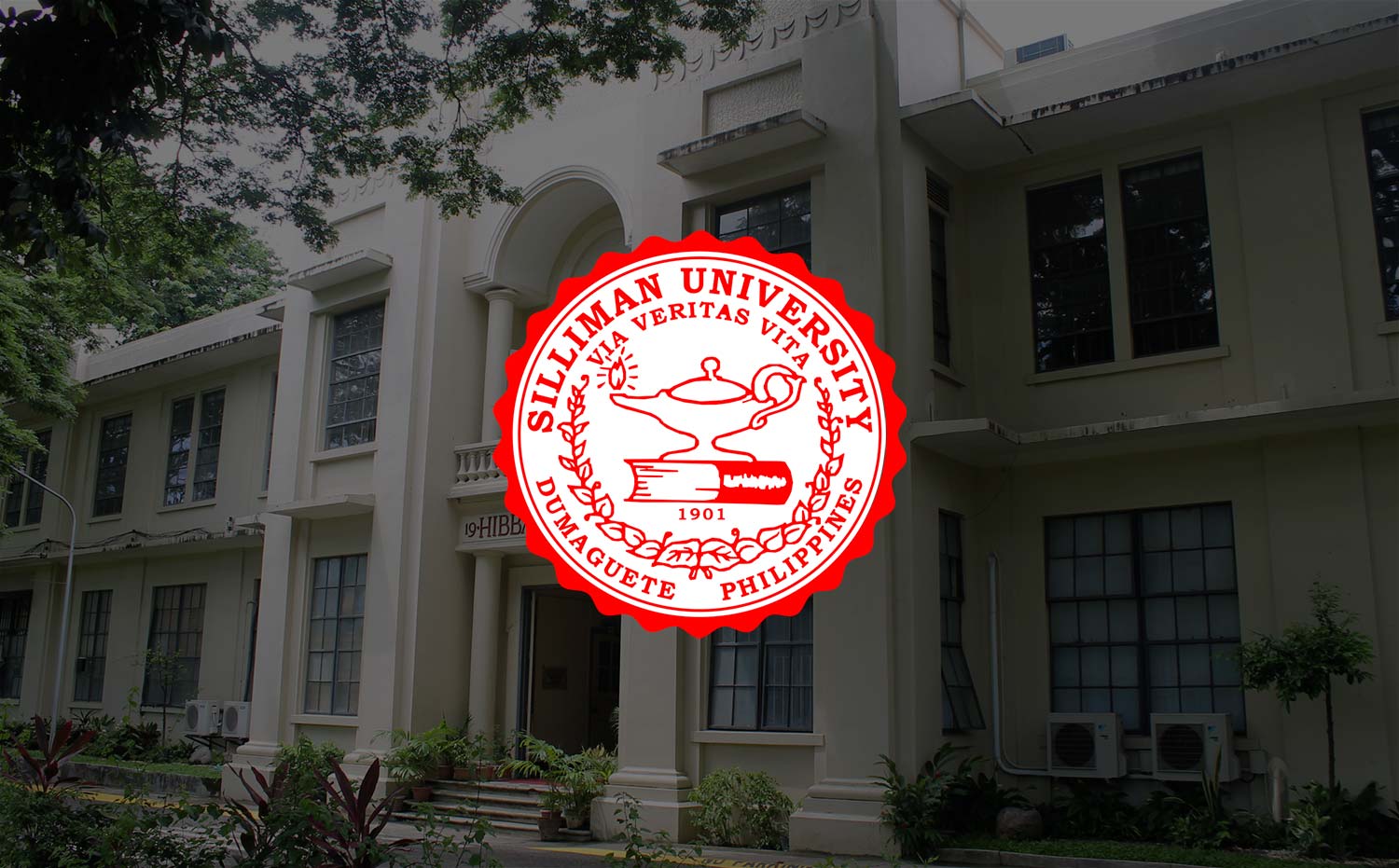 'Best Me'
NOTE: "Leadership Reflections" shares views of the different members of the University Leadership Council on matters related to campus life and the operations of the University. As well, it features opinions on issues of national and/or international relevance.
Handwriting on the Heart
By Rev. Jonathan R. Pia
Senior Pastor & Minister of the Parish
Silliman University Church

(Sermon delivered during the University Conference on June 29, 2012 at the Silliman University Church. Text: Deuteronomy 11:1-32)
There was this district superintendent who paid a visit to the principal of a school located in an extremely rough and tough neighborhood. The principal seemed terribly downcast and the superintendent asked her why. "School has been open a short time," she replied, "and already we have thirty-nine dropouts."
"Is that so bad?" the superintendent asked. "After all, you're in the roughest section of town." "You don't understand," said the principal, "thirty-eight of the thirty-nine dropouts were teachers!" (1)
Maybe teaching here at Silliman University is not really that bad that one has to quit after a few weeks of teaching. But surely, teaching here at Silliman is challenging with a lot of opportunities. It carries with it some responsibilities We know that we have a lot to deal with: global warming, flooding, earthquakes here in Negros which we did not have before, terrorism. And now here in Dumaguete, we experience congestion of traffic which we did not have twenty years ago, drugs are sold openly and economic uncertainty all over the world. Then added to this is the K-12 which both faculty and administrators are apprehensive.
Our lesson for today is from the Old Testament. The children of Israel are nearing the Promised Land. Moses is giving them their final marching orders for he won't be able to cross the Jordan river with them. There are three principles that we might draw from Moses' instructions to his people which will help us as we start this school year.
I
First of all, Moses says to the people, remember the commandments. Actually, he is a little more emphatic. He says, "Therefore shall you keep ALL the commandments which I command you this day, that you may be strong . . ." Keep ALL the commandments. If we want to stay strong in this world, we need to make a commitment now to remember the commandments.
Talking about remembering, one man, visiting a psychiatrist, complained, "Doctor, I can't seem to remember from one minute to the next." "And how long have you had this problem?" the psychiatrist asked. "What problem?"
In this passage, Moses is encouraging the people to remember Yahweh. To invite into their midst the same God who brought them this far … to allow the same God who once offered them help … to provide them now with hope. To call upon the same God who gathered them from Pharaoh's labor … to guide them into the Promised Land. "Remember the Lord your God," says Moses. It's more active than reminiscing; it's more urgent than recalling. Here, Israel is being asked to remember — to bring into the present the blessings of their past!
Annie Dillard tells a story about the Eskimos of Canada's northern tundra. When they travel by foot across these great expanses of flat land, they mark their way by erecting six-foot tall piles of stones. As they venture forward they also look backwards, making sure they can see where they came from. When the pile of stones is nearly out of sight, they erect another pile, thereby assuming that no matter how far they venture forward, they can always find their way home. 2
For us working at Silliman University, aside from remembering the commandments, we need to add, "Remember our Mission Statement." For some of us who worked here for several years you may forget or take for granted the mission of this university. There is a need to be reminded time and time again.
One of those mission statements says, "Silliman shall infuse into the academic learning the Christian faith anchored on the gospel of Jesus Christ, provide an environment where Christian fellowship can be nurtured and promoted.
We need to remind ourselves that working here in Silliman University is a ministry by itself. It is more than teaching how to balance the ledger, it is more than teaching how to solve complex problems, it is more than just putting the right punctuations in a sentence. We are here to infuse our relationship with Christ in every aspect in this university. We are here because God called us to this time and place.
II
Secondly, Moses reminds the Hebrews to welcome the challenges. Moses says to the people: "For the land, which you go to possess, is not as the land of Egypt, out of which you came, where you sow seed, and water it with your foot, as a garden of herbs. But the land, which you go to possess is a land of hills and valleys . . ."
We know that life is not easy. It was never meant to be easy. God put us in this world to grow spiritually strong. We were created to welcome and overcome challenges. And sometimes, we will find in retrospect, that the challenges had blessed our lives.
Generally for us hills and valleys were obstacles which had to be overcome. But for Moses, crossing to a land of hills and valleys was a blessing. They had spent years as slaves in Egypt struggling for every harvest, but when Moses told them that their new land was one of the hills and valleys they rejoiced.
You see, the highest hill in all of Israel is Mt. Hermon, on the very northern border of Israel. It captures and holds the snows of winter, only to release them as water with the thaw of spring. This melting water of Mt. Hermon becomes the Jordan River which irrigates all of Israel. The valleys were also a blessing for they would be fertile, protected lands. As Moses said, these valleys would "drink rain from heaven," Moses' words have been so true. Israel has become the fruit and vegetable basket for much of Europe.
One day we too will look back at the hills and the valleys in our life here in Silliman and see that they were what propelled us to a greater life. You may hear from a student that you never expected to succeed and tell you that you have made a difference in his life.
III
Thirdly, working here at Silliman University is also entering into a relationship where we can be vulnerable. Here at Silliman University, we may be able to teach the students the complexity of Math or Science; we may be able to teach them how to speak the English language correctly, but that is not enough. It is in relationships that we can be more effective in helping the students. And sometimes, we become vulnerable. And sometimes it can also be fulfilling.
While doing research for a doctoral thesis, a young man spent a year with a group of Navajo Indians on a reservation in the Southwest. He lived with one family, sleeping in their hut, eating their food, working with them, and generally living their life. The elderly grandmother of the family spoke no English, yet a very close friendship formed between the grandmother and the doctoral student. They seemed to share the common language of love and they intuitively understood each other. Over the months he learned a few phrases of Navajo, and she picked up words and phrases in English. When it was time for the young man to return to the university and write his thesis, the tribe held a going-away celebration for him. It was marked by sadness since he had developed a close relationship with all those in the village. As he prepared to get into his pickup truck and drive away, the old grandmother came to tell him goodbye. With tears streaming from her eyes, she placed her hands on either side of his face, looked directly into his eyes, and said, "I like me best when I'm with you."
I hope and pray that as students leave the halls of Silliman University, they too can say to you their teachers and support staff, "I like me best when I remember what you taught us."
Lastly, let me read to you the difference between a job and a ministry. I read this in one of my sermons. I hope this will help us look at our work here in a new light.
… If you are doing it because no one else will, it's a job. If you are
doing it to serve the Lord, it's a ministry.
… If you're doing it just well enough to get by, it's a job. If you're
doing it to the best of your ability, it's a ministry.
… If you'll do it only so long as it doesn't interfere with other
activities, it's a job. If you're committed to staying with it even when it means letting go of other things, it's a ministry.
… It's hard to get excited about a job. It's almost impossible not to
get excited about a ministry.3
______________________
1Sunday Sermons
2 God's Little Devotional Book. Honor Books. 1995.
3 Mickey Anders, The Beginning of Ministry