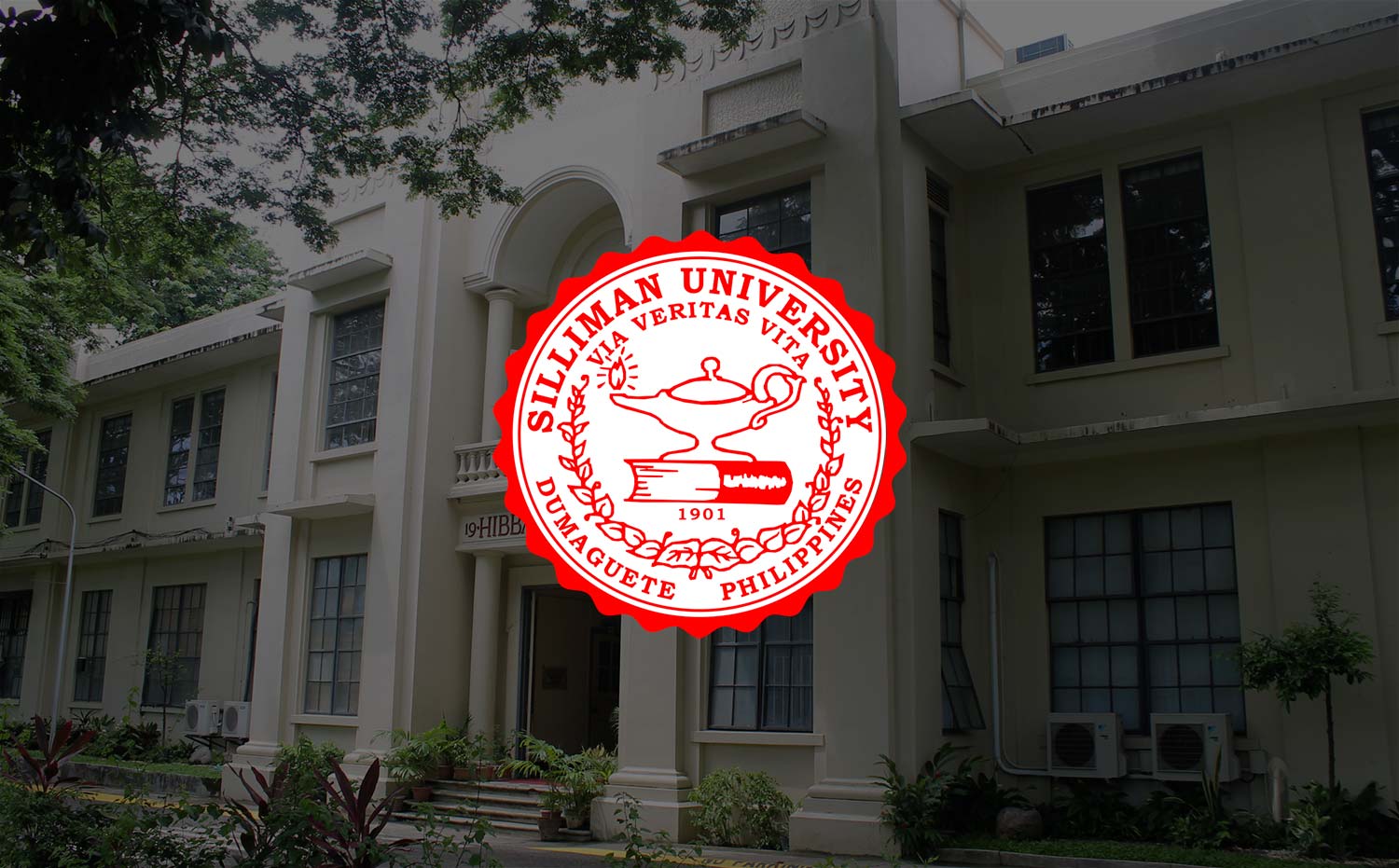 Church Life in Silliman
Silliman is one place where all who come to it to study, work, or to simply luxuriate in brief moments of remembering their past in Silliman, can find a wealth of opportunities to enrich and transform one's mind, body, soul and spirit. Silliman affects our entire being: our outer sense of self and our inner sense of well-being. It is like a pool of water. When we jump into it, we get wet all over. Nothing of our outer self remains dry.
For good reason: Driven by a passionate commitment to the Christian faith, Silliman was founded on a mission to transform the whole person to a point that one merits God's approval and becomes an instrument of God's love, justice and grace to others. Silliman education is firmly rooted in the Christian faith and is fervently powered by it. This is symbolized by the central role Silliman Church plays in the University's life and mission. Church life in Silliman comes in many dimensions: life within the church, the church's participation in the life of the university, and the process of living out the church's ethos in one's academic and personal pursuits.
• Life in the Church. Over the years, church life has been a regular feature of campus life in Silliman. Students, faculty, staff and visiting alumni regularly go to Sunday church worship services. Many members of the Church participate in its life and ministry. There are many opportunities to do this both inside and outside Silliman. Inside Silliman, the Silliman University Church has been the hub of bustling campus activities of worship, praise and prayer to which persons of all faith and denominational affiliations are welcomed and in which they are able to find life's meaning and purpose that a caring fellowship of God's gathered people can mediate to them. Silliman University Church promotes critical thinking and critical doing of the Christian faith in such diverse and all inclusive activities like the semestral Galilean Fellowship, Sunday morning, Midweek, Vesper and Sunrise worship services, convocations, dormitory and college devotions, and discussions of issues of the day.

• The Church in the Life of the University. Without reservation, Silliman declares that it stands on the sure foundation of the Christian faith – Jesus, the Christ. The Church of Christ is sought to be always a palpable presence in all aspects of the university's life. This has been how Silliman was shaped as a school since it opened its portals on August 28, 1901. Worship, devotions, prayers, Bible studies, choir practices, and other activities that are otherwise expected in a church, are regular activities conducted alongside lectures, classroom discussions, laboratory experimentations, library hours, poetry reading and dramatics, field trips, debates, and such other activities that are otherwise expected in a school. And all of these happen in the unified setting of Silliman. In addition, Silliman always proclaims and sees itself as being closely associated with the United Church of Christ in the Philippines. It supports the UCCP's mission and programs including theological education for church workers. Five of fifteen members of its Board of Trustees are nominees of the United Church of Christ in the Philippines. Meanwhile, Silliman maintains close ties and linkages with churches and church-related schools and institutions in the country and the world such as those associated with the United Board for Christian Higher Education in Asia, the United Evangelical Mission in Germany, the Association of Christian Universities and Colleges in Asia, and the Association of Christian Schools, Colleges and Universities in the Philippines.

• Living out the Church in Academe. The academic curriculum and programs in Silliman have elements on learning the Christian faith. Bible classes have been a regular part of courses in Silliman including a basic course in Christian Ethics offered by the Institute of Religious Studies, and a full-range, seminary level, of theological education at the Silliman University Divinity School. But more than formal teaching, Silliman has, over its history, sought to keep and affirm a culture of measuring how we behave in the university (as persons, students, scholars and professionals, in the classroom, dormitories, the hallways, the fields) against the meter sticks of Christian virtues and living. Every academic experience in Silliman – all done with the view of meeting the highest standards and expectations of quality learning, scholarship and professional conduct – is expected to be a "chapel experience" among all involved. Teachers, students, dormitory managers, security personnel, buildings and grounds staff, cafeteria staff – all are expected to reflect in their daily interactions the ethical virtues and disciplines of the Christian faith: being fair and just, caring, compassionate and honest.
The entire university seeks to be a setting for experiencing God in all aspects of its academic and community life: in teaching, research, serving others, nurturing each other, and nurturing in the Christian faith. Silliman proclaims to all and sundry the loving, caring, embracing, creating, redeeming and sustaining reality and presence of God in and through Jesus, the Christ -the Via, Veritas, Vita – who provides a solid foundation for success and meaning in one's professional and personal life.
Silliman-was conceived and-shaped to be a-school and a church together where students, faculty-and staff find in the school an opportunity to learn (in the best traditions of learning), and an opportunity to worship God (in the best traditions of the Christian faith). It is a school where excelling in academics is an act of prayer, a mode of worship, and a demonstration of zeal and devotion to Christian service.
This was a tradition that our Founding Forebears set forth and nurtured:
• Dr. Horace B. Silliman gave funds (acquired from an excellent and successful practice of a profession) to found a school, to a church organization (the Board of Foreign Missions of the Presbyterian Church of the USA);
• Dr. David and Mrs. Laura Hibbard founded Silliman as a school, but in their capacities and zeal to be missionaries and pastors, they designed Silliman to be a seat of learning and a place for worship and evangelism;
• Our many prominent builders of Silliman were distinguished scholars, scientists and academicians, who were top in their respective professions and disciplines, but were distinguished as well for their deep Christian faith.
In Silliman, we learn to appreciate and do best practices in science, arts, culture, mathematics, literature, health and medicine, nursing, physical therapy, medical technology, engineering, agriculture, management and accountancy, public affairs, communication, law, education, theology, social work, psychology, and a host of academic and professional pursuits. But in Silliman, we also have the opportunity to come to know the God of our Lord and Savior Jesus Christ. God exists. God is a just, loving God and a holy God. God's justice rejects and condemns sin, but in unconditional love, God affirms and redeems the sinner. God is a triune God: Creator, Redeemer, and Sustainer. God is fully revealed and incarnate in Jesus Christ of Galilee. Believing and placing faith in Jesus Christ makes any person a child of God and hence forever bound to the justice and love of God — condemned, and yet redeemed. No person is perfect enough to not need God; no person is im perfect enough to excluded there from the redeeming love of God. In faith all may encounter in the reading, interpreting and proclaiming of the Good News of God's saving love as set forth in the Bible, in prayer, in worship, and in the, fellowship with the gathered people of God. Any person — however competent in mind and body, and however esteemed by many for his or her personal character and traits – can be blessed and made even more whole as a human being when ushered into a free, loving, thinking and believing encounter with God, and into a free, loving, thinking and caring fellowship with God's people.
Church life in Silliman is all about Silliman. It is not just being in a church in a place inside or outside Silliman, but about how Silliman itself mirrors the church and the reality and presence of Christ. It is about how Sillimanians become epitomes of the Christian faith. These are its aspirations to which it is single-mindedly committed. Even though Silliman may be often found wanting and fall short of its calling to mirror Christ and to fully live out its faith affirmations in the context of academic Iife, it will continue to aspire toward its lofty goal of mediating the presence and Lordship of Christ – the Via, Veritas, Vita – to all who enter its hallowed grounds.
This, to me, is what many Sillimanians believe; and so to this, we seek to live – in Silliman.