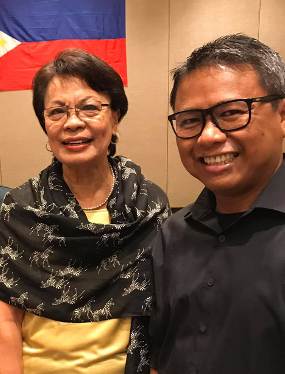 Alumni Update April 13 – 19, 2020
"War Zone"
For the frontliners in New York and New Jersey, treating the coronavirus disease 2019 (COVID-19) patients is like entering a "war zone".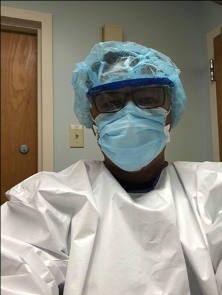 Silliman Alumnus Luisito "Jun" M. Ago, Jr., a nurse at the Inspira Medical Center in Elmer, New Jersey, shares his typical day as he goes on duty at his work place. Driving to work he puts on a homemade mask.  Wearing a mask in any form is a directive issued by the Governor of New Jersey. Upon reaching the hospital he is issued a surgical mask and his temperature is checked. Jun then puts on the Personal Protective Equipment (PPE) that includes a pair of goggles, a head bonnet, gown, and an N95 facemask before going in suspected COVID/COVID patient rooms. All COVID cases are placed in negative pressure rooms. Negative pressure rooms in medical facilities isolate patients with infectious conditions and protect everyone else from exposure. All rooms at Inspira Medical Center at Elmer's have been converted to negative pressure rooms in anticipation of the increase of COVID cases.  Jun adds, "It has been our first time that all 7 ICU rooms are full with COVID patients."
At the end of a long day Jun returns home, and has developed he's own safety protocols. Once parked at the garage at his residence, he takes off his clothes and they go directly in the washer. Next in the order is he takes a shower. This bathroom is solely assigned for his use and a bedroom as well. Jun says, when he gets home from work, his daughter Isabel, who is 11 years old, instead of rushing to hug and welcome him, Isabel does the opposite by running to her bedroom. It hasn't been easy as Jun's wife, Aileen is a Pediatrician and she also needs to be extra careful.
Jun manages his work related stress by reminding himself that his work is a mission and this is to help the sick. A number of his patients have succumbed to the Coronavirus and this has been difficult. Jun says the COVID 19 cases in New Jersey will hit its peak probably in 1 – 2 weeks time. During off duty, Jun goes four (4) wheeling on his Jeep Wrangler Rubicon at The Jetty, Brigantine Beach sand dunes and gets the needed sea breeze before returning to the "war zone".
Jun and Aileen met at Silliman University Medical Center as Medical Interns and not long after tied the knot in March 15, 2001. Jun graduated from Silliman University College of Nursing in 1992. In the year 2000 he earned his Doctor of Medicine degree from West Visayas State University School of Medicine. Jun and Aileen are blessed with two children, Luis 17 and Isabel 11 and are based in Vineland, New Jersey. The Ago's have lived in the US since 2004, while home to Jun in the Philippines is Cabadbaran, Agusan del Norte.
As our alumni continue to help in the fight against COVID-19, Silliman University Church continues to invite everyone to be one in prayer for our alumni frontliners all over the world. Please visit the Silliman University Church Facebook page https://www.facebook.com/SillimanUniversityChurch/ for Live Daily Prayer Meditation every 6 o'clock in the evening.