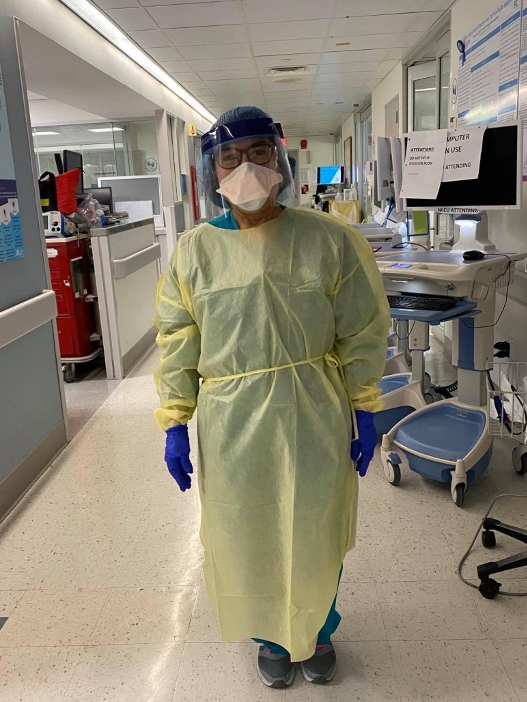 Alumni Update April 6 – 12, 2020
Silliman Spirit amid Covid-19
In a city ravaged by the coronavirus, few places have suffered as much as central Queens – the virus epicenter, where Silliman Nursing Alumnus and front liner, Eppielynn Ebarle-Villegas goes on duty at the Mt. Sinai-Elmhurst Hospital in New York City. She says there are approximately 4 deaths in an hour at her hospital and body bags are running low. But in spite of all these she still thinks of her alma mater and the stranded students on campus due to the lockdown. So she sends through the SU Alumni and External Affairs Office a contribution of 400 US Dollars. That is the Silliman Sprit at its finest.
Silliman University has produced thousands of nurses and they are all over the world risking their lives taking care of patients stricken by the Coronavirus. Villegas expects difficult days ahead, but the Filipino nurse is resilient and definitely known worldwide to be highly skilled and kindhearted.
Villegas shares her thought at her workplace saying "Day to day looking at the board of confirmed cases it's like death looking at who would be next amidst the hustle and bustle of saving lives and making life and death situations, where even family can't be notified of the worst situation… a lot of the medical team go home crying to think of the what ifs… this is really the new thing now, live today as if this is your last day, in real time. I saw real human dignity in everyone involved no political discussions, no criticism, but all coming together. Educational titles and rank are not important now, what I see is doing every possible way to count those who survived not anymore those who died. Thank you all for holding up for each other. This is a test of the fakes and the real ones, as good and faithful servants of Christ we shall prevail."
She draws strength from her former nursing classmates by checking on each other daily. These are:  Nella Fe Pineda-Marcon, at Mt. Sinai-St. Luke's Morningside Hospital, New York City; Janette Baloyo-Abella, at New York Presbyterian Hospital, NYC; and Blanche Dipaling-Wysopal, at Yale New Haven Hospital, in Connecticut.  These three nurses, come from SU High School Class of 1977 and SU College of Nursing Class of 1981 and they all need our prayers.
Silliman University Church has launched a Daily Prayer Meditation which goes Live Streaming every 6 o'clock in the evening. This is the time where we can be one in prayer for our alumni front liners scattered around the world.
---
London-based alum succumb to COVID-19
Silliman alumnus Donald "Dondee" O. Suelto, a Hammersmith Hospital nurse in West London passed away alone in his flat last April 9, 2020. This was confirmed by the City of London Police. Suelto had told his friends he was in self-isolation after displaying symptoms of COVID-19. He was exposed to Coronavirus positive patients at his work place.
One of Suelto's friends, Alejandro Fernandez, paid tribute to him on Facebook, calling him "an enthusiastic nurse, full of life, who loved his NHS job and was a spirited friend with a loving heart." Fernandez said, Suelto was one of the first Sillimanians that reached out to him when he was a newbie in London.
Royal College of Nursing (RCN) London regional director Lisa Elliott also expressed her condolences. "Donald was one of the many international nurses who came to the capital and took fantastic care of Londoners," she said.
According to Aaron Bravo Gallo, past president of the Silliman University Alumni Association – United Kingdom, they were classmates with Dondee at Silliman. Suelto started at Silliman as a Medical Technology major, and then shifted to Nursing. In 1991 he left Silliman to pursue his nursing degree elsewhere. Suelto's home place is in Bio-os, Amlan, Negros Oriental.