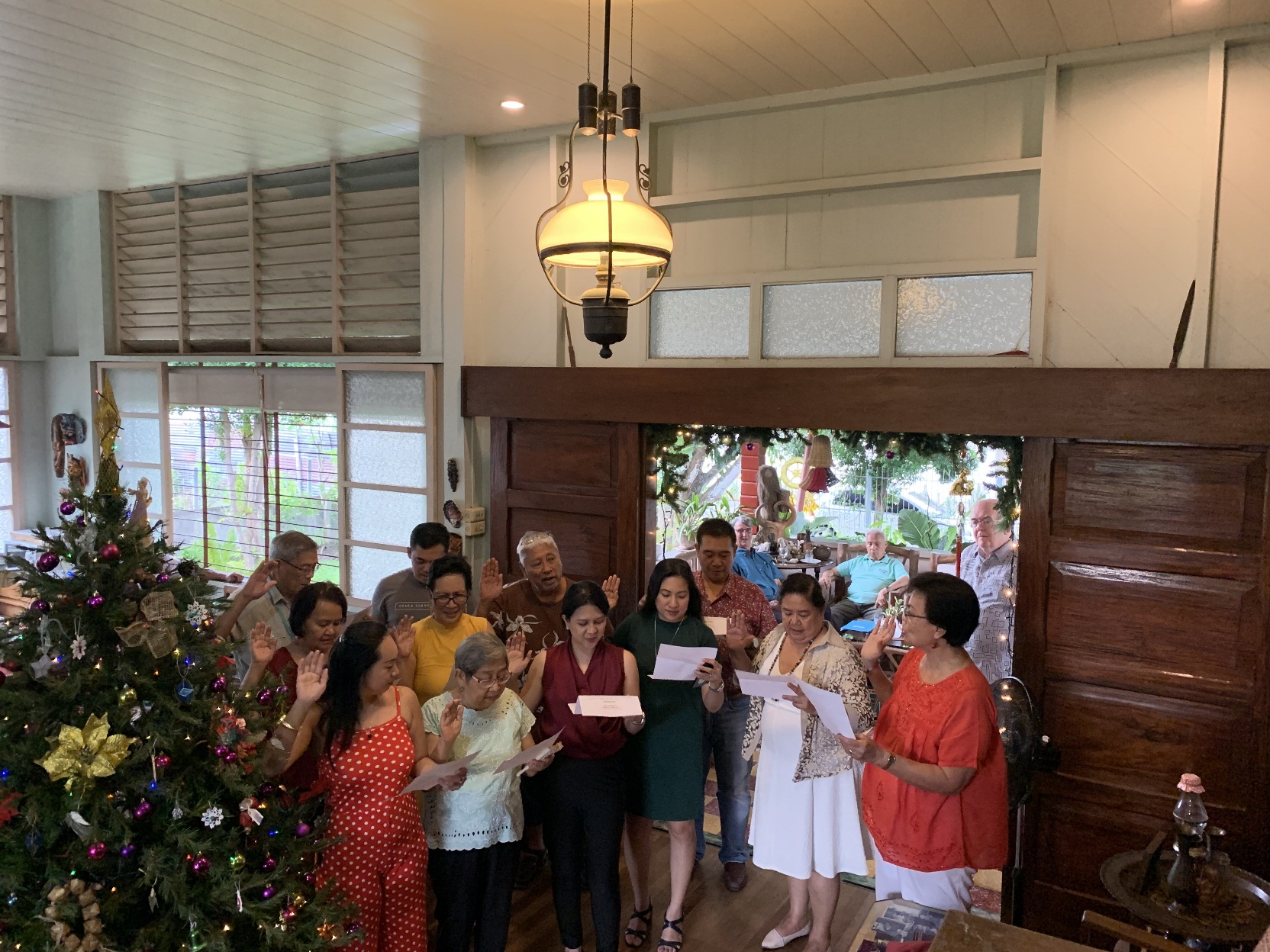 Alumni Updates 2 -8, 2019
Silliman Alumni Dumaguete Chapter induction of  new  officers, Christmas Party
The Silliman Alumni Dumaguete Chapter's Christmas Party and Induction of newly elected officers was held recently at the residence of outgoing chapter president, Leo G. Mamicpic, last December 1, 2019.
Silliman University President, Dr. Betty Cernol McCann, administered the oath ceremony. The chapter's new officers are: Gladys Rio Malayang, president; Jocelyn Sy Limkaichong, vice president external affairs; Pristine Martinez Raymond, vice president internal affairs; Leo G. Mamicpic, secretary; Rica Ruperto Teves, treasurer; Rosewell R. Cataylo, auditor; Frances Hope S. Yap and Mae B. Magdamo, business managers and Ruben N. Bokingo, ex-officio.  The chapter's board of directors are: Jocelyn Somoza Dela Cruz, Lorna Peña-Reyes Makil, Rolando Venturanza Magdamo, Luz Camacho Forbes and Nancy Ugsad Estolloso.
The chapter's Christmas tradition of decorating the Mamicpic's Christmas tree was participated by Dr. McCann, Dr. Dennis McCann, Dr. Angel C. Alcala, Dr. Ben S. Malayang III, Bill and Susan (Monte de Ramos) Soldwisch among others. A moment of remembering environmentalist, Gina Lopez was expressed through the reading of Atty. Grace A. Sumalpong's tribute to Lopez. Atty. Sumalpong worked closely with Lopez when she headed the ABS-CBN Foundation and the Pasig River Rehabilitation Center (PRRC). A round of Christmas carol singing in preparation for the chapter's caroling activity and fundraising, gave the alumni gathering a more festive feel.
   
(L-R) Dr. Betty Cernol McCann and Dr. Angel C. Alcala, join in the décor embellishing of the Mamicpic's Christmas tree.