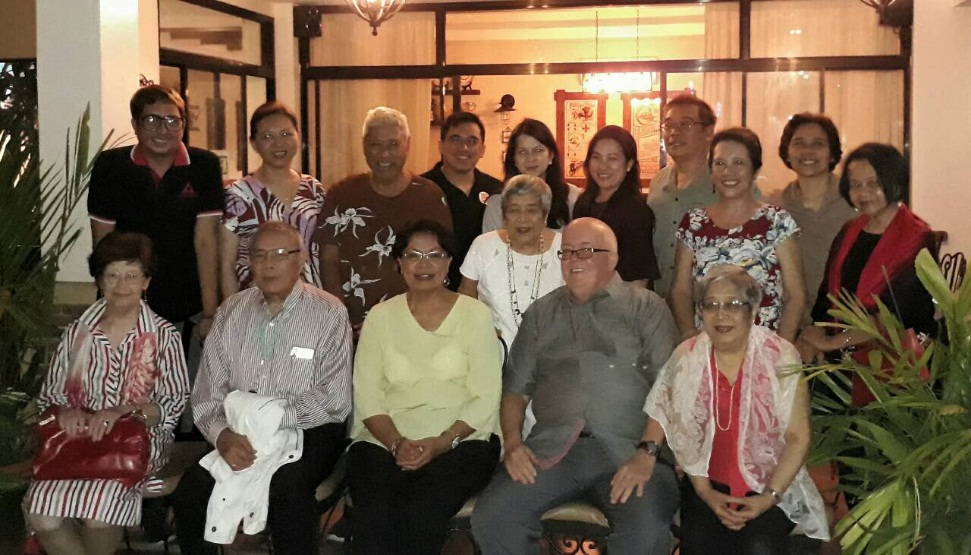 Alumni Updates (April 16-22)

The officers of the Silliman Alumni Association, Inc. Dumaguete Chapter, led by chapter president Leo G. Mamicpic (standing, third from left), hosted incoming Silliman University President Dr. Betty Cernol McCann (seated, third from left),  and husband Dr. Dennis McCann (seated, fourth from left) in a dinner on April 19, 2018 at a local restaurant. The get-together was an opportunity for the Dumaguete Alumni Chapter to express its support for the incoming President. Present were (standing L – R) Moses Joshua B. Atega, PRO; Congresswoman Jocelyn Sy-Limkaichong,chair, Ways and Means Committee; Leo; Rosewell R. Cataylo, secretary; Atty. Pristine Martinez-Raymond, vice president; Myrna Peña-Reyes Sweet; Atty. Rica Ruperto-Teves, treasurer; Ruben N. Bokingo, ex-Officio and Director, Silliman University Alumni and External Affairs; Jocelyn Somoza-dela Cruz, member, Heritage Committee; Mae B. Magdamo, member, Ways and Means Committee; Luz Camacho-Forbes, member Heritage Committee; and (seated, L-R) Helga Magdamo; Rolando V. Magdamo, member, Board of Director; Dr. Cernol-McCann and Dr. McCann; and Lorna Peña-Reyes Makil, chair, Heritage Committee.

Silliman University working students will benefit again during the summer term (April and May 2018) under the Special Program for Employment of Students (SPES). The 100 slots available for student assistants assigned to the different academic and non-academic units in the University will receive compensation for work rendered during the summer term.
SPES is a joint undertaking among different government agencies: Department of Labor and Employment (DOLE), Department of Education, Commission on Higher Education, Department of Budget and Management, Department of Social Welfare and Development, and Department of Finance. SPES seeks to develop the skills and harness the potential of children who come from financially challenged families, in order to prepare them for industry work in the future. The program helps poor but deserving students pursue their education by encouraging their employment during the summer break, enabling them to earn some amount to subsidize their studies. Silliman has benefited from SPES for the last nine years.
A briefing was conducted by representatives from the DOLE Provincial office headed by Jasmine Cortez, Senior Labor Employment Officer, and Anita Melicor, Labor Employment Officer III, last April 16, 2018, 9AM to 11AM at the Silliman Hall.