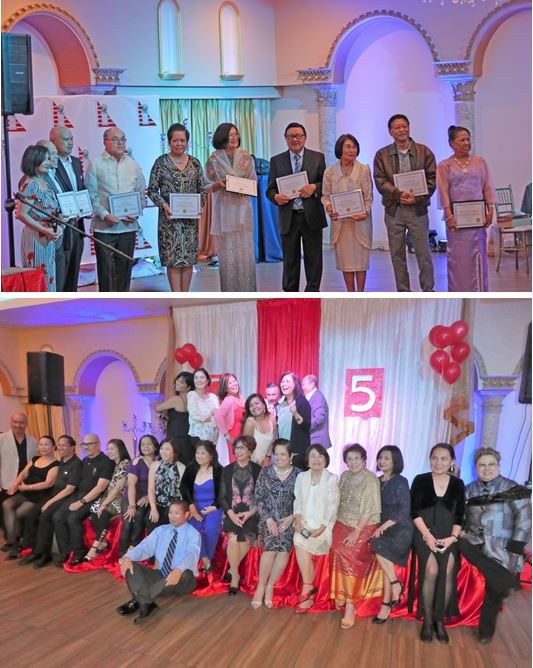 Alumni Updates (March 5-11)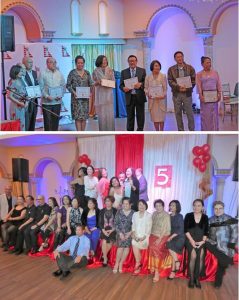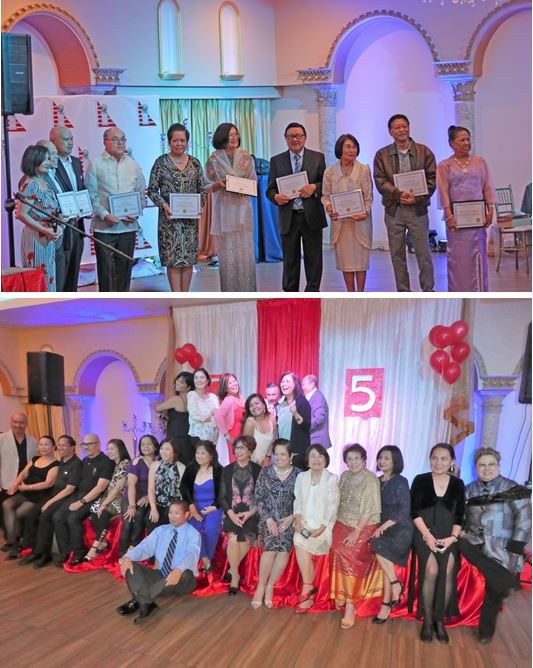 The Silliman University Alumni and Friends (SUAF) of San Diego celebrated its 25th Anniversary on February 25, 2018 at The Royal Banquet, Miramar Road, in San Diego.  It was a well-attended gathering with 150 members and friends in attendance.  Also present during the alumni gathering were friends from Silliman University Alumni Association of Southern California led by its current president, Mario Duran. Representatives from the Negros Oriental Association led by Leiah Abellon, who was guest speaker for the occasion, and friends coming from the Philippine Nurses Association of San Diego also came for the celebration.
The 25th anniversary celebration also honored the chapter's past presidents, citing their leadership and continuing contribution in helping shape SUAF to what it is now.  Twelve presidents have served from 1993 to the present: Zosimo Jadloc, Amelia Hernandez Buluran, Susan Monte de Ramos Soldwisch, Nathaniel Tan, Fely Tan Narvaez, Sofia Pelias-Jadloc, Rev. Isaias Paniamogan, Miriam Tan Cole, Laarni Catague Gularek, Julia Jacinto, Dinah Bibaoco Penaflorida and Louella Dolar Perrin.  Also honored during the dinner and dance were chapter members who have given enduring support and served key roles in sustaining the organization from the time it was organized up to present.
——————–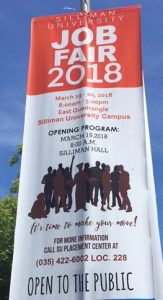 Thirty-five companies will open its doors to Silliman's 1,220 graduating college students during the Silliman University Job Fair to be held March 19 to 20, 2018, 8am-5pm, at the East Quadrangle. Graduating seniors from other schools are also welcome to join the Job Fair. The participating companies, some coming from the country's top 1000, represent varied industries: banking, financial, publishing, insurance, manufacturing, animal nutrition, business process outsourcing, finance, oil and gas/manufacturing, logistics, visa consultancy, real estate, quick service restaurant, shared services, software development, laboratory, healthcare, and hospital services. On its tenth year now, the Silliman University Job Fair is organized annually by the Placement Desk of the Office Alumni and External Affairs.
Interested job applicants are advised to attend the opening of the Job Fair and bring copies of their updated resume on March 19, 2018, 8am, at the Silliman Hall.
For inquiries, please call (035) 422-6002 local 228, or e-mail: [email protected].
List of participating companies:
JG Summit Petrochemical Corporation
JPMorgan Chase & Co.
Land Bank of the Philippines
Manulife Data Services Inc.
Metrobank
Monde Nissin Corporation
Nestle Philippines Inc.
Convergys
SPI Global
Jollibee Foods Corporation
General Milling
Author Solutions Philippines, Inc.
Bria Homes, Inc.
Delonix Marketing Corporation
Diwa Learning Systems Inc.
Empowered Visa Solutions
Fast Cargo Logistics Corporation
GCS Contact Services – Manila Inc.
Health Carousel Philippines Inc.
Hi-Precision Diagnostics
Miller Solutions Development Inc.
Philchema, Inc.
Qualfon Phils. Inc.
SPI CRM
SSI Philippines
Stellar Philippines
Stratpoint Technologies, Inc.
SUMC Foundation, Inc.
Teletech
Wealthbank
Sanitary Care
Student Universe
Visaya KPO
ECE Contact Center
Sophi Inc.