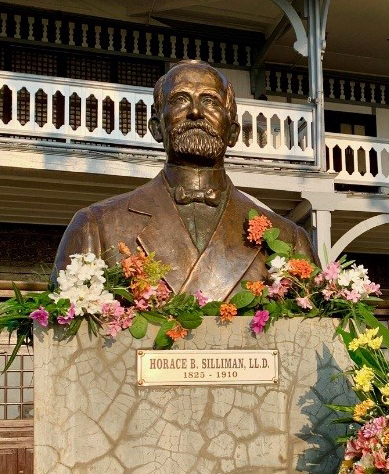 Alumni Updates May 6 – 12, 2019
Remembering Dr. Horace Brinsmade Silliman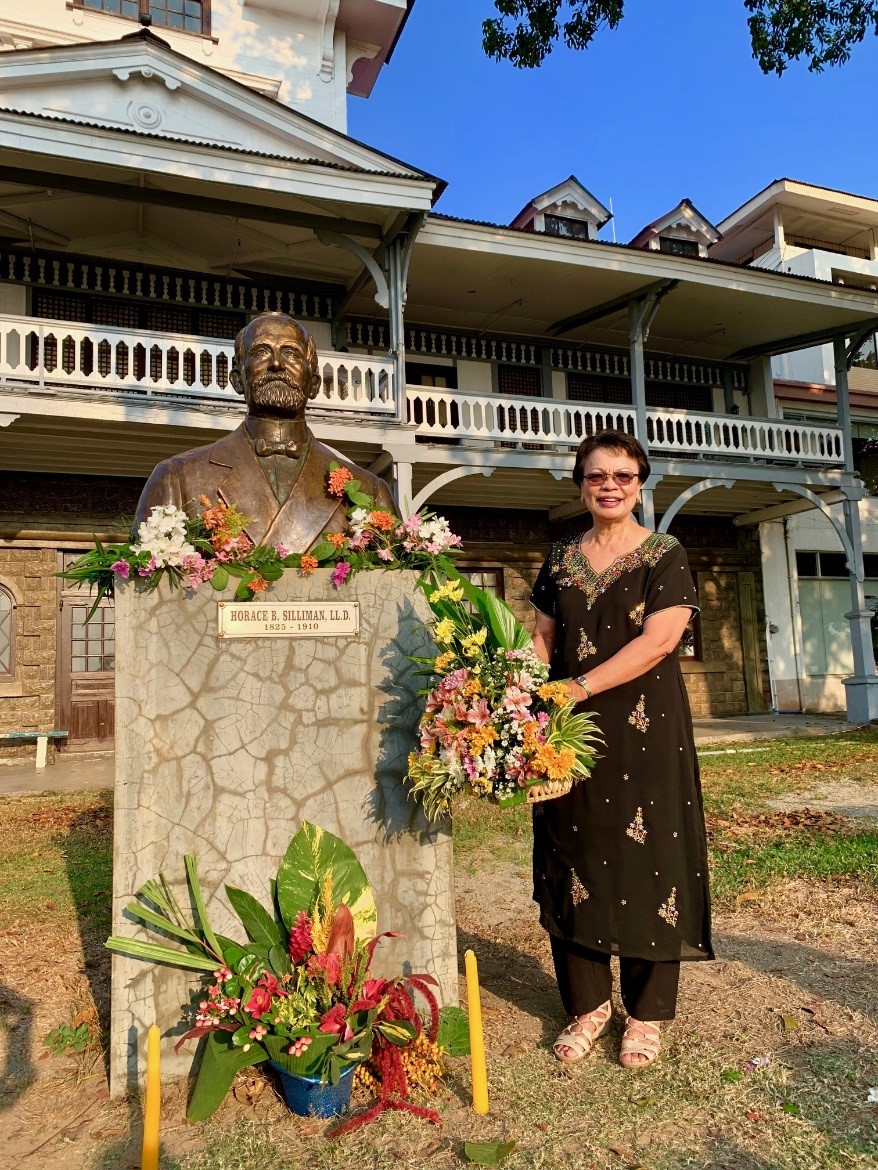 Dr. Betty Cernol-McCann, Silliman University president, lays floral offering at the Bust of Dr. Horace Brinsmade Silliman May 4.
The Silliman Alumni Dumaguete Chapter commemorated the 109th death anniversary of Dr. Horace Brinsmade Silliman on May 4 with a 6:30 am memorial service and floral offering at his bust located at the historic Silliman Hall grounds.  The memorial service was graced by SU President Betty Dr. Cernol-McCann, former SU Trustee Atty. Grace A. Sumalpong, and Order of Horace Brinsmade Silliman Inductee Rolando Venturanza Magdamo, among others.
It has been a tradition of the Silliman Alumni Dumaguete Chapter to honor the life of the man who founded Silliman University. Dr. Silliman died on May 4, 1910 and was buried at the Albany Rural Cemetery, Menands Albany County, New York.
The succeeding narration on the life of Dr. Horace Brinsmade Silliman was shared during the memorial service by Atty. Pristine Martinez-Raymund, Silliman Alumni Dumaguete Chapter vice president for internal affairs, and Atty. Rica Ruperto Teves, Chapter treasurer.

On HORACE BRINSMADE SILLIMAN
by Moses Joshua Atega
Reader  1: "Spanish-American War Ends," read the headline of the August 12, 1898 issue of the New York Times. The story of the signing of the Treaty of Paris detailing the sale of the Philippines by Spain to America caught the attention of a retired businessman from Cohoes, New York – DR. HORACE BRINSMADE SILLIMAN.  He then thought of establishing an industrial-vocational school in the Philippines, which he realized by donating $10,000 to the Presbyterian Board of Foreign Missions in Manhattan, plus subsequent yearly donations until 1907.
Reader  2  : The Presbyterian Board actually tried to persuade Dr. Silliman to give his donation to the fully established mission in Mexico.  "We don't know where the Philippines is!" was the reason of the Presbyterian Board in not considering the donation for the Philippines.  But Dr. Silliman insisted on the Philippines, and this led to the journey of Dr. David Sutherland Hibbard to the country.  The search for a possible location for the school actually started in Luzon and down to the seaside town of Masbate.  But at that time, the Philippines was an intensely Roman Catholic nation. The idea of having a Protestant school was not welcomed by the community leaders of Bohol and even of Cebu. This was a blessing in disguise, as it led Dr. Hibbard to discover Dumaguete.
The choice of Dumaguete was made possible by the welcoming hearts of the Larena brothers, Demetrio the Governor and Meliton the Mayor. And let's say "Thank you" to two Americans –Captain John Randolph, who introduced Dr. Hibbard to the Larenas, and Rev. Leon Hills,  who started the Dumaguete mission on January 22, 1901.  It is sad to note that Dr. Horace Brinsmade Silliman never had the opportunity to visit the Philippines and witness the wonderful unfolding of Silliman Institute, which President Emilio Aguinaldo referred to as "la estrella de la educación in Las Islas Filipinas (the star of education in the Philippine Islands)."
Dr. Silliman died on May 4, 1910 at the age of 84. This is the reason why we are all gathered here to honor the man who had so much generosity.  Although our connection to him is not biological, he is like our beloved great grandfather since many of us here belong to third- generation Silliman families. Let's put the emphasis on "GREAT," because his life story was a reflection of the Bible's challenge "to descend into greatness."
(Scripture Reading by Mae Magdamo: Philippians 2:1-11)
Reader 1: There is something that stirs deeply within us when a man like Dr. Horace Brinsmade Silliman gives up some options in his life for others to be saved.
Dr. Silliman who was already enjoying his retirement could have chosen to pull himself upward. He had the power to broadcast his success in business with much pride:  his drug store on Remsen Street in Cohoes was doing very well, and he owned a well-established newspaper, The Cohoes Cataract. At the height of the Industrial Revolution, Dr. Silliman accumulated a large fortune from his gun factory and other mills; with that he constructed a new reservoir in 1857 and a reliable water system in Cohoes.  He was a leader in organizing a school district in Cohoes in 1849. He worked to improve the community cemetery grounds and participated in efforts to distribute relief to the poor and established a soup kitchen. He was elected first president of the Cohoes Chapter of the Young Men's Christian Association (YMCA) in 1858.
He could have chosen to be in public office to pull up his public image and make it soar. He felt this upward pull real strong, but he resisted, and instead, chose to follow Jesus by descending into greatness. Dr. Silliman, who tasted the greater portion of God's favor and joy, shared his blessings beyond what would have been selfishness.  Definitely, many people in Cohoes today, including those who were there during Dr. Silliman's glory in philanthropy, did not know that his generosity had given a young boy from Bohol an opportunity to become President of the Republic of the Philippines; to another boy the chance to become the country's first commander of the naval forces; to others, the break they needed to become Secretary of Health, the Ambassador of the Philippines to Turkey, a National Artist in Film and in Literature, and many other successes by which they gave him glory beyond Cohoes….
Reader 2:  Horace Brinsmade Silliman was born on December 3, 1825. He was the only one of six Silliman children to survive to adulthood. He married his first wife in 1851 and she gave birth to his first daughter Clara. After 10 years of marriage his first wife died, leaving him with his only daughter who tragically died four years later at the age of 14. He married again and had another daughter Laura, whom he also lost at the age of 19. And shortly after, his second wife died. Our Lolo Horace was actually living alone for many years of his life, until his death on May 4, 1910. We who are living today as Sillimanians are his children and his grandchildren. And as his children, we should celebrate his legacy by reflecting on this:
(Readers will read each point alternately)
An issue of the old Cohoes News, which covered the funeral rites for Dr. Silliman in detail, described our Lolo Horace as an outstanding community leader. The newspaper quoted him on this his advice to the citizens of Cohoes:
Cultivate a spirit of patriotism toward your city.
Make sacrifices for it.
Have the courage to support the good and antagonize the bad.
Subordinate in city affairs, party, spirit, and affiliation.
Do not support the fortunes of reigning leaders.
Insist upon enforcement of the law.
Let it be understood that obtaining money from the public, without an equivalent, is stealing, and everyone who assists in the transaction is a party to the crime.
Watch out about leaving debts to posterity.
These were the words of H.B. Silliman, a great community leader who contributed more to Cohoes than the average citizen. This is a man who contributed financially to Cohoes; a man who dedicated his life to assuring that the citizens forever take pride in their city through good times and bad.
He'll always be remembered as a millionaire philanthropist and benefactor of churches, colleges, and public institutions.
Together Reader 1 and 2:   And so from now on, as Sillimanians and as his grandchildren. We must remember him, not just for the ten thousand dollars and his subsequent donations but more importantly, we must share with our fellow Sillimanians our Lolo Horace's 8 points of good citizenship. Let his legacy in Cohoes, be alive in Silliman and in Dumaguete today!