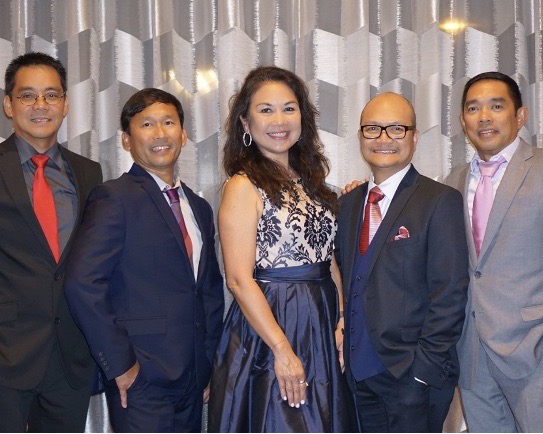 Alumni Updates October 19 – 25, 2020
Silliman Alum Cited by Climate Jobs New York for Leadership
Silliman University alumna and New York State Nursing Association (NYSNA) Board of Director, Nella Fe Pineda-Marcon, was recently presented the Build Back Better Award by the Climate Jobs New York (CJNY), at a Virtual Climate Jobs and Just Transition Summit held last September 22, 2020. CJNY is a growing coalition of labor unions representing 2.6 million working men and women at the center of New York's economy. Marcon was one of 5 awardees cited for building a sustainable future with good union jobs. The other awardees were: Henry Garrido – Executive Director, American Federation of State, County & Municipal Employees (AFSCME) District Council 37, Senator Chuck Schumer – US Senator for New York, Gina McCarthy – President and CEO, Natural Resources Defense Council (NRDC), and John Samuelsen – President, Transport Workers Union of America.
Climate Jobs New York is united around a shared goal of combating climate change while reversing income inequality. CJNY's mission is to advocate for a clean energy economy at the scale of climate science demands, create good union jobs, and support more equitable communities and a more resilient New York. Marcon shares in the New York Nurse February 2020 issue, "never in my wildest dreams have I imagined or thought that I would find my pampered self in the middle of a fight to keep our environment sustainable and protected for future generations."
Marcon, a Board of Director of the New York State Nursing Association (NYSNA), is the largest nurses union in New York State with over 43,000 members.
Marcon completed High School in 1977 and her Bachelor of Science in Nursing degree in 1981 at Silliman University. She then pursued her medical studies at Perpetual Help College of Medicine, graduating in 1987. Currently, Marcon is President-elect of the Silliman University Alumni Association of New York-New Jersey.
Silliman Alumnus Brings Out the Best in Entrepreneurial Skills During Covid Times
 The Covid 19 pandemic has brought out resiliency and creativity as we all cope with the day to day challenges, and this inspiring story of Silliman alumnus Danny Luzada is definitely worth sharing. Luzada is currently the Chesapeake Bay Silliman Alumni chapter president, which covers Washington DC, Maryland, and Virginia.
Danny Luzada was Regional Manager for Internal Controls for the Caribbean and Latin American Regions of Marriott International, the world's biggest hotel chain. Life took him up the corporate ladder smoothly from his life in the Philippines to the United States. He was blessed in many ways, a high achiever in his field, with 32 years of solid accounting and finance experience under his belt. Never did it cross his mind that his career would be on the line.
Three days before he was due to fly to Mexico City on the third week of March, Danny received a phone call from his superior. He was informed to cancel his trip. Little did he know that this would be the start of his life's 180-degree turn. A few days later, he received a furlough notice effective April 4.
"Depression set in. Fear of the unknown prevailed. I explored other jobs in the market only to find out that hundreds of thousands were competing over the same job," Danny says. But he kept his hopes high, knowing he had up his sleeves 24 years of experience in the hospitality industry from the Philippines to Guam to Saint Kitts and the United States. Danny was not about to give up.
As the pandemic hit the United States, and there was a shortage of mask supply, Danny decided to use his time and sewing skill. Being a son of a tailor, he started honing his inherited skills and, at the same time, took refuge from worrying about what the future would bring for him and his family.
Danny started to make masks for donations. It was his way of giving back. At one point, he even decked their pine tree on their front yard with masks in Ziplocks for whoever in their neighborhood needed one for free. This also came with reminders of the importance of wearing masks.
The opportunity to turn it into a business came when friends started to reach out to him for orders. Danny can no longer keep track of the number of masks he's sold or given away for free.
It was at Marriott Cebu where Danny met his wife, Mariely. Both of them love to cook. Mariely does the fancy cooking, while Danny does the Filipino recipes and specializes in lechon belly (roasted pork belly) and humba (stewed pork). Family and friends who get to sample Danny's crispy lechon belly and humba attest to its being a winner. Danny would post on Facebook photos of his cooking specialties, and soon enough, orders started coming in.
Bent on augmenting income derived from unemployment benefits, Danny saw a flicker of light at the end of the tunnel. He gradually converted public interest and curiosity over his gastronomic masterpieces into a business. Covid has genuinely brought the entrepreneurial skills of Danny to a higher level.
Danny graduated from Silliman University High School in 1981 then went on to the University of San Carlos in Cebu for college, where he obtained his BS Accountancy degree. As the president of the Chesapeake Bay Silliman Alumni (CBSA) chapter, his three decades of professional experience in the Philippines and abroad benefited his alumni chapter being host/organizer to TIPON 2019 held in Washington DC last August 1-4, 2019. This biennial gathering of alumni is participated by different alumni chapters in the United States under the umbrella of the Silliman University Alumni Council of North America (SUACONA).
Danny has created a Facebook page: Heavenly Cravings and Clothings. Alumni and friends are invited to check it out. Here is the link, https://www.facebook.com/heavenly.cravings.9.
(Acknowledgement and source of news article: Surviving the Pandemic: From Auditing World's Biggest Hotel Chain to Selling Masks & Lechon Belly, by Mark Raygan Garcia)