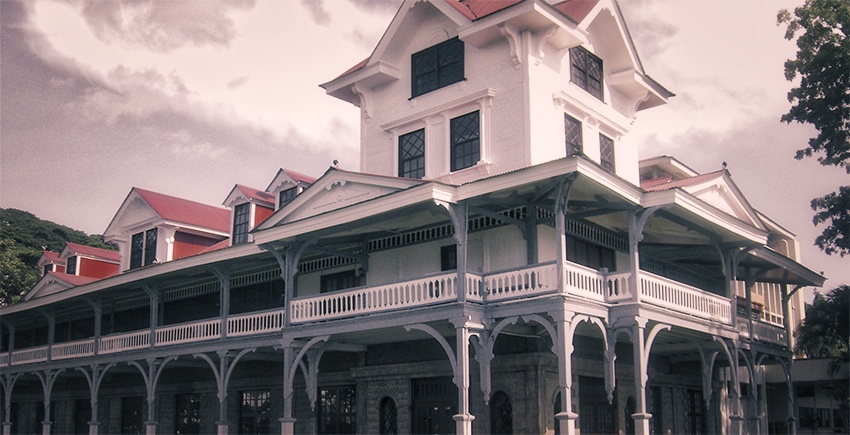 'Ang Babae sa Septic Tank:' A Critique
---
Who does not love to watch movies? Anyone worth their salt would not be considered normal, to say the least, if they do not like watching movies. Time was when movies were regarded as one of the cheapest – or, should I say, affordable – forms of entertainment, second to radio. Today, movies have been complemented by the presence of DVDs, iPads, and other gadgets where you can enjoy watching movies in the privacy of your homes or wherever you may find yourselves in. Personally, however, I think there is no substitute to watching movies on the big, wide screen complete with 2D or 3D effects and with people around you who may give snatches of comments here and there, or shrieks of approval or kilig, or guffaws at the top of their voices, not to mention being able to snuggle in the embrace of your girlfriend or boyfriend or loved one.
For films like "Ang Babae sa Septic Tank," which was the opening film in the four-day Active Vista Human Rights Film Festival organized by Dakila recently in Dumaguete, watching it is not pure entertainment alone. This is also where the educational aspect of films is being manifested. After all, if a movie is worth watching and worth the hard-earned money we are parting with, it has to be able to present a clear-cut message on a theme or advocacy it is trying to promote.
Such is the essence of "Ang Babae sa Septic Tank." Labeled in its synopsis as a comedy, I actually heard two of my more enlightened students arguing as to whether it is a comedy film or not. Perhaps, the presence of Eugene Domingo, who is better known as a comedy actress, classified the film as a comedy. On the contrary, the film harbored on satire – not on the vagrant social realities in our midst – but on the machinations of the film industry today where Eugene, the lead actress, and the rest of the members of the cast revolve in. The approach done by Eugene in her real-life role gives us an inkling of the much-ballyhooed prima donna stance of many of our stars, giving demands to their producers because they know that they have already arrived, so to speak. Thus, when Eugene churns out demands like "yung pagkain sa set, Direk, dapat masarap;" or "yung quarters ko, dapat airconditioned, ha" and so on, the public understands because these are stars who are larger-than-life. The so-called star status is even more emphasized by the presence of factotums or alalays or PAs, as how they are called, who practically worship the ground that these stars walk on – well, that is what they are paid for, anyway – like Eugene's PA who sprays perfume as she passes by and who is forever by her side at her beck and call.
The character of Direk Arthur Poongbato is close to home, not only in the film industry but in any profession or career, for that matter. Truly, these individuals who gloat on their (emphasis on the word) SINGULAR achievements are a pain in the neck. And, singular here does not mean outstanding, but only singular, meaning, just a SINGLE achievement. Thus, there is still a long way to go and there is not much that you can blow your horn yet. Couple this with some grammatical lapses and mispronounced words, and you will empathize with the three filmmakers, while you also want to bash the celluloid screen and pray that Direk Arthur would vanish from the face of this earth!
To say the least, characterization in any film is important to make it credible. The cast was just appropriate, including Eugene as Mila, who was described by the three young filmmakers as "dirt-poor." I have nothing against Cherry Pie Picache who is also a very sensitive actress, but Eugene is expected to bring more laughter with what she did when she portrayed herself. Her delivery has spunk and is more pronounced. Cherry Pie has had her share of light comedy films like when she portrayed a matronly newscaster in a Robbie Tan film many years ago, but somehow, her mestiza features might distract the viewer from the film's message. Mercedes Cabral definitely comes on as sexy, a vamp, and a vixen rather than a mother of seven living in the slums of Manila. I would tend to believe it if, rather than selling her child to a pedophile, she herself would sell her wares to fend for her children.
Indie films have found a niche in the hearts of film enthusiasts and are here to stay so long as there are believers of the Filipino talent. The advantage of indie films, like "Ang Babae sa Septic Tank," lies in the fact that they can tackle a myriad of issues that are oftentimes not possible in the so-called commercial films. Thus, indie films can afford to be very realistic, allowing the viewer not only to see, but to SMELL the stench of Payatas, to SMELL the foul odor of a little girl's "pu-pu" and squirm at the sight of a cat eating the girl's "pu-pu," and to SMELL and FEEL the grossness of the contents of the septic tank which, ironically, Eugene as herself was trying to avoid at all costs, but was still subjected to it. Again, this comes close to home like when we try to avoid something or someone, we find ourselves being thrust into the situation or encounter an unusually obnoxious person. Such is art trying to imitate life itself, or vice-versa.
I did not realize that JM de Guzman is a product of indie films. I had always associated him as Angelito, ang Batang Ama via his late afternoon teleserye, which I am unable to follow anyway.
If I were to help Jocelyn choose what genre she, together with Direk Rainier and producer Bingbong, would adapt to convey the film's message, I would choose the musical because of its novelty in the Philippine setting. But, this is true only of late because we remember the movies of yore of Nora Aunor and Vilma Santos that were mushy musicals. I may have been influenced, too, by the recent showing of "Doo Bi Doo Bi Doo" which starred Eugene Domingo and directed by Chris Martinez, "Ang Babae's" executive producer, screenplay writer, and creative director, whose brilliance in his other films has made me a gushing fan. It also helps that my husband and I are big fans of the Apo Hiking Society and their music, which was the basis of "Doo Bi Doo Bi Doo." The movie musicale today follows on the heels of "The Sound of Music," "West Side Story," "The King and I," "My Fair Lady," "Oliver," "Lost Horizon," "Fiddler on the Roof," "Mama Mia," "High School Musical," and the TV series "Glee."
The message of "Ang Babae" was said it all by Eugene herself when she said that the script of the three filmmakers boils down to SURVIVAL. If she is able to survive the stench of the septic tank – or, in the case of Mila and her children and other slum dwellers – then, she would survive anything.
Eugene survived her septic tank experience. By God's grace, each of us would also survive the personal quagmire we are in, albeit in varying levels and different degrees.
Silliman University has waited for "Ang Babae sa Septic Tank." Today, she has finally come!
-30-
---
ABOUT THE AUTHOR :
Ma. Cecilia M. Genove
BS Journalism (1977); MA Education (2000); Doctor of Education (2004);
Dean, College of Mass Communication, Silliman University