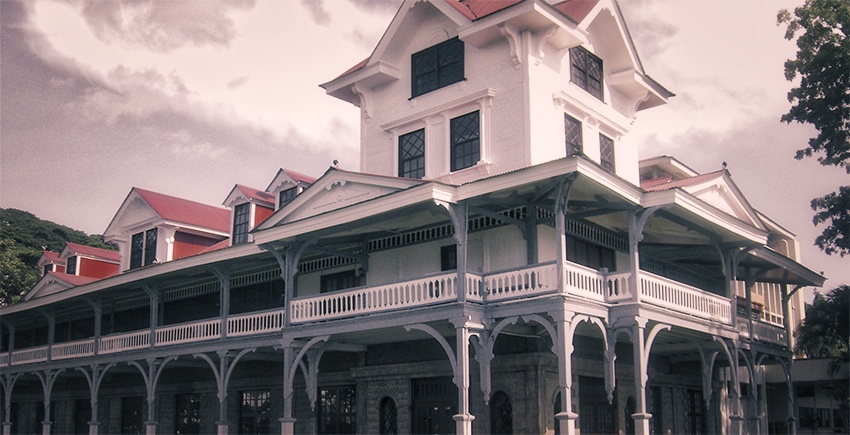 Bravo, Evelyn!
---
The Dumaguete community mourns the loss of a dedicated and compleat artist and cultural icon at a time when the entire Christiandom was in the thick of preparations to greet the new year. Evelyn Rose Romano Aldecoa, 55, peacefully passed into eternal life in her sleep in the early morning of December 29, 2011. She was buried Monday, January 2 at the Dumaguete Memorial Park beside her mother, the late voice teacher, Nelly Abella Romano Aldecoa, after a solemn, moving necrological service at the Silliman Church.
Friends and relatives of Evelyn have known of her health problems, but were shocked at the suddenness of her passing. She was a faculty member of the Speech and Theater Arts Department of the College of Performing and Visual Arts at the time of her death. The remake of the musical play, "Godspell," her most recent and what turned out to be her last directorial project, was presented to an appreciative audience on December 9 and 10, 2011. It has been scheduled for a repeat performance on January 29 at the Luce Auditorium and will push through as a tribute to its director.
According to her father, retired Court of Appeals Justice Venancio Aldecoa Jr. who Evelyn was caring for, she was diagnosed with myocardiopathy, an ailment she graciously accepted, but which did not deter her from pursuing her cultural endeavours. While her passing was much more subdued and without fanfare, unlike her grand-scale productions, still it could very well have been her most dramatic curtain call.
Rev. Jonathan Pia, minister of the parish of Silliman Church, acknowledged Evelyn's work, especially for Christmas Eve, as part of the Music and Worship Committee. Rev. Pia particularly remembered the meal that everyone shared after the Christmas service, with Evelyn enjoying the fellowship with nary a hint of a leavetaking.
She was said to have been clutching a hymnal when the family's long-serving caretaker discovered that she was no longer responding to his wake-up prodding. She was actually preparing the music complement for the worship service on Sunday, January 1 where she was supposed to sing.
Her only sister, Makati RTC Judge Jenny Lind Aldecoa Delorino, said that Evelyn lives on in each and every student and colleague she has come in touch with. "She is very much a part of your lives, as she is with ours. We do not begrudge the fact that her life has been shared with many people she loved and who loved her in return," Jenny articulated.
Born and raised in Silliman University, Evelyn obtained degrees in AB Speech and Theater Arts and Bachelor of Laws. She was director of the Luce Auditorium for several years and successfully staged there over a span of two decades Broadway and Hollywood favourites such as "The Sound of Music," "Fiddler on the Roof," "The King and I," "Man of La Mancha," "West Side Story," and "Brighton Beach Memoirs."
A gifted singer, her distinct expressive alto voice was widely admired as a member of the Aldecoa Trio and the Aldecoa Family Singers, 1974 NAMCYA national champions in the family category. She was also the guitar accompanist in the numerous concerts they presented here and abroad.
Acknowledging that her gift of music is an honor and privilege from the Creator and Giver of all talents, Evelyn generously shared these as she actively served in the Covenant Choir and the Music and Worship Committee of the Silliman Church. She also devoted herself to directing and performing with the Souled Out Singers and the Union Church of Manila Chancel Choir in contemporary Christian musicals. She was also choir director of the Filipino Full Gospel Church in San Jose, California, USA from 1986 to 1991.
Evelyn is now with our Creator, perhaps, directing the choir of angels as they welcome her in her greatest performance ever.
---
ABOUT THE AUTHOR :
Ma. Cecilia Madronal Genove
BS Journalism (1977); MA Education (2000); Doctor of Education (2004);
Dr. Genove is the Dean of the College of Mass Communication of Silliman University. She also teaches Speech at the College of Visual and Performing Arts.