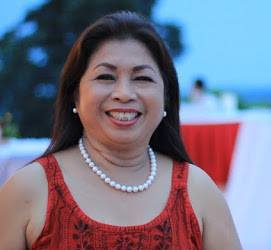 Atty. Tabitha E. Tinagan
Tabitha sings as though the cosmos itself is tuning in, as though heartaches and woes are concepts that only exist in other dimensions. It is this very attitude, this vibrancy in spirit which pervades her lectures and conversations. And just as when she sings, when she speaks, people tend to listen.
And she speaks volumes. She has something to say about anything. She talks without subterfuge or affectation, her words plain yet eloquent, playful yet incisive, wit and humor masking their gravity and depth. And she speaks her mind like a true Sillimanian: melding substance and form, with certainty and conviction, without fear or hesitation – much like the sages and heroes of yore.
Mommy Tabi, as her students and younger colleagues fondly call her, started out as a Sillimanian in kindergarten. Born in Kibawe, Bukidnon to a mother who hailed from Lugait, Misamis Oriental and a father who came from Buenavista, Agusan del Sur, she transferred to different elementary schools as her father got assigned in different places, but eventually returned to Silliman in high school, a proud alumna of Batch '69.
In college, she first took up pre-med then shifted to BBA-Management in her third year. She enrolled in Law in 1976, graduated in 1980, and passed the Bar in 1981. She had her first job in General Santos City, but decided to come to Silliman after experiencing what she considered a culture shock in the city where her family finally settled in but where she felt like a mere visitor.
She started her teaching career in 1983, turned full-time faculty in 1985, was appointed coordinator of the Business Law and Taxation Program the following year, and became dean of the College of Business Administration (CBA) in 1996 until 2010. She also held the position of Dean of the School of Public Affairs and Governance.
Tabitha believes that everyone deserves a second chance, and this philosophy she applies in dealing with her students who falter in their academic performance. Many students find her strict and demanding, one who doesn't smile much and who, from a distance, seems unapproachable. But that's because they don't really know her. And although she thinks she has mellowed through the years, she admits she still talks fast – at times too fast that some students write in their evaluation comment that "she talks like a Lear jet."
It was under her watch that CBA got Level III accreditation in all their business education programs, and she considers as her greatest achievement the erection of the new CBA building. She and the CBA faculty involved themselves in its construction, from planning up to modifying its designs.
But as much as she loves being a teacher, Tabitha will never think twice of setting it – and everything else – aside when it comes to her family. There's nothing she loves more than being a mother and grandmother, as well as being the ad hoc mom of her SPAG family.
All in all, Tabitha loves to love. And she loves living life to the hilt, in all its glory. And singing Carpenters songs.
I'll say goodbye to love / No one ever cared if I should live or die / Time and time again the chance for love / Has passed me by and all I know of love / Is how to live without it / I just can't seem to find it…


Describe yourself in three words.
Sexy. Sassy. Crazy.
What is your mantra in life?
Everything happens for a reason.
What makes you laugh?
It takes very little to make me laugh. However, the outbursts of my two granddaughters make me laugh the hardest and without fail because you wouldn't expect such blowups to come from a 3-year-old and a 6-year-old.
What makes you cry?
Family. I cried when my son marched at the Luce auditorium last Honors Day, especially since he was the only Class Honor among the Seniors in his course. I also cry when somebody is being very kind to me. And, of course, deaths make me cry, as when my husband passed away.
What is your favorite time of the day?
Twilight. Because that's when the day's labors are over. Sometimes I watch the twilight – the darkening of the sky – through my office window.
What is favorite day of the week?
Friday. Because that's when the toils of the week are generally over.
What do you love doing when not working?
Read. Watch movies. I love reading thrillers and watching spy movies. I'm a fan of Robert Ludlum, particularly his Bourne series.
What is your favorite hangout in the university?
When I was still a student, my friends and I used to hang out at the west side of the gym. We would buy hot pan de sal from the bakery at the back of what used to be Ricky's that got burned down, and we would sit there and eat the pan de sal with Coke. These days, I just stay at the office or eat out with my SPAG family mostly at the 153 Korean restaurant or at Kurambos .
What makes you blush?
(Guffaws.) Do I still blush? I don't think I still blush. But what makes a normal hot-blooded woman blush does tickle me pink. [Like…sweet nothings…from whomever…as when someone says "Hi!"]
If you were an actor/actress, who would you be?
Vilma Santos, because her roles are varied and she carries them through. Also the old Julia Roberts, for the same reasons.
What was your favorite game growing up?
Kayukok.
What is your idea of a relaxing day?
Big-time pampering:  Full body scrub, then a full body massage, a facial, and capped with a manicure and pedicure…..while nibbling my favorite comfort food.
What one thing would people be interested to know about you?
That I'm mataray na may pusong mamon.
 What song best describes YOU and the life you have now?
"Top of the World" by the Carpenters
What is the first thing you do after waking up in the morning?
Say a prayer of thanks, then go to the bathroom for my morning rituals.
What is your idea of a family?
To paraphrase what somebody (forgot who) once said: I prefer we were crazy and happy, rather than normal and bitter.
(This article was first published in 2014.)