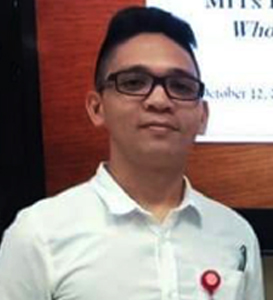 Godswill Lacuesta Carino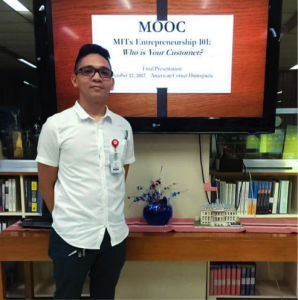 Godswill Lacuesta Carino has been working in the University since 2013, first as Assistant Property Custodian at the Business and Finance department before he transferred as office assistant to the Robert B. & Metta J. Silliman Library.
His unique name has a heartwarming story to it, his elder sister was born way ahead of him and his parents tried for 7 years to have another child before he finally came. His parents believed that the long wait and his arrival were all God's will, thus, naming him Godswill.
He is a proud Sillimanian through and through – being the son of a nurse who worked at the Silliman University Medical Center, he was born at the said hospital and they lived in the campus while he was growing up. He fondly remembers the nights when he couldn't sleep and his younger self would go out to get some fresh air and contemplate beneath the acacia trees around the campus.
Understandably, he finished his basic education and his undergraduate degree in Bachelor of Business Administration at the University. Currently, he is working on his Master's degree in Business Administration.
He says that the environment makes it easier to cope up with stress because one look outside and he can already see the beauty of nature and joyous students walking around the campus. He loves being in Silliman because there's a variety of things that he can do apart from his job – like coaching the baseball and softball club and being able to attend interesting lectures and seminars.
Know more about him:
Describe yourself in three words: an Outspokenly Quiet Mysterious person
What is your motto in life: Just trust the process
What makes you laugh: I usually laugh a lot when I see prank videos and honestly speaking I am subscribed to a YouTube channel called Angrypicnic where a college guy pranks the other college students as part of his social experiment
What makes you cry: Whenever I drive home during lunch time I usually pass by West City Elementary School and most of the time I pass there I see an old man dragging his bike full of junk to sell at the junk shop that's in front of the PNP Station. He walks gingerly and often under the scorching heat of the sun. Every time I get the chance to see him I usually stop and give him some money or food and water. That's usually why I really have to go home during lunch time aside from the home cooked food by my father.
What do you love doing when not working: During my free time I go out with my girlfriend when she's not working too, and get some coffee. That's how much I love coffee and my girlfriend.
What is your favorite hangout place in the university: I have several favorite hangout places and two of them are very common, the Amphitheatre and the Luce lobby usually during the evening. But my most favorite place to hangout would be the UTT or Under The Tree which is in front of Doltz Hall. There used to be a tree there which had a bench underneath it. I usually seat there almost every evening when and just relax when I was still living inside the campus.
What makes you blush: It makes me blush when I am being complemented or topics about my lovelife.
If you were an actor who would you be: If I were an actor I would be Robin Williams because I like to make people laugh and not let them think that I am sad deep inside.
Tell us a fact about yourself: It is a clear fact that I am a very proud and loyal Sillimanian. I was practically born and raised in Silliman. I was born in Silliman Medical Center, I lived in Siriguelas Cottage Silliman Campus for 25 years, I went to school from Early Childhood until college in Silliman, currently pursuing my MBA in Silliman and I am employed here in Silliman.
What's your favorite day of the week and why: EVERY day would probably be my favorite day of the week because it allows me to correct my mistakes and shortcomings of yesterday. And I treat every day as a blessing because not everybody gets to live another day.
What is your favorite game growing up: I grew up inside the campus of Silliman together with some of my very closest friends who also reside within the campus. We call ourselves the "Campus Boys". And when we were young, during summer we play Pulia Dunggab. Some kind of an improvised hide and seek wherein the IT is a police and the rest are hiding trying to get behind the IT and stab him. We would play that game and the entire campus was our playground.
What is your idea of a relaxing day: My idea of a relaxing day is just being with my girlfriend, having some coffee, with good ambient music, and delicious food.
What one thing would people be interested to know about you: Maybe my interest in ambient music.
What song best describes the You and the life you have right now: The song by Jason Mraz "3 Things"
What is the first thing you do right after waking up in the morning: I check my phone, text my girlfriend a happy morning, read Our Daily Bread and the Bible and pray the rosary.
What's your idea of a family: A family is never perfect but loves all the imperfections of its members
At this point in your life, what for you is your life mission: Learning how hard and difficult life sometimes can be, I lean more on how I can infuse the power of positivity to others despite of all the negativity that sometimes creep inside me.
How do you life to be remembered: I want to be remembered as a frequently scared person who bravely tried despite of past failures.