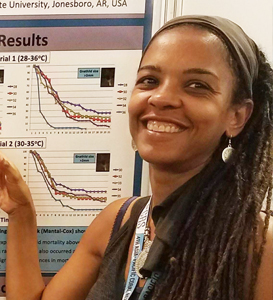 International Student Mary Shodipo
International Student Mary Shodipo
"Limitless Exploration"

People who have tried volunteering often say that it is a life-changing experience. For this music teacher-turned researcher, one summer volunteering in the Philippines led her to leave her life in London to study Marine Biology in Silliman University. Meet Mary O. Shodipo, a National Geographic Explorer enrolled in the Master of Science in Marine Biology program at the Institute of Environmental and Marine Sciences of Silliman University.
It was a summer that changed everything.
In 2012, Londoner Mary O. Shodipo spent her summer vacation in the Philippines to volunteer for the Thresher Shark Conservation and Research Project on Malapascua Island.
"A friend of mine [who] was volunteering there told me about it. It sounded like an interesting and worthwhile way to spend my summer holidays, so I decided to volunteer there for five weeks," said Mary.
Her close encounters with Thresher sharks as a volunteer that summer made her fall in love with marine conservation and the Philippines. The next year, she took a three-month sabbatical from work and returned to the Philippines to volunteer again in other marine conservation organizations.
The more Mary got involved with marine conservation and scientific research work, the more she realized that it was something she genuinely wanted to pursue – something worth putting her life in London on hold for.
Back in London, Mary was a music technology teacher and the head of the Digital Music Department in Access to Music, a music college in Brighton, England, for eight years. She also had been running a recording studio experiences business since 2008.
Mary had studied Music Technology at Access to Music and obtained a Professional Graduate Certificate in Education from the University of Brighton. Before her career in music and education, she also studied social psychology, philosophy, and fine arts at Kingston College in London and took up an undergraduate degree in Social Anthropology at the University of Sussex.
With her diverse background, the half Nigerian, half Iranian music teacher's decision to uproot herself was driven by pure passion. It did not matter that marine biology was not related to the career she had already established. However, as Mary has been an avid diver for 12 years who has always been curious about the ocean, this career shift was not much of a surprise.
"I had read about  Dr. (Angel) Alcala's great work with Marine Protected Areas (MPAs) in the Philippines and met Dr. (Aileen) Maypa whilst volunteering at Coastal Conservation Education Foundation, so I was already familiar with some of the great work done in Silliman University," said Mary.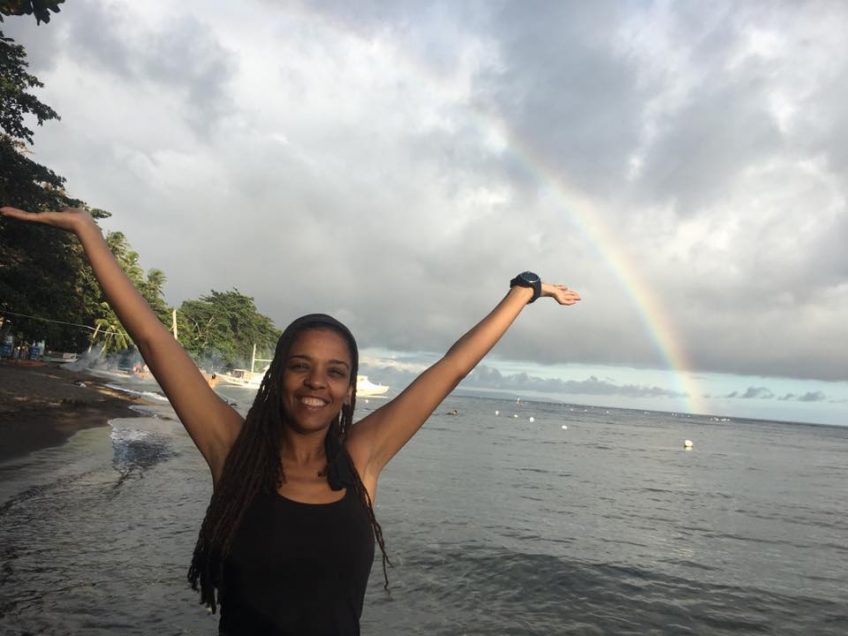 When she came to Dumaguete for the first time in 2013 to visit a friend, the city and Silliman University – something about the location and the campus – left an impression on Mary that made her decide it was here where she wanted to start exploring beyond her limits.
At the age of 36, Mary applied for the Master of Science in Marine Biology program of the SU Institute for Environmental and Marine Sciences and finally moved to the Philippines in 2014 to begin her new life as a researcher.
Her passion for conservation and interest in reef fish led Mary to be interested in the effects of MPAs on fish biodiversity and abundance, until she eventually focused on studying reef fish parasites after volunteering as a research assistant for a fellow Sillimanian.
"I learnt about their (reef fish parasites) importance and influence on the ecosystem, and that they are majorly understudied. This glaring gap in this important field posed so many unanswered questions that I became interested in trying to answer them," said Mary, who is now working on the first study to examine the combined effects of fishing pressure and coral cover on gnathiid isopods, the most common external parasite of coral reef fishes.
Mary saw where her curiosity and skills were needed, and forged ahead. In 2018, her hard work bore fruit. First, she received an Early Career Grant from National Geographic in April 2018 for her ongoing thesis research on the effects of MPAs and fishing pressure on fish-parasitic gnathiid isopods in the Central Philippines.
Second, a few months later, in November 2018, she was awarded with another grant by National Geographic for professional development. Officially a "National Geographic Explorer," Mary will be receiving further training on parasite taxonomy and fish-parasite ecology at North West University, South Africa and at the University of Queensland, Australia later this year.
Third, the scientific paper that Mary authored on "Apparent kleptoparasitism in fish—parasitic gnathiid isopods" was published in the Parasitology Research journal last November 2018.
As part of her fruitful year in 2018, Mary has also presented the preliminary findings of her research at three symposiums. She first presented at the Asia Pacific Coral Reef Symposium in Cebu and at the Advances in Philippine Marine Research symposium in SU last June, then at the 50th Annual Convention of the Federation of Institutions for Marine and Freshwater Sciences in SU last October.
As a researcher, Mary said she enjoys fieldwork the most – aside from, of course, achieving results.
"I love being in the field and collecting the data, but it is also a really great feeling when you see the story unfolding in the results and even more so when they are world firsts," she said.
Mary spent the whole summer of 2018 on the island of Siquijor to gather data for her research. The outdoors activity for several weeks was a stark contrast to her life in the UK, where she worked indoors most of the time.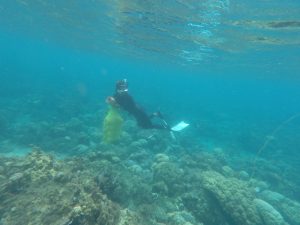 "Here (in the Philippines) I get to be outdoors a lot more and can scuba- dive and freedive regularly, which had been really good for my health. I have a muscle condition that has improved a lot since I moved here," added Mary.
Aside from scuba diving and freediving, Mary still enjoys her old hobbies: composing music, singing, painting, and horseback-riding.
Seven years after that fateful summer in Malapascua, Mary is now a published researcher and a National Geographic Explorer, but her heart remains that of a volunteer, more curious than ever. In fact, she is so curious that, she plans to pursue a PhD degree in marine sciences to take her explorations even further.
From social sciences to fine arts, and on to the marine sciences. Truly, Mary's activities are as limitless as only she has set them out to be.