Mr. Arcadio A. Narciso
Spreading God's Love in Every Heartbeat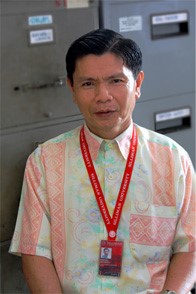 Believing that God gave the human race the freedom to do what it wills, he uses his to do good deeds for Him. Married but with no kids to play with after work, he and his wife channel their energies to various community-service endeavors, including volunteering in the Apostle works of their church.
His weekends are booked with "spiritual services to my brothers and sisters in Christ". These include visitations to church members who are sick, prayer marathons and Bible studies. He goes on air in a radio program, "Jesus, Your Love Heals", every Sunday, from 6 to 7 o'clock in the evening, at DYWC, and, upon reaching home, takes care of his parents and three single siblings — all of whom he solely supports.
Mr. Arcadio A. Narciso, more known as "Kuya Cadyo", is a Record Filler at the Human Resource Department of the University. He started as one of the operators of printing machines in the then Silliman University Press (now Printing and Publishing Unit under the Office of Information and Publications) back in 1990. This 2017, he celebrates his 26st year with the University.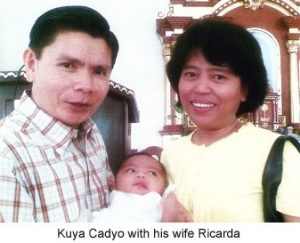 Let's get to know "Kuya Cadyo" more beyond the four corners of his table.

Describe yourself in three words.
God-fearing. Loving.  Humble.
What is your mantra in life?
John 13:36 "Love one another as I have loved you." We all exist because of God's love. If there's love, husay ang tanan.
What makes you laugh/cry?
I laugh when I remember my teenage years. Remembering 1993 when I was hospitalized makes me cry.
What's your favorite time/day of the week? Why?
Saturday and Sunday because it is when I do community and spiritual services to my brothers and sisters in Christ.
What do you enjoy doing when not working?
I serve God and His people, volunteering in church activities.
What is your favorite hang-out place in the University?
My workplace for the past 26 years: SU Press (now PPU) and HRD Record Room.
What makes you blush?
I blush when others say something bad to me.
If you were an actor/actress, who would you be?
I have a humorous side, so I think it would be Palito or Dolphy. Makalingaw sila. I like them because they make people laugh.
Tell us a fact about yourself.
I got sick with pneumonia and was admitted in the Silliman University Medical Center for 2 weeks. That was the first and only time I was hospitalized. Being active at work and with many activities at church, I didn't eat on time. Skipping meals and working in an extremely hot-cold atmosphere is never healthy.
What's your favorite game growing up?
Volleyball and basketball.
What is your idea of a relaxing day?
A relaxing day would be when I have more time to sleep.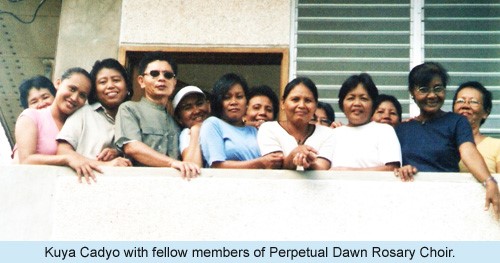 What one thing would people be interested to know about you?
I'm the 5th out of 12 siblings. I'm a family man. My parents and 3 sisters are living with me and my wife. I take care of them.
What song best describes the YOU and the life you have now?
"Born Free" by Matt Monro. I believe God gave us the freedom to do what we want. So, I'm using such freedom to do work for Him. Anytime, we are free to do good deeds, to visit our brothers and sisters in Christ, to share and to pray. We are always free to walk with Him.
What is the first thing you do right after waking up in the morning?
Whisper a thanksgiving prayer.
What's your idea of a family?
Family is a gift. God wills for us to have good relationships. A family strives to have or maintain good relationships with one another. It is a home with love, peace and unity.
(This article was first published in 2012.)