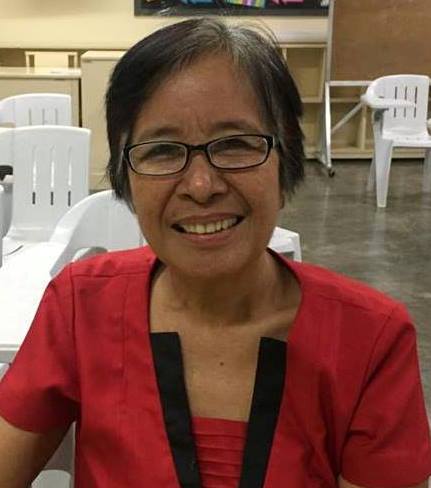 Mrs. Pablita P. Lubguban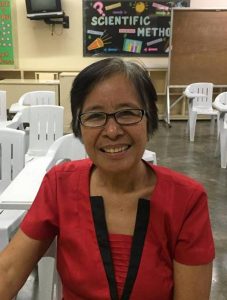 Mrs. Pablita P. Lubguban has always been a hardworking person who loves the buzz of moving around and being productive every day. She is a self-confessed workaholic – she's always been doing chores or work ever since she was young that she feels restless and unproductive if she doesn't have anything to do.
Born June 20, 1958 and growing up in a small barangay in Dumaguete, Pablita is second eldest in a brood of seven. At a young age, she learned to help run the affairs of the household, especially when their parents were away to work in the farm.
Because of their financial situation, education was not her family's priority. But tides changed course when her parents saw Pablita's capabilities and how she excelled in school. So they decided to keep her in school until they were able to support her financially. While in second year high school, Pablita was, however, forced to stop schooling. Her parents could no longer afford her studies. She quit school and decided to stay home to help her parents. It was only two years later that she managed to go back to school through the help of relatives.
Fully knowing what it took her and her family for her to finish elementary and high school, Pablita immediately sought work after graduating from high school. In order to support her family and save enough money for college, she worked as a sales lady in different department stores in Dumaguete. Providentially, an opportunity came her way when one of her friends, who was a working student in Silliman University at the same time that Pablita was working as a sales lady, asked her if she wanted to be a student assistant at the College of Arts and Sciences. This was her chance to go to college and at the same time earn as a student assistant to help shoulder the cost of her studies — and Pablita was not to let go of it.
When she set foot in Silliman, she enrolled in the Accountancy program. Her stint in in this program was short-lived though; a semester later, she shifted to another course. She studied Elementary Education major in Math. It was a love affair with her new-found course that it's what brought her to where she is now.
In 1982, she obtained her college diploma from Silliman. Within the same year, she started teaching at the Elementary School. Pablita knew from her experience that education was a worthwhile investment. With her stable income, she sent her siblings to school one after the other. And one who does not stop learning, Pablita also put herself through graduate school, completing her master's degree in Mathematics in 1991.
This year, Pablita celebrates her 35th year in Silliman University as a teacher who continues to inspire her students to dream bigger and breathe life to their dreams, despite whatever condition they might be in. She draws much joy from preparing students for math tournaments in the country and abroad, and finds excitement in rolling out new teaching-learning strategies in class for her students to embrace math, instead of being afraid of it. And like all Silliman teachers, she sources fulfillment from seeing her students succeed in life and is moved whenever they remember and share fond memories of her class.
Pablita is married for 25 years now to Mr. Rolando D. Lubguban, and they are blessed with four children: Richie Paul, Riva Dianne, Rica Narra, and Rae Antonette.
Describe yourself in three words.
Workaholic and shy.
What is your motto in life?
Try and try until you succeed.
What makes you laugh?
Funny jokes.
What makes you cry?
When somebody cries. Sad stories.
What's your favorite time of the day and why?
Daytime. That's when  I can do a lot of things and finish my work.
What's your favorite day of the week and why?
Saturday, because my parents said it's a nice day for planting; and Sunday, too, because it's a day to connect with God.
What do you love doing when not working?
When I don't have work, I still find small things that I can do around the house. I used to sew, which I got from my mother, I sewed pillow cases and clothes for my children.
What is your favorite hangout place in the University?
Math room.
What makes you blush?
Funny experiences in the past.
If you were an actor, who would you be?
When I was younger, I was a huge fan of Nora Aunor.
Tell us a fact about yourself.
I'm happy that I stayed in Silliman. I once had an opportunity to transfer to DepEd to be a public school teacher but circumstances at the time didn't allow me to push through. Because of it, I continued teaching in Silliman. When I got pregnant with my fourth child, I was able to use my employee benefits at the Silliman University Medical Center.  When my children started studying, they were able to study for free because I was working in Silliman and because they had good grades. So I'm happy and thankful that God allowed this to happen.
What's your favorite game growing up?
Volleyball.
What is the first thing you do right after waking up in the morning?
Drink water and then multitask – cook and clean.
What's your idea of a family?
Family is really the foundation for me, it is where everything starts – love, trust, relationship with God.
At this point of your life, what for you is your life's mission?
Let all my children finish their studies, see them have their own family, make sure they are settled and equipped to have a good life.