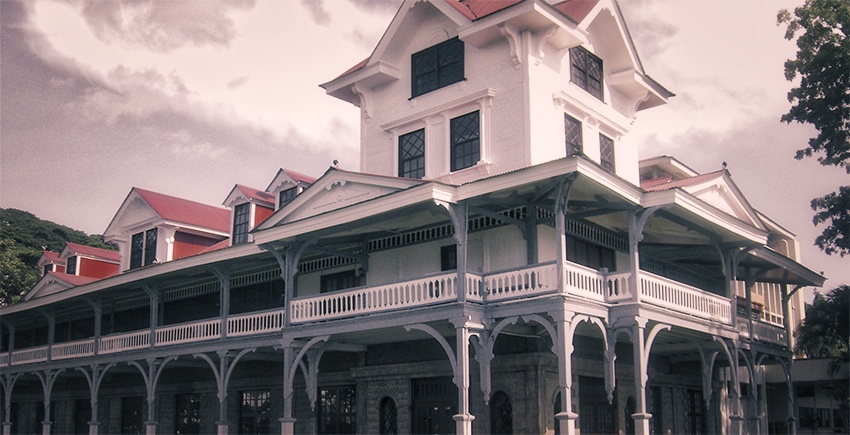 Discovering Silliman and Dumaguete with Judith Rowland
If you are a firm believer of Divine Providence, like I am, you will certainly agree that everything happens for a reason, and nothing happens as a result of mere coincidences. If something is meant to happen, then it will happen, barring any unforeseen circumstances at all cost.
Such was the undertone surrounding the reason as to why the then Silliman Institute, now Silliman University, happened to be located in this bucolic, serene City of Gentle People. When Silliman University's founder, Dr. David Sutherland Hibbard, was asked why, of all the places in the Philippines, did the United Board for Christian Higher Education in Asia choose Dumaguete to be the site of an industrial school for boys out of the generous donation of $10,000 from the philanthropist from Cohoes, New York, Dr. Horace Brinsmade Silliman, Dr. Hibbard simply answered: "It is because God meant it to be."
Making an analogy to likewise refer to the existence of the College of Mass Communication, we are wont to ask, especially at this time in the College's history that she is celebrating her 45th year, why – of the many Fulbright scholars at that time – it would be Dewey Wayne Rowland of Lakewood, New Mexico and Missouri, USA who would come to Dumaguete to help establish a journalism school, which would become the first journalism school to be set up outside the greater Manila area. Without a doubt, Dr. Rowland's qualifications were impeccable with a foolproof guarantee that after laying the groundwork in 1965-1966, Silliman University would be an institution to reckon with in the training of professional journalists.
But again, the job could have been done by any of the equally qualified and brilliant Fulbright scholars. Why did it have to be Dr. D. Wayne Rowland? I would have to reprise what Dr. Hibbard said and declare, "It is because God willed it so."
On a personal note, I have to confess that although I did not have the chance to meet Dr. Rowland, I committed to memory his name because as a freshman student of the then School of Journalism and Communications – not too long ago – we would be given a quiz on the beginnings of the School by Dr. Crispin Maslog, its first full-time and longest serving director, who was our teacher in Journalism 47 or Introduction to Journalism.
Because everything happens for a reason, perhaps the most compelling one on why it had to be Dr. D. Wayne Rowland was because he knew whereof he spoke. Graduating with the degree of Bachelor of Journalism from the University of Missouri in 1947, he proceeded to take his M.A. in journalism from the same university in 1955. He then obtained his Ph.D. in Higher Education Administration from the Southern Illinois University in 1960 with his dissertation on journalism education in American two-year colleges. He was both an academic and a practicing journalist, starting out his newspaper career as a police reporter in the Columbia Tribune in 1946, as editor and co-owner of Willow Springs News in 1947-1949, as editor and publisher of Seymour Citizen, as editor and publisher of Lamar Daily Journal until 1954, all in Missouri.
Although many things have changed since Dr. Rowland came to Silliman University after Mr. Leon O. Ty, a member of the Board of Trustees then and himself a newspaperman, presented the idea of a journalism school outside Manila, the objectives of the School have remained pretty much the same. These are: 1) a recognition that freedom of information is a basic human right; 2) people must have access to honest, factual, and truthful information to promote and protect all other freedoms and escape from ignorance, poverty, and exploitation; and, 3) there must be a fuller development of information media and training of professional journalists-communicators committed to freedom and public welfare.
While Dr. Rowland headed the School until a permanent director was named, three faculty members were hired by the university to get the curriculum started, one of them being Atty. Alexander G. Amor, correspondent of the Philippine News Service and manager of the Silliman News Bureau, who became the first Filipino acting director of the School and who continued to teach part-time until he retired at the age of 81. Atty. Amor passed away at the age of 83 only last April 30, 2011.
If Dr. Rowland were alive today, he would be mighty proud of his 22-year-old granddaughter by his youngest child and only son, his namesake, Mark Wayne. Judith Rowland, the eldest of three siblings, is truly a manifestation of her genes – inquisitive, adventurous, scholarly, possessing an insatiable quest for knowledge, and a meticulous chronicler of history, attendant to details and consciously committing to heart significant events as these have influenced her today.
These characteristics have served her in good stead as she goes on a pilgrimage of some sort to Dumaguete, her first time to visit the country, to retrace possibly every nook and cranny that her grandparents and her own father – who was only nine years old then, but who remembers many wonderful things here – had been to in their short, but very memorable stint in Silliman University.
She is currently on a spring break from the Missouri State University where she expects to graduate this August with a bachelor of science degree major in political science and minor in international relations, Latin American studies, and Spanish, with an Honors College focus on international development. Her studies abroad include earning a Certificate in Polish at the University of Central Lancashire, United Kingdom in the Fall of 2009; the University of Ghana in the Spring of 2010 earning Certificates in French and in Asante Twi; the University of Puerto Rico in the Fall of 2010; and, lately, in Qingdao University, China.
Her various scholarships and her honors and awards have given her the opportunity to explore and do research in Southeast Asia and, at the same time, do volunteer work. She is a champion debater and a consistent dean's lister. After her graduation next month, she is set to pursue graduate studies at the London School of Economics.
Ironically, Judith never had the chance to even catch a glimpse of her grandfather. Dr. Rowland died at the age of 67 of Alzheimer's disease three months before she was born in 1989. It was her father and her grandmother, the former Maxine Sipe (who passed away at 79 in 2003), who relentlessly regaled her with interesting stories about the family's 18-month furlough in Dumaguete. "At that time, coming to the Philippines was almost impossible. It took my grandparents and their five children, together with a niece of my grandfather, almost a whole month traveling here via a combination of boat and airplane," Judith relates today, adding that her aunts never thought they would survive the long trip without having to blow-dry their hair. Her father, being a young boy, would amuse himself by playing Chinese checkers for weeks on end.
Her three-day stay in Dumaguete, which ended on July 20, 2011, was made more meaningful as she retraced her family's favorite places and tried the food that they themselves enjoyed eating while they were here, including the ubiquitous balut. She also met up with the Limpiado and Malahay families who, in one way or the other, shared a long-lasting friendship with her father and his sisters. She also spoke in an academic convocation before mass communication students of Silliman University, as well as other schools in the city, about the role of community journalism in local and national development. She brought the house down when she sang the "Silliman Song" and recounted that her father can sing "Leron, Leron Sinta," with reminiscences of riding the tartanilla and being allowed by the cochero to coax the horse.  Her only regret, though, was she was unable to find a girl named Rosalie, who was 13 at that time and worked for the family. When the Rowlands left in 1966, they gave Rosalie some money to send her to sewing school because she wanted to become a seamstress. "But, I'm not giving up – maybe, if I am able to get back here, I would have more time to look her up," Judith says hopefully.
Traveling halfway around the globe to see and relish for herself the wonderful experiences that were told and re-told to her by her father and her grandmother is not only amazing, but also providential. That she would choose to come in the precise year that the College of Mass Communication basks in her 45th founding anniversary happened for a reason.
---
ABOUT THE AUTHOR :
Ma Cecilia Madronal Genove
BS Journalism (1977); MA Education (2000); Doctor of Education (2004);
Dr. Genove is the current Dean of the College of Mass Communication of Silliman University.