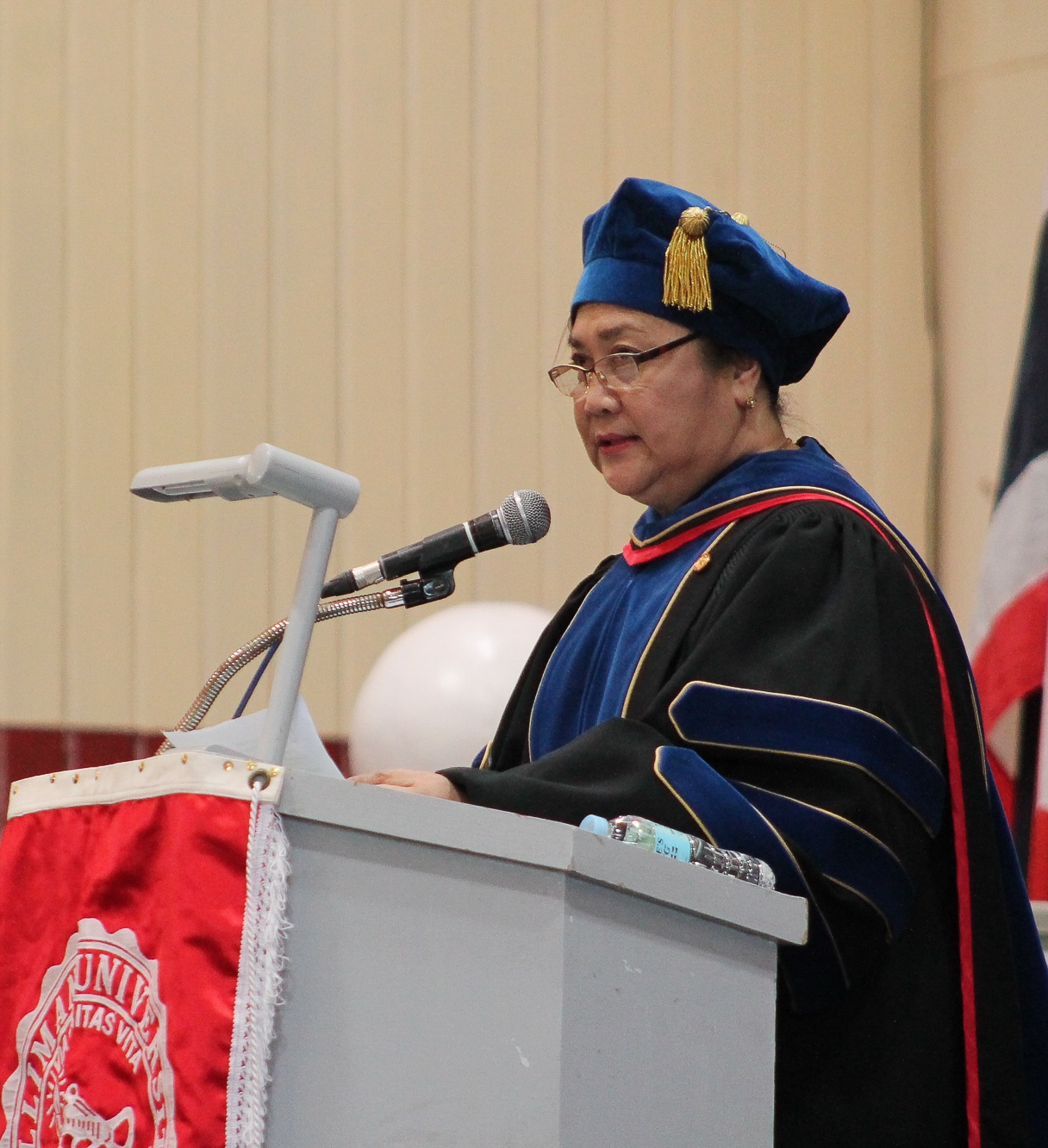 Dr. Tan to Graduates: 'What Does the World Expect of a Silliman Graduate?'
"The price of greatness is responsibility."
This was a powerful quote delivered by Acting President Dr. Betsy Joy B. Tan to 135 college graduates, setting the tone for the 9th Summer Graduation held May 20 at the Silliman University Church.
She said that Silliman graduates are not only content with receiving their diplomas then finding a job;  they embrace within them that mission to serve, to realize not only their dreams but those of their families as well, and to create an impact in the community.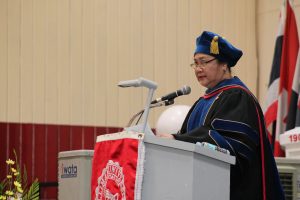 "But specially for each graduate today, such reminder (that the price of greatness is responsibility) is significant, not only because you are responsible to 'serve', but more so because today, you just do not leave the university, get a job, and make a lot of money for the diploma you will receive today is a ticket – your ticket 'to serve' and be a part of the world."
She cited the role of Christian faith in one's life, and stressed on how Jesus himself "came to serve others – and not to be served." Dr. Tan also built her message around a quote inspired by Dr. Martin Luther King, Jr.: "Everyone can be great because everyone can serve".
"What then does the world expect of the Silliman graduate?" Dr. Tan asked.
She said a Silliman graduate is "first and foremost, a creative critical thinker who is a problem-solver with a reflective sense of consciousness and curiosity of the world around him or her – perceiving the world as it is and not what he or she wants it to be."
A Silliman graduate is also "a transformative Christian witness", someone who lives out the University motto of Via, Veritas, Vita (The Way, The Truth and The Life), and who leads by example in distinguishing what is good from what is bad.
Dr. Tan also pounded on how a Silliman graduate does not rest on his or her laurels. She said: "a Silliman graduate is also an independent reflective life-long learner who does not only value all forms of learning while always striving for excellence – by keeping himself or herself updated where personal abilities and skills converge with professional knowledge and qualifications for better service."
A seasoned administrator and educator who has been with Silliman for over 30 years and had served as Vice President for Academic Affairs for more than a decade, Dr. Tan concluded that a Silliman a graduate is an effective communicator. A Silliman graduate "knows how to listen attentively and empathetically; and demonstrates ethical and moral standards of communication devoid of arrogance – respecting the opinion of others that maybe contrary to one's own."
At the end of her message, she reinforced the value of faith: "As you confront the realities of life, continue believing in God's wisdom; trusting in God's counsel and resting in His love."
The SU Graduation: An Affirmation of the Beauty of One's Dreams