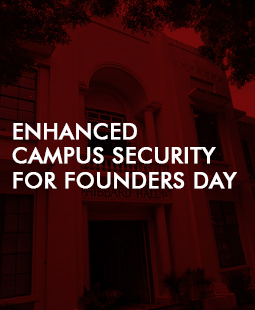 Enhanced Campus Security for Founders Day
As in previous Founders Day (FD) celebrations, the Silliman University (SU) administration augments campus security by requesting the Philippine National Police and the 302nd Brigade of the Philippine Army to deploy some of their personnel in the campus in light of local and national security concerns.
Starting Tuesday, August 6, 2019, at least two servicemen are now posted at the main gates of the campus, enhancing and strengthening the security measures being implemented by the security personnel of the University.
Officer-in-Charge/Vice President for Academic Affairs Dr. Earl Jude Paul L. Cleope in a meeting with Brig. General Ignacio B. Madriaga, commander of the 302ND Infantry Brigade based in Camp Leon Kilat in Tanjay,   agreed that augmentation would start earlier due to recent security concerns  encountered by the University.
Being safety as the priority,  the University urged everyone to follow measures that must be observed in all campus gates: 1) all students and personnel are required to wear their SU or agency identification cards at all times; 2) visitors are required to leave a valid identification card with the guard on duty at the gates and to wear a visitor's ID while inside the campus;  3) bags of all individuals entering the campus shall be subject to inspection; 4) drivers of four-wheeled vehicles are required to roll down their windows upon entering the gates.  They are to allow the guards to scan the vehicle's under-chassis, and to open the trunk of the vehicle for inspection whenever requested.  At nighttime, entering vehicles must have the headlights dimmed and the cabin lights turned on.
The University's Founders Day is a big event not only for Silliman but for the city of Dumaguete. It brings thousands of alumni, friends and tourists from around the Philippines and the globe to a series of celebration that runs for more than a week.