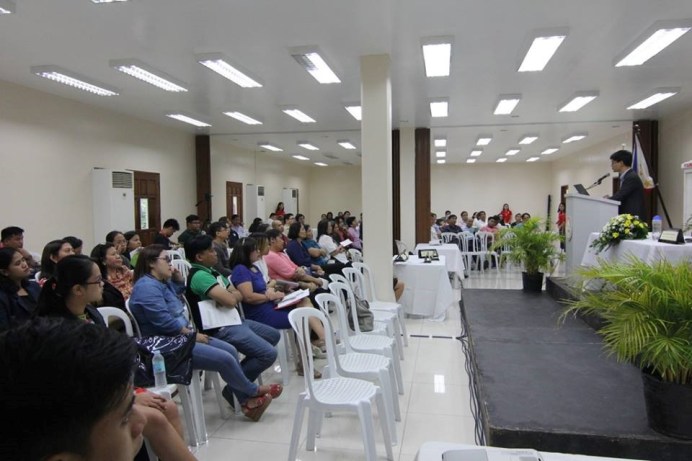 Finance Usec. Chua: Proposed Tax Reform Bill Not Anti-Poor
Finance Undersecretary and Chief Economist Dr. Karl Kendrick Chua discussed the proposed House Bill No. 4774, known as the Tax Reform for Acceleration and Inclusion Act (TRAIN), in a forum held August 4. Together with him as resource person was Education Undersecretary Ms Annalyn Sevilla, who is handling the Department's Finance, Budget and Performing Monitoring, who provided a fuller perspective of the benefits of the reform to the basic education sector.
Undersecretary Chua gave a comprehensive explanation on the proposed Tax Reform Bill, which, when approved, is set for implementation in January 2018. He said TRAIN aims to change the current tax system and make it simpler, fairer, and more efficient. He assured the audience that the tax reform is not anti-poor since revenue from this will fund priority programs and projects in education, health, and social protection.
Undersecretary Sevilla expressed the Department of Education's support for the policy initiative of the Department of Finance especially that TRAIN enables better fund allocation towards the education sector. She said the tax reform translates to 113,553 new classrooms and 181,980 teachers, among others. The same tax reform will also fund the construction of 25 new local hospitals, upgrade 704 local hospitals, extend 100% PhilHealth coverage with better services, hire 176,922 more health professionals from 2017 to 2020, and invest on rural and urban infrastructure.
Present during the forum were decision-makers, including Negros Oriental First District Representative Ms Jocelyn Sy-Limkaichong, key representatives of the private and business sector and civil society, members of the academe, and the local tri-media.
Important questions were also answered during the forum like the concern on added tax for products with sugar content, as Negros Island Region is the biggest producer of sugar in the Philippines. Usec. Chua clarified that raw agricultural products are still tax exempt, including sugarcane.