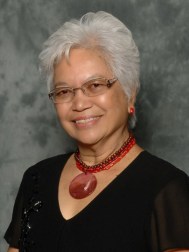 Human Rights Advocate, Distinguished Chemist Named Outstanding Sillimanians
A human rights and social justice advocate based in California and a distinguished chemist from Mindanao are these year's recipients of the Outstanding Sillimanian Awards.
Ms. Cynthia Arnaldo-Bonta is recognized in the field of Human Rights and Social Justice, and Dr. Myrna Sillero-Mahinay in Chemistry. They will receive their awards in a special ceremony traditionally held on August 28, when in this year, Silliman University celebrates its 116th founding anniversary.  
Ms Bonta's commitment to social justice, community empowerment, and civic engagement served as a voice for marginalized Filipino and other immigrants particularly in the United States. Between 1975 and 1977, Cynthia along with some Filipinos in America, worked on a campaign to offer an accurate history and more informed portrayal of Filipino-Americans in California textbooks in public schools. With a firm grasp of history, Ms Bonta helped develop a curriculum model for use in these public schools. Her advocacy also includes the promotion of domestic workers' rights. Recently, she is most engaged in addressing affordable housing crisis that plagues the San Francisco Bay area by helping pass an ordinance for rent control. She has provided support to Filipino tenants in an apartment complex where 33 families live under the threat of eviction. 
In 2016, Ms Bonta received the Outstanding Filipina Award by Filipino Women's Club of Sacramento and the Bayani Award for Outstanding Service and Commitment by the Pasquil Family Foundation. She currently holds various civic and community positions – Founding Chair of Alameda-Dumaguete Sister City, Vice President of Alameda Sister City Association, Member of the Board of Directors of the American Center of Philippine Arts.
She is a graduate of Silliman University High School and studied Pre-Medicine at Silliman University for two years before she transferred to the University of the Philippines, Dilliman where she finished B.S Zoology in 1958. She earned her graduate degree in Religious Education at the Pacific School of Religion in 1968.
Dr. Myrna Sillero-Mahinay is among the country's well-respected scientists with extensive researches and studies the field of chemistry. Her researches, mostly on heavy metal analysis and its effect on living organisms, have been published in journals and presented in local and international conferences. In 1999, she was commissioned by the the Philippine Senate Committee of Environment and Natural Resources to assess the extent of mercury pollution in Mt. Diwalwal, Compostela Valley. The results of Dr. Mahinay's assessment led to a stricter implementation in the confiscation of smuggled mercury in the area and the relocation of affected inhabitants out of the affected vicinity. 
She holds two postdoctoral fellowships: one at the University of Miami, Miami Florida under the Fulbright-US Department of State Bureau of Educational and Cultural Affairs, and another from the National Institute of Natural Science in Okazaki Institute for Integration Bioscience, under a grant from Japan Society for the Promotion of Science (JSPS). She had also spent several months in Bangalore, India as a research fellow for the International Fellowship Program Jawaharlal Nehru Center for Advanced Scientific Research (JNCASR), Jakku Campus. 
A chemistry professor at the Mindanao State University-Iligan Institute of Technology, Dr. Mahinay was the first from outside the National Capital Region to have been awarded Outstanding Chemist of the Philippines in 2016 by the Professional Regulation Commission.
Dr. Mahinay obtained her undergraduate degree in Chemistry from Silliman University in 1976. She earned her master's degree in Chemistry at the University of the Philippines Dilliman in 1985, and later placed ninth in the 1986 National Chemistry Board Exam. She holds a PhD in Chemistry from James Cook University in Australia.