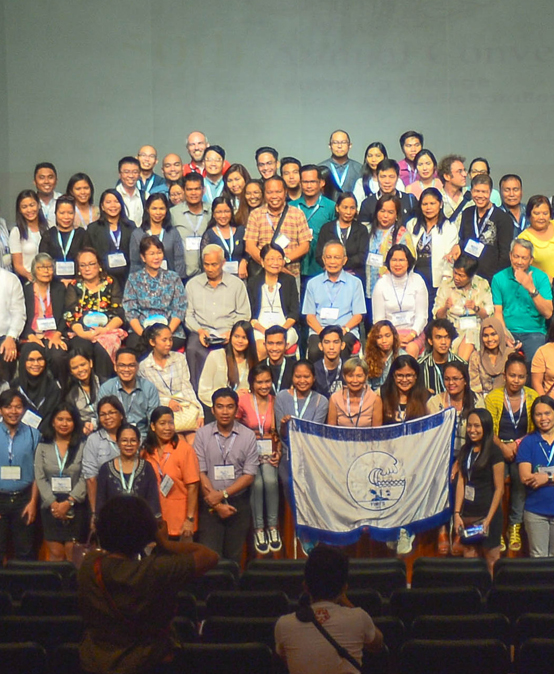 Marine and freshwater sciences federation holds 50th confab at SU

Silliman University through its Biology Department and the Institute of Environmental and Marine Sciences hosted the 50th Annual Convention of the Federation of Institutions for Marine and Freshwater Sciences (FIMFS) October 24-26. The event was held at the Claire Isabel McGill Luce Auditorium of Silliman University.
More than 200 participants from member institutions, higher-education institutions (HEIs), non-government agencies (NGAs), non-government organizations (NGOs), and private individuals attended the Convention. Sixty-eight (68) papers were presented orally while a poster exhibit of 59 others also was done. Dr. Angel C. Alcala, the only surviving representative of the five charter members who started the FIMFS, gave the keynote address on the theme FIMFS after 50 years: Weathering Change through Academic Collaboration. 
The Schoenig Best Poster and Villaluz Best Paper awards (Graduate Category) were both garnered by Silliman for the following papers:  "Microplastic Composition and Density in Two Pelagic Fish Species from Southern Negros, Philippines" by Gabriel Sienes and Janet Estacion and "Functional Groups within the Invertebrate Community of Typhoon-damaged Sites on Apo Island, Dauin, Philippines" by Danielle Fukuda, Flora Joyce Neri, Clarissa Reboton, Aileen Maypa and Janet Estacion.  The Alcala Best Paper award (Professional Category) was given to Western Palawan State University for the paper titled "Status of Sea Cucumber Fishery and Populations across Sites with Different Levels of Management in Palawan, Philippines" by Jean Beth Jontilla, Harold Monteclaro, Gerald Quinitio, Sheila Mae Santander-de Leon and Jon Altamirano. Meanwhile, the winner of the McKeough Best Paper award (Undergraduate Category) was from the Mindanao State University-Iligan Institute of Technology, the paper titled "Lunar Periodicity in reproduction of Meretrix meretrix and Katelysia hiantina in Panguil Bay, Northern Mindanao, Philippines."
During the convention FIMFS also elected a new set of officers, except the secretary. Elected for a term of two years each were Dr. Ronelie Salvador (University of Eastern Philippines), President; Dr. Janet Estacion (Silliman University), Vice-president; Dr. Anthony Ilano (University of San Carlos), Treasurer;  Francis Argente (Pangasinan State University), Auditor, and Natalia Ciasico (Eastern Samar State University), PRO.
The following agencies and institutions gave additional support to the event:  the National Fisheries Research and Development Institute, the Foundation for the Philippine Environment, Smart Communications, and Yan Yan Commercial. Secretariat services were provided by the Biology Society and STEWaRDS.  For more information about FIMFS and its 50th Convention, visit the FIMFS website at http://www.seminars.essu.edu.ph/fimfs/.