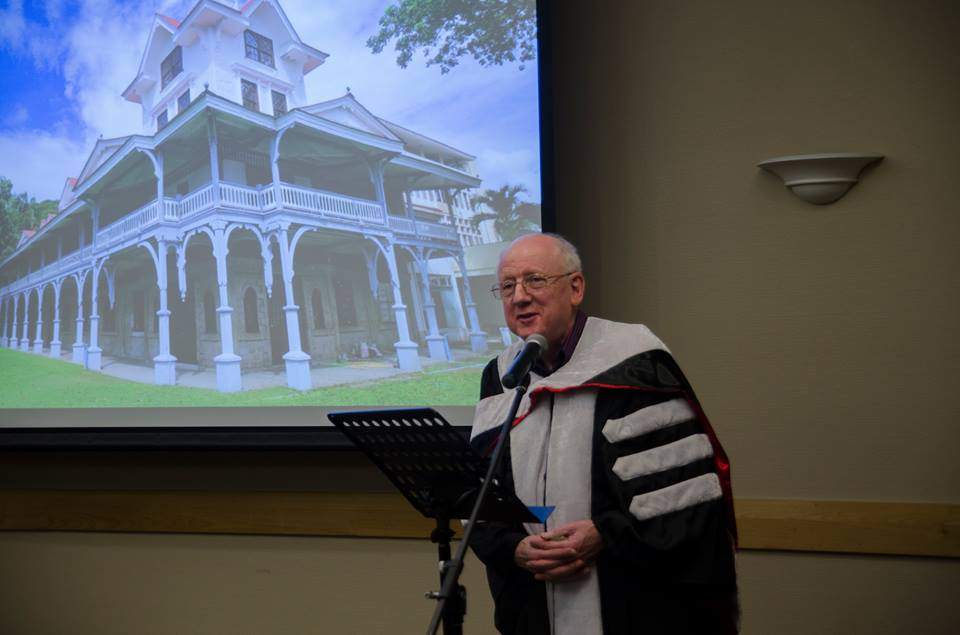 Silliman Confers Honorary Degree on New Zealander Philanthropist  
He did not have any formal education. No college degree to boast of. To help his parents, he worked as an electrician in Europe at a young age. Life may have been challenging for him but this brought out his ingenuity. From one design of steel products to another, he found success – and drew a deeper meaning in life by opening doors to those who desire to obtain what he did not achieve at his age: a college diploma.
Silliman University conferred on New Zealander philanthropist Mr. William Barry Thompson the degree of Doctor of Humanities, honoris causa, on July 13 in Auckland, New Zealand. The ceremony at the Novotel Hotel was made possible with the assistance of the Silliman University New Zealand Alumni Association, led by chapter president Mr. Phil-Amrico Balbuena.
The decision to award Mr. Thompson in Auckland, where he currently lives, was prompted by his health condition that limited his mobility.
Mr. Ricardo A. Balbido, Jr., Chairperson of the Board of Trustees, and Dr. Theresa A. Guinoo, Dean of the College of Nursing, represented Silliman University at the conferral.
"We honor a man – a dear friend of Silliman University – whose generosity, selflessness, and humility have breathed life to the aspirations of many and have inspired a greater pursuit of excellence among us," Mr. Balbido said.
One of his scholars in Silliman, a registered nurse who is now based in another city in New Zealand, Ms Glosan Sadiasa-Manzhula, flew to Auckland to attend the conferral and express her gratitude to Mr. Thompson.
It was his designs and manufacturing of steel products that steered Mr. Thompson through life's hardships. His experience as an electrician at a young age, handling repair and installation works, gave him a better understanding of the needs of the industry. Among his inventions, his electrical control boxes were a hit.
Silliman cited Mr. Thompson "for his life that attests to the value of hard work, perseverance, and ingenuity, finding strength in the struggles of his family throughout his childhood and translating them into opportunities to rise above challenges that confronted him at a young age."
Since he visited Dumaguete and the Silliman campus in 1990, Mr. Thompson has been donating to the University and to other schools in Negros Oriental.  He has provided full scholarships to over a hundred students enrolled in Nursing in Silliman, and extended support to those eager to work as a nurse abroad. One of Mr. Thompson's requirements for scholars:  give back to Silliman. He wants each of them to send to college, as soon as they gain employment, their own scholar.
The University recognized Mr. Thompson for "developing in his scholars in Silliman, now numbering over a hundred, a profound sense of family and community by empowering them to pursue their careers… (to become) an instrument through which others can also obtain education, realize their dreams, and create an impact in the community where they belong."
In 2012, Mr. Thompson funded the construction of what in August 2013 would later be inaugurated and named as the William Barry Thompson Hall. This building now hosts the College of Nursing and the learning resource center in nursing and allied health sciences.
Academic institutions in Negros Oriental have also benefited from his generosity. Mr. Thompson has donated to both private and public schools recent books and learning materials that he purchased on his trips abroad. The Robert B. and Metta J. Silliman Library is among the major recipients of his generosity; it has received volumes covering various disciplines – from nursing and allied health sciences to communication and business.
"He is a blessing in many ways, not only to the University but to Filipinos and the country as well. Away from the limelight, he has for around two decades tirelessly bridged the gap between dreams and reality," Mr. Balbido described Mr. Thompson.