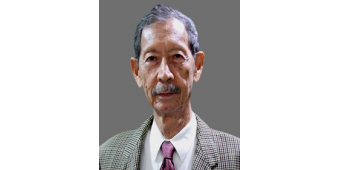 Silliman to Confer Honorary Degree on National Scientist
---
Silliman University will confer on National Scientist Dr. Edgardo D. Gomez the degree of Doctor of Science, honoris causa, on February 10, 3pm, at the Claire Isabel McGill Luce Auditorium.
Dr. Gomez's pioneering leadership in the nationwide survey and assessment of the Philippine coral reef system in the 1970s, provided both opportunities and challenges to marine scientists, government agencies, civil society, and international organizations. It reinforced the foundation of research, management, and conservation of Philippine coral reefs.
His deep commitment to marine conservation and research inspired the creation of the then Marine Science Center, now the Marine Science Institute (MSI), at the University of the Philippines in Diliman, Quezon City, of which he served as its first Director from 1974 to 2000.
Dr. Gomez also facilitated research partnerships among institutions, academics, and other scholars in the Philippines and abroad, including Silliman University. He bolstered the need to share research findings of the MSI, bolstering development work and policy formulation in our country.
His strong environmental campaign helped save from extinction several species of the Philippine giant clams, including the largest, the Tridacna gigas. This largest species of giant clam had been declared extinct in Philippine marine waters but now thriving in thousands at the MSI Bolinao Marine Laboratory, where they are bred and cultured for distribution to marine protected areas in the country.
A man of competence, character and faith, Dr. Gomez, who is married to Ambassador Phoebe Abaya-Gomez, also received numerous awards and distinctions. These include being named National Scientist, Academician of the National Academy of Science and Technology of the Philippines, and Fellow of Pew Marine Conservation, among others.
An honorary degree is the highest form of academic recognition accorded an individual of national and international stature by the University. A Doctor of Science, honoris causa, is awarded in recognition of a substantial and sustained contribution to scientific knowledge beyond that required for a Ph.D.