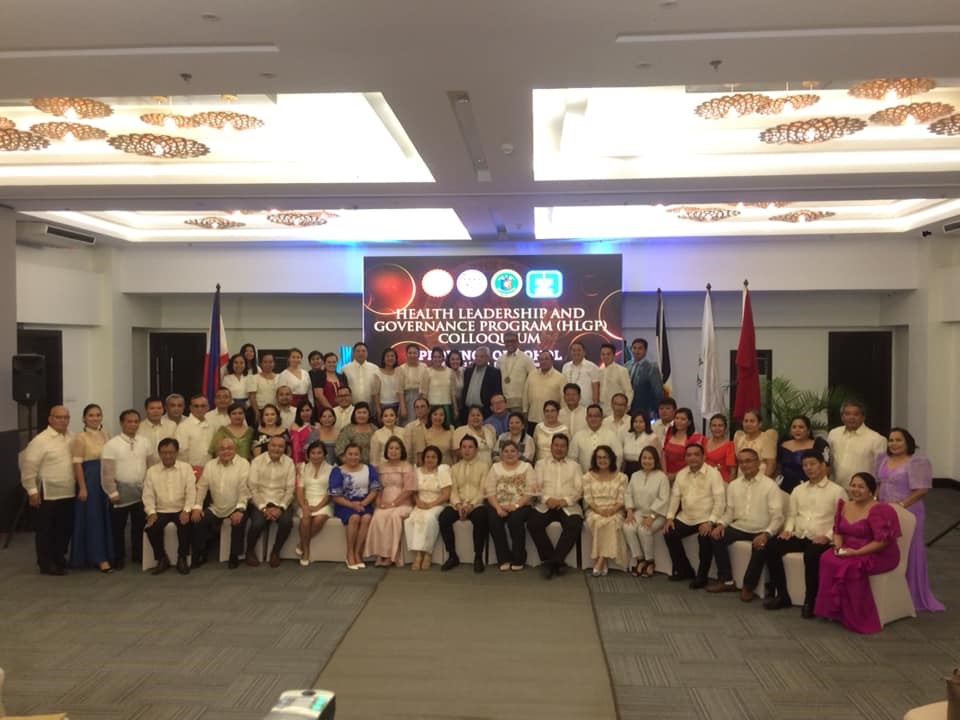 SU concludes leadership training with Bohol mayors, health officers
The Silliman University Government Affairs (SUGA) Center organized a leadership retreat and colloquium Feb. 18-19 at BE Grand Resort, Panglao Island to culminate the Municipal Leadership and Governance Program (MLGP). In this program, mayors, municipal health officers, and development management officers of Bohol were trained to improve healthcare systems in their communities.
The MLGP is a capability building component of the Health Leadership and Governance Program (HLGP), a joint program of the Department of Health (DOH) Region VII and Zuellig Family Foundation (ZFF). It is a three-module leadership program intended for mayors and municipal health officers, to be completed within a year and a half.
As an academic partner of DOH Region VII, SUGA Center trained and coached municipal leaders on local health systems development in the MLGP. The center provided modular training with coaching and mentoring sessions from DOH-Center for Health Development (CHD) during the program's practicum phase.
Dr. Michele A. Naranjo, SUGA Center director, spearheaded the MLGP retreat and colloquium with eight SU faculty members. HLGP Coordinator Nelner Omus and his team also assisted in the culmination activities.
Sixteen (16) mayors, 16 municipal health officers (doctors), and 13 development management officers (nurses) participated in the activities. They were from the municipalities of Anda, Antequera, Balilihan, Calape, Carmen, Cortes, Danao, Loboc, Loon, San Miguel, Sevilla, Talibon, Trinidad, Tubigon, Valencia, and city of Tagbilaran .
Naranjo said the purpose of the retreat was to "affirm the leadership purpose of participants, reflect on leadership gains and challenges towards deepening personal mastery, and renew their commitment to sustain the inspiration to influence others."
Pastor Mark Augusto led the retreat, assisted by Naranjo and Dr. Jojema D. Indab, Dean of SU School of Public Affairs and Governance.
Meanwhile, Naranjo said the colloquium is a "final defense" of the participants' accomplishments during the MLGP, as well as an avenue for participants to share their experiences and strategies in applying what they have learned through the program in their municipalities.
Under the MLGP, participants attended three training modules, each followed by a six-month practicum phase wherein they are expected to apply their training and work on improving their municipality health indicators. Outputs and outcomes of the practicum were then presented and evaluated.
Naranjo said that the program allows mayors and municipal health officers to engage in their community for them to further understand the challenges of and improve their municipality's healthcare system through systematic planning and engagement of local health stakeholders.
"The program aims to empower municipal health leaders to be 'Bridging Leaders' so that they can transform their local health systems and make health programs and services work for the community, especially the poor," she said.
Talibon Mayor Restituto B. Auxtero shared through Narajo that during the program's "deep dive" or practicum phase, he realized the need to create a coalition of partners to transform their health system, so he expanded Talibon's local health board with members from different sectors.
Meanwhile, Sevilla Mayor Juliet B. Dano also planned increased community involvement for their health programs and services after witnessing health system issues first hand during the practicum phase of MLGP.
"These linkages (with the community) also serve as a two-way channel for a sustainable system of Health Care Delivery. These days, institutional programs are now co-created by the communities of Sevilla," she added.
Dr. Earl Jude Paul L. Cleope, vice president for academic affairs, attended the culmination activities as a speaker and colloquium panelist. Aside from DOH and ZFF representatives and Bohol Governor Edgardo Chatto, officials from National Economic and Development Authority Regional Office VII and Department of the Interior and Local Government Regional Office VII also attended the culmination.