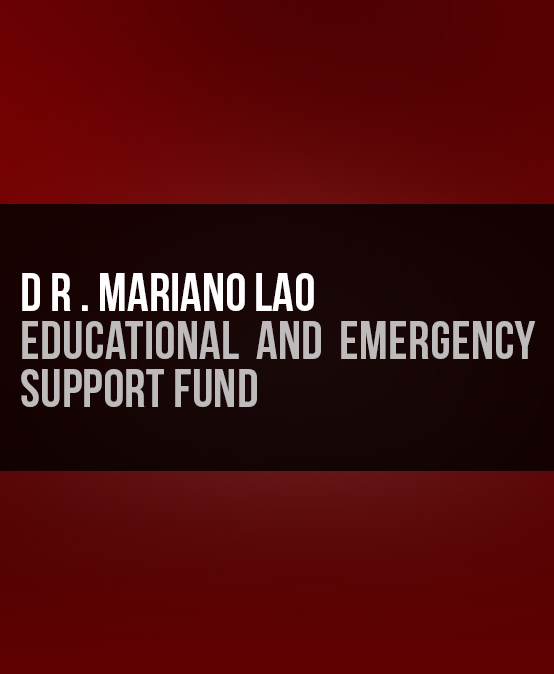 SU, Lao set up loan program to help students, personnel
Silliman University (SU) and Dr. Mariano Lao, 2018 Outstanding Sillimanian awardee, set up the Dr. Mariano Lao Educational and Emergency Support Fund (MLEESF) to help financially challenged enrolled students and active and retired SU personnel amid the COVID-19 pandemic.
MLEESF is an emergency short term, non-interest, and non-collateralized loan program.
The loanable amount is up to PhP 15,000, but in extreme circumstances, a loan of up to PhP 30,000 may be allowed, subject to the availability of funds. The amount is payable within one calendar year after receipt of the loan.
Loan applications are approved based on a need, which must be one of the following: school fees and other school-related expenses; medical expenses incurred in an emergency illness that is not covered by the insurance or health maintenance organization; experienced a direct impact of a natural calamity that caused damage to property and source of income; or sudden death of an immediate family member.
Qualified borrowers are enrolled students who have been in the University for at least one school year, having met the academic grade requirement and having no disciplinary case; active, full-time employees of SU who have served for at least two years, regardless of rank and status, and have no disciplinary case; and retired university personnel, having served for at least 20 years, whose children and grandchildren are currently enrolled, and who has a co-maker currently employed in SU and can guarantee the loan.
Dr. Betty Cernol McCann, SU president, expressed her gratitude for Lao's initiative in partnering with the University: "Silliman University is truly grateful for this offer of assistance to our well-deserving students but who are financially challenged, especially in this period of pandemic. Our Registrar's data shows that 30% of our students are below the poverty line, and they can best be benefited by scholarship donors like Dr. Lao."
Lao said in his message to McCann: "(The COVID-19 pandemic) affects all walks of life, especially the poorest population of the country…The education sector is very much affected because income of families is down and a lot of people are underemployed, the bank and lending institutions will not help if the borrower does not have enough collateral like properties to be able to borrow a small amount for their children's education. This is the time for people to do whatever they can to help others. That is the reason why my family and I have decided on the proposal of a joint project with Silliman University."
Lao is the donor of several scholarships, programs, and facilities in SU, such as the Mariano and Lina Lao Scholarship Grants for Junior High School students; the Mariano Lao SOS Fund; the Mariano and Lina Lao Hall Activity Center; the Mariano Lao Innovation, Creation, and Invention Laboratory; Free Computer Education Program for Students, Employees, and Senior Citizens; and the Mariano Lao ICI Lab Creativity Camp.
Earlier this year, Lao also donated cash to assist stranded students through the Office of Student Services and the SU Church; as well as displaced outsourced personnel of the University when the Enhanced Community Quarantine was declared in the province.
For the COMPLETE GUIDELINES (QUALIFICATIONS, ELIGIBILITY & REQUIREMENTS), click here.