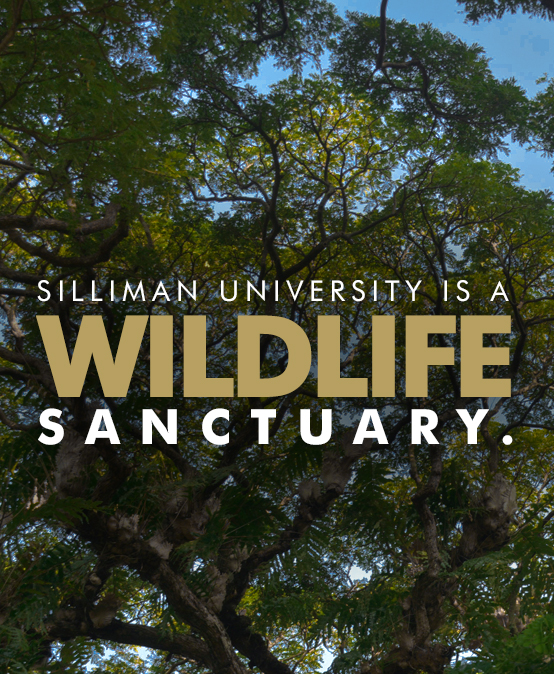 SU now a wildlife sanctuary  
Silliman University is now a wildlife sanctuary.  This after the Board of Trustees (BOT) agreed during their meeting last Aug. 27 that the SU campus is not just a bird sanctuary but also a wildlife sanctuary, hence, collecting or harming wildlife on campus is strictly prohibited.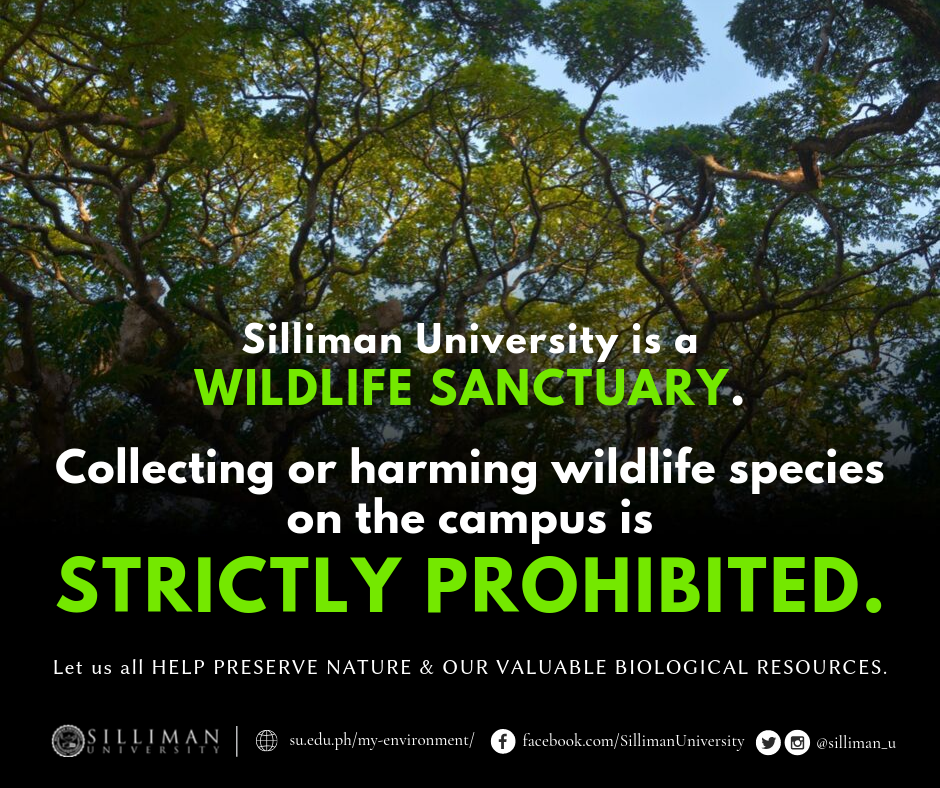 Dr. Angel C. Alcala, BOT vice chair and head of Silliman University Angelo King Center for Research and Environmental Management (SUAKCREM), said the BOT has agreed that it is SU's responsibility to protect and conserve wildlife as an institution that has been active in conducting research and advocacy on biodiversity, which includes wildlife species, since 1941.
Alcala said another reason why SU should protect wildlife is because populations of wildlife in tropical rain forests and mangrove forests in the country have been declining, but some forest-dwelling biodiversity species are able to adapt to and exist in human-dominated communities and altered or marginal forest habitats.
"Studies on Philippine fauna and flora have documented the decline of populations of wildlife in the tropical rain forests and mangrove forests of the country, where as much as 80% of wildlife species are naturally found. These forests have been reduced to fragments and, in general, are not able to support the ecological and biological requirements of wildlife," said Alcala.
There are 69 species of trees, 44 species of recruited trees and community associates, 62 species of birds, 32 species of mammals and 27 species of reptiles and amphibians in SU, based on a SUAKCREM study of trees and animals on the SU campus, which includes the A.Y. Reyes Zoological & Botanical Garden and mangrove garden at the Dr. Angel C. Alcala Environment and Marine Science Laboratories.
"Trees have been included (in the study) because they serve as habitats of birds, amphibians, reptiles and mammals, and they also provide food for the animals," added Alcala.
The BOT's declaration of SU as a wildlife sanctuary also covers SU's other sites, such as the SU Farm at the College of Agriculture and SU Center for Tropical Conservation Studies (Centrop) extension site in Palinpinon, Valencia.
Alcala clarified that there are no poisonous reptiles on the Silliman campus and that all snakes on campus are harmless.
"There are large reptiles that invade the attics of houses, but they are there because they feed on rats. An example is the reticulated python. Another large reptile species is the monitor lizard. This is a beautiful and harmless species. All snakes on campus are harmless, and they should be free to roam the campus…In general, snakes are more afraid of humans, and they should be allowed to move freely," he said.
All frogs on campus are also harmless, said Alcala, except the toad which he said is not endemic or native in the Philippines and exudes a milky substance which may cause injury to the eyes.
Alcala also said birds, fruit bats and mammals such as wild cats that come to the campus to feed on fruits from its trees should be allowed to do so.
Moreover, Alcala urged pet owners living on campus to "feed their pets" and see to it that domestic animals get veterinary care and are free of diseases such as rabies.
"I often see starving dogs and cats on the campus. It is time to be strict on animal pets to avoid problems in the future," he said.
Alcala also cited a recent development in genetics that suggests "kinship of humans with biodiversity species because of the similarity of the DNA molecule in both humans and wildlife" as another reason for SU's responsibility to protect and conserve wildlife.
In 1974, SU was declared as a bird sanctuary by its university cabinet, which made SU the first institution in the Philippines whose entire campus has been declared a natural bird habitat. During that time, Alcala was the head of SU's environmental center, which spearheaded initiatives to protect all kinds of birds on campus, such as: putting up signs and notices; prohibition of feeding poisonous food to birds, throwing stones and getting a bird's nestling; and confiscation of harmful devices like slingshots and air guns by security personnel.