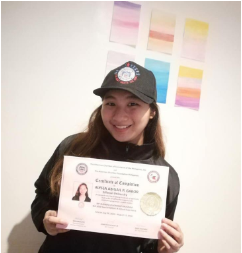 SU students place 1st, 2nd runners up in AmCham Business Leadership Program
Silliman University (SU) students Julmar B. Misa and Jamielyn I. Daiz's group placed first runner-up while Rhynard O. Patron's placed second runner-up in the Business Case Competition of the American Chamber of Commerce's (AmCham) Business Leadership Program (BLP) 2020 last July 20-August 12.
Misa, Daiz, and Patron were one of the five SU students who joined the BLP; the other two were Doxa M. Llamera and Alyssa Abigail Gabor.
Misa and Daiz's group created a business plan called Saka, a mobile application that directly connects consumers to the farmers by delivering the farmer's goods to the consumer's door steps within 24 hours.
Patron's group, on the other hand, made a business plan called Likha, a social enterprise that celebrates the Philippine Indigenous Heritage through bags made by indigenous peoples and local artisans.
Misa, a junior Accountancy student who also placed first runner-up in Santos-Knight Frank Video Essay Competition, said the BLP was held virtually and was "commendable" for being able to encourage collaboration among the participants.
Daiz, a junior Foreign Affairs student, agreed and said: "…I've learned…how to collaborate purely online, which was a great challenge to our batch but we were able to create a business plan that we are very proud of."
Meanwhile, Patron, a junior Mechanical Engineering student, said during the BLP they learned from business leaders like Rick Santos of Santos Knight Frank, real estate service provider.
Llamera, a junior Medical Technology student, was part of a group who conceptualized Idianale, a human capital social enterprise that uses an online platform to provide skills training and subsequently appropriate job matching to empower underserved communities by offering currently in-demand skills training and certifications.
Gabor, a senior Entrepreneurship student, planned with her group a digital social enterprise called Agriventure PH, which aims to promote agri-tourism and uplift local communities by offering booking and reservation of agri-tourism sites accompanied with tour packages.