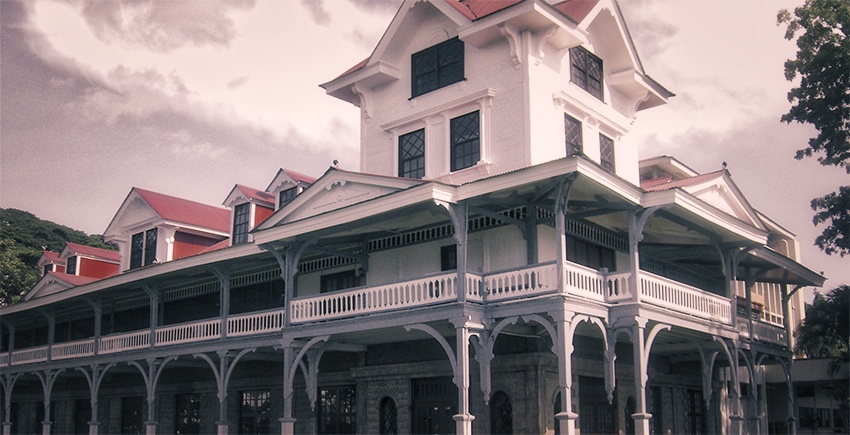 Tikaw tikaw sa Ticao
Opinion/INTERAKSYON/TV 5  Online News
28 May  2011  11:52 pm | Liling Magtolis Briones
---
Ticao Island is famous for the reef called Manta Bowl which is known for the huge oceanic manta rays with wings that span up to 8 meters. These are drawn to the area because of the presence of planktons. The Bowl also attracts schools of barracuda, as well as hammerhead sharks, thresher sharks as well as different varieties of sting rays. It is a marine biologist's paradise.
The last time I saw trees glimmering with hundreds of fireflies is in my hometown of Guihulngan, Negros Oriental.  It is said that the mangroves in Ticao attract thousands of fireflies at night—a magical sight no Filipino child should miss.
Making tikaw-tikaw in ticao
Except for the presence of two resorts, not much appears to be happening in Ticao Island at this time.  But not for long.
Silliman University, well known for its research and advocacy for environmental protection, its scientific findings in terrestial and marine biology, and its innovative  work in community development, received a donation of 467 hectares of land located in Ticao Island from the family of Elizabeth How. The donation was in memory of her late son, Francis Xavier How who studied in Silliman University.
I was then Chairperson of the Board of Trustees of the university when the offer of donation was made in 2007.  The Board wondered at that time how an estate located hundreds of miles away could be managed from afar by the university. The donation was accepted after the university sent a multidisciplinary team headed by then Dean of the College of Agriculture Santiago Utzurrum, which assessed possible contributions of the estate to the advocacies of the university.  He is now the Director for Off Campus Property Development to oversee property donations from grateful alumni.
During the  meeting of the Silliman Board headed by the current Chair, Juanita D. Amatong last May 21,  the university reaffirmed its commitment to develop Ticao into a model of small island development. Thus, the College of Agriculture will offer assistance in planting cash and food crops as well as managing the estate's herd of Brahman cattle.
At the same time,  the Biology Department will lead in the rehabilitation and caring of the mangroves.  Silliman is a pioneer in coastal resource management strategies developed by Trustee Dr. Angel Alcala, who is internationally renowned in marine and terrestrial biology, as well as a fierce warrior of the environment.  Researchers and students will have a fantastic terrestrial and marine research laboratory right at their doorstep!
On the other hand, a vibrant community of fifty-five families is being organized not only as farmers but also as protectors of the rich coastal resources of Ticao.  The university is cooperating with TESDA in training residents for various skills.
Former Ambassador to Saudi Arabia Tony Villamor who is from Masbate and Ticao gives sound advice on the culture, as well as the state of social and political dynamics in the community.  A consummate diplomat, he effectively builds bridges of communication between LGU officials, local leaders and the university.
Everyone in the Board is excitedly volunteering services and expertise. Inspite of limited financial resources, the university is investing in a  multifaceted project which  will result in increased income for the residents, and perhaps incidentally for the university, even as the environment is protected and enhanced.
Surely, there is a lot of "tikaw-tikaw" going on in Ticao!

A Bountiful Ani for ANI
In my earlier columns, I have written about young business people swimming against the tide of pessimism, hopelessness and lack of trust in government.  Yes, the Philippine economy has many problems; yes, climate change is a real threat; yes, government is still riddled with corruption, but yes, we will forge on.  Tony Tiu, president of AgriNurture, Inc. exemplifies this spirit.
Tony, who is just in his thirties and looks as if he is in his twenties, reported a bountiful Ani for ANI, inspite of the threats of climate change, natural disasters, political bickering and exasperating problems of governance in the country.
ANI continues to be one of the top exporters of mangoes from the Philippines.  It is an active player in the banana industry.  ANI also distributes canned pineapples; it sources, manufactures and packages coconut juice as well.
Tony reported that ANI went into a joint venture for the development of hybrid rice called "meztiza" in cooperation with the largest agricultural company in China, Beidahuang, Inc. The rice yield reached 9 tons per hectare, compared to the national average of only 3.8 tons per hectare.
It is not all business and income generation for ANI.  Once a month, medical and dental missions are conducted in different parts of the country.  ANI provides scholarships to deserving students of Silliman University enrolled in agriculture.  It has also gone into partnership with indigenous peoples' communities for the development and management of 10,000 hectares of ancestral domain. The intent is to develop income and job-generating enterprises, improve access to basic services and promote environmental stewardship.
ANI'S goal is to become the largest producer, processor, trader and exporter of fresh agricultural products in the country. At its present rate of growth, this goal just might be achieved!
---
ABOUT THE AUTHOR :
Leonor Magtolis Briones
Accounting (1958);
Professor Briones is former National Treasurer of the Republic of the Philippines. She is an Outstanding Sillimanian in the field of Fiscal and Public Administration, and has served Silliman University as Chairperson of the Board of Trustees. She holds a Post-Graduate Diploma in Development Organization major in Public Enterprises and a Certificate in Policy for Public Enterprise from Leeds University in England and the Harvard Institute for International Development, respectively. Presently, she is professor at the National College of Public Administration and Governance at the University of the Philippines. Professor Briones maintains a regular column, "Boiled Green Bananas, " in the Business Mirror.