Dr. Betty C. McCann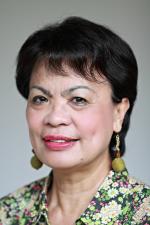 Dr. McCann is a graduate of the Divine Word University in Tacloban, earning her bachelor's degree in Psychology/Political Science in 1970 (magna cum laude). She then pursued further studies at the La Consolacio
n College, where she obtained her Master of Arts in Education major in Guidance and Counseling degree in 1975. She earned her doctorate degree in Psychology (Social Psychology) from the Ateneo de Manila University in 1987.
Dr. McCann spent a significant part of her professional life in Silliman.  She started teaching in Silliman as an Assistant Professor in 1981, rising through the ranks as she became Dean of the College of Arts and Sciences and eventually Vice President for Academic Affairs from 1990 to 1992 and 1999 to 2002. She even served as acting University President from 1992 to 1994.
After her stint in Silliman, she went to Hong Kong to serve as Associate Director at the Asian Christian Higher Education Institute (Asian Institute) from 2002 to 2006. Dr. McCann was then appointed as Program Director for South Asia at the United Board for Christian Higher Education in Asia (UBCHEA) in 2003, and later became Vice President for Programs in 2007. She held this position until 2013.
Dr. McCann's vision for Silliman is for the University to serve as the Via, Veritas, Vita for the nation, Asia and the rest of the world. She seeks aims to build up whole person education in Silliman's teaching and non-teaching programs and services, and ensure that Silliman's leadership and operation observe the integrity of purpose, sound fiscal management, and financial stability.
A native of Zamboanga del Sur, Dr. McCann was born on November 10, 1950. She now lives in Dumaguete City with her husband Dennis and is blessed with three children.