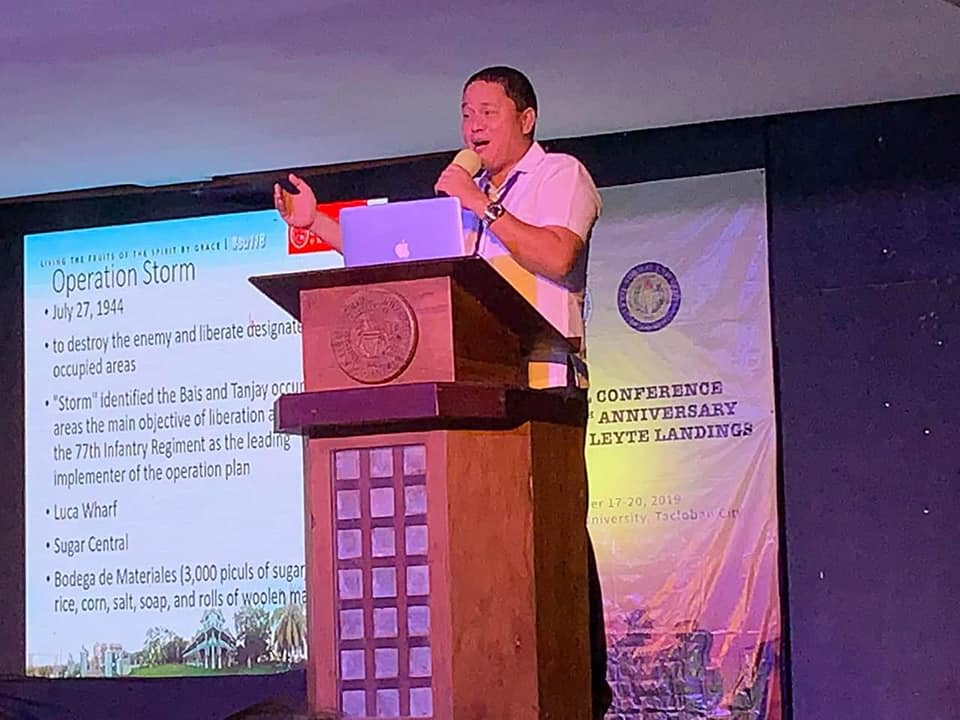 VPAA talks on NegOr liberation in national WWII confab
Before the return of Gen. Douglas MacArthur to Leyte, some areas in the Visayas were already liberated, said Dr. Earl Jude Paul L. Cleope, Silliman University (SU) vice president for academic affairs, in his paper presentation at the National Conference on the 75th Anniversary of the Leyte Gulf Landings, Oct. 17-19 at Leyte Normal University.
Cleope was one of the 15 history experts from the academe and cause-oriented groups in the Philippines and abroad who presented their papers during the three-day conference organized by the National Historical Commission of the Philippines (NHCP), in partnership with Leyte Normal University.
Cleope's paper, "Operation 'Storm:' The Liberation of Negros Oriental During World War II," focused on the operational plan launched by the 77th Infantry of the 7th Military District on Sept. 3, 1944 designed to liberate Negros Oriental from the Japanese forces, which targeted areas that held economic and strategic tactical importance.
After the combined efforts of a "ragtag army" of Filipino volunteers and guerilla forces, the operation had accomplished its mission by Oct. 11, 1944 when the targeted areas were freed from enemy occupation.
Cleope said in his paper that it is important to include local experiences of provinces and personalities during the war, particularly during 1944, in the narrative of the Leyte Landings as a historical event.
"In this sense, a holistic picture of the whole Visayas region is vital to provide a better view of what was going on in the Japanese occupied areas at time of the return of the American Forces headed by Gen. Douglas MacArthur," said Cleope.
Cleope's paper was based on primary documents and personal accounts examined from the written diaries of the officers and men of the 7th Military District housed at the Robert B. Silliman World War II Papers Collection, SU Main Library.
With the theme "Turning the Tide: Stories of Resistance, Resilience and Resurgence in the Philippines from 1942-1944," the conference featured paper presentations and discussions on topics about World War II in the Philippines which are rarely discussed in history textbooks, as a way to shed light on "history from the margins."
"That scene of MacArthur, Osmeña and company wading on Leyte's shores⁠—one which would later be immortalized in monuments and printed in our currency⁠—would not have been possible in the first place if not for the valiant efforts of the Filipinos; the same people they left post haste two years ago, who kept the flame burning and continued the resistance against the occupying Japanese forces," said Dr. Rene R. Escalante, NHCP chairman, in his welcome message to the conference participants.
Among the topics discussed during the conference included: the history of the Philippines during the Japanese Occupation of the Philippines between 1942-1945, following the Fall of Bataan and Corregidor, and the Allied Forces' landing in Leyte and its impact in the liberation of the Philippines in 1945.