World Bank Ties Up with Silliman on Regional Poverty Forum

A Regional Poverty Forum engaging local stakeholders in a dialogue on how education can become a pathway to end poverty was jointly organized by the University and the World Bank on March 20, 2018 at the Audio Visual Theater.
Around 150 participants, including members of the Knowledge for Development Community (KDC) of the World Bank (Click: About the Knowledge for Development Community), leaders of civil society groups, the private sector, as well as key government officials attended the event.
"The constitution states that priority to education has to be given emphasis to promote [and] protect all citizens," said Department of Education Secretary Briones in a video presentation tackling the challenges and reforms on Philippine education.
On the part of the World Bank, Program Leader for Human Development in the Philippines Mr. Gabriel Demombynes said that to overcome the crisis in learning and education, one of the vital things to be done is to "act on evidence to make school work for all learners" and ensure that what they learn become instrumental in their fight against poverty.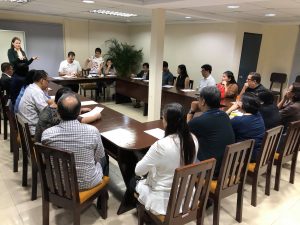 Also present during the discussion were Ms. Mara Warwick World Bank Country Director for Brunei, Malaysia, Philippines and Thailand and discussants: Dr. Milabel Ho, President of the Western Mindanao State University; Dr. Francisco Magno, Director of the Jesse Robredo Institute of Governance at the De La Salle University; and Asst. Prof. Deborah Mae C. Salem, Director of the Institute of Service-Learning in Silliman.
The next day, some 25 members of the KDC, a group composed of universities, policy research organizations and think tanks met to discuss their thoughts on the growth and development trajectory in the Philippines with Ms Birgit Hansl, World Bank's Lead Economist and Program Leader for Equitable Growth, Finance and Institutes for Brunei, Malaysia, Philippines, and Thailand.
Part of the activity the next day for the KDC participants was a community visit to the Silliman University Marina Mission Clinic where they were oriented on the programs and services of the Clinic, as well as livelihood opportunities, such as making of herbal medicines, given to some women and mothers in the neighboring communities.