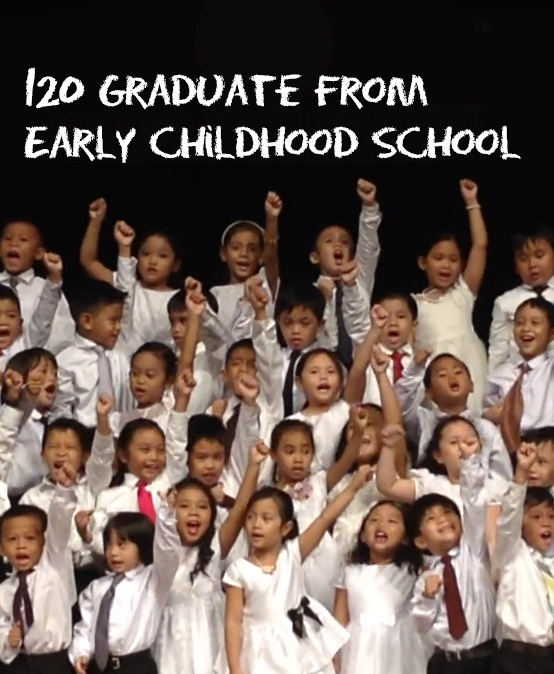 120 pupils graduate from SU Early Childhood School
Silliman University (SU) Early Childhood School announced that 120 of its pupils graduated this S.Y. 2019-2020.
"I congratulate our Kinder 2 students who are now declared ready to move on to Grade 1. With the ongoing escalation of COVID-19, and in consideration of the health and safety of everyone, Silliman University adopts measures to curtail the possible spread of virus. I am grateful to parents and loved ones who imbue in their children resiliency, as well as strength of faith and character in this critical period," said Dr. Betty Cernol-McCann, SU president.
Ethel R. Burgos, SU Early Childhood School head, also congratulates the pupils for completing the program and commends the pupils and their parents for cooperating with the University.
Congratulations to our graduates:
Juanson B. Abalos
Ien Vander A. Abejero
Joaquin Antonio L. Abiera
Jes-Ar R. Ablong
Maria Alexa N. Abregana
Danielle Jade B. Adalia
Megan Ange D. Aguilar
Eleah Gem M. Alfanta
Jayward Zxandyr L. Antusada
Quiana Claire A. Aragones
Cyed Nathan F. Aseñas
Dione Ryleigh P. Banlat
Xjazaerah Zia E. Barba
Alexis Margaret Barraquias
King Angelo C. Bejarasco
Simon John Niño A. Cabuhay
JC Immanuel C. Caduyac
Seth Zhyldjiann T. Calingacion
Elijah Rie G. Cañete
Emerald Duchess Frances P. Capate
Glenn Gabriel B. Catalvas
John Benjamin B. Caturay
Isaiah Corin A. Celesios
Estifanny Blaire G. Ceriales
Cyrus Ezra A. Chandiramani
Chaniel Ziv A. Conde
Allyssa C. Cortes
Graceala Frances T. Credo
Amber Mherielle M. Cuestas
Blanche Marydaffe A. Culanag
Zamro Jacob G. Dadulo
Rian Dominic C. Dagoy
Sethalia Maxine T. De la Cruz
Via Marielle De la Cruz
Sasha T. Del Carmen
Khale Audre M. Delmo
Princess Anne C. Delos Santos
Khalil Felix IV A. Diaz
Elizabeth Lawrence L. Dullano
Daffodil Yohan E. Dumalagan
Jeuelz Mari T. Duran
Ethan Matthew M. Enriquez
Seth Dylan S. Fabroa
Rown Marco O. Fausto
Gabrielle Sabine G. Fernandez
Steve Mel Andre B. Flordeles
Lorenz Necolli Garbo
Judith Sky L. Garcia
Stephanie Storm L. Garcia
Gil Paolo Manuel A. Garsula
Michael Louis P. Gewan
Lance Benedict D. Gutang
Zephanaiah Faith Hindricka R. Gutierrez
Georgina N. Honor
Jose Antonio B. Inocencio
Jacueb Kyle June A. Jardianiano
Jeevan Dynesh B. Kneisly
Zaiah Marie M. Labaco
Roselyn M. Labajo
Jayne Rhyana K. Laping
Rodd Caleb B. Lasola
Samantha Loise Gabrielle Letigio
Jayden Chriztian Jull P. Locsin
Khael Augustus III C. Lomboy
Maria Philomina R. Lusted
Chelsi Skye G. Melon
Liam Nate T. Mercado
Yna T. Miparanum
Erich Krystle R. Miral
Keech Margaret Y. Montiñola
James Patrick O. Nasvik
Cathalea Obreque
Nicole Gwendolyn M. Odonel
Vince Caleb M. Orcullo
Luis Pacres
Jandi A. Paracuelles
Zachary Monroe D. Polio
Francisco III S. Puspus
Reese Jamiyah E. Quisil
Julian Daniel C. Ramacho
Ryana Donn D. Ramacho
Adryanna Francine D. Ramirez
Kent Louie D. Ramos
Axl Grey G. Regalado
Zailey Arabelle E. Reglos
Fiance Nicole A. Remolano
Ezekiel E. Rendal
Hyan Malix I V. Rodriguez
Storm Marcial S. Romano
Aiken A. Romarate
Liam Zuriel M. Romo
Leandro Miguel R. Rubia
Leandro Allen T. Saberon
Keith Malcolm Saludar
Caden Joseph N. Sampiton
Kean Zachary M. Sapan
Jaden D. Sarabia
Setareh R. Shaban Keleshteri
Keyla R. Simangunsung
Val Vincent G. Solitana
Gabriel A. Solon
Carmelo Matthew M. Sy
Wilson Isaac P. Tadena
Brandon Cedric I. Talahuron
Nathan Jed P. Tapang
Keralyn F. Terrell
Nash T. Tomimbang
Zierre Gregory Nev M. Tubog
Kate Avery E. Tumapang
Luke Xanti Utzurrum
Dominique Janine M. Vendiola
Ziah T. Ventula
Mia B. Vilbar
Ron Kristoff P. Villagracia
Jarmae B. Villaluz
Jacob R. Villanueva
Germaine Gale C. Villareal
Myka Jane M. Walters
Kanta Yamamoto
Vanessa Harriet M. Zhuang