Theme: "Faith Anchored on God's Omnipotence: 120 Years of Grace and Glory"
Scripture Text
Psalm 147:5 | Great is our Lord, and abundant in power; his understanding is beyond measure.
Psalm 139-7-10 | Where can I go from your spirit? Or where can I flee from your presence? If I ascend to heaven, you are there; if I make my bed in Sheol, you are there. If I take the wings of the morning and settle at the farthest limits of the sea, even there your hand shall lead me, and your right hand shall hold me fast.
Romans 1:10 | Ever since the creation of the world his eternal power and divine nature, invisible though they are, have been understood and seen through the things he has made. So they are without excuse.
Contact Person: Mr. Abe P. Cadeliña
Student Organizations and Activities Division
Email: [email protected]
Telephone: +63 35 422-6002 local 335
ABOUT THE LOGO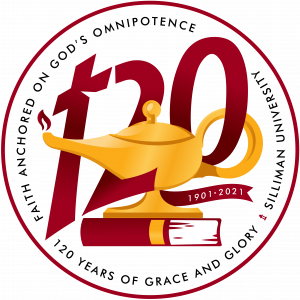 Designed by Aaron Beverson Tercera
Level 1, College of Nursing
"This design is inspired by the original Silliman logo, and has elements synonymous to the university like the Bible and the lit lamp. With grace being the focus of this year's celebration, the cross sign was integrated into the number '120,' representing the decades Silliman has been with God's faith and glory."
– Aaron Tercera
VIDEOS
Opening Worship – 9:30 AM, August 8, 2021
---
The 6th Floral Offering to Dr. David and Laura Hibbard – 9:00 AM, August 12, 2021
---
Founders Day Sunday Worship
---
Alumni Memorial Service
---
Miss Silliman Diamond Year Memorial Service
---
Kasikas sa SUES (Alumni Homecoming 2021)

---
2021 Heritage Builders
---
Parada Sillimaniana 2021
---
Soft Launching of James Chapman Room
---
The 59th Outstanding Sillimanian Awards