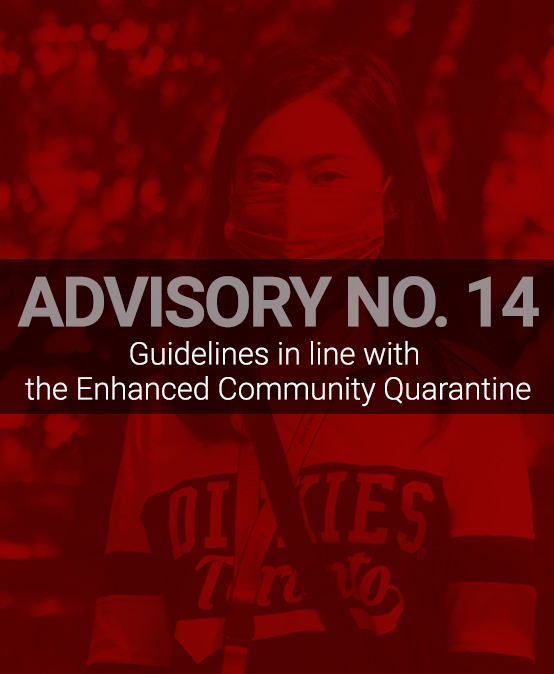 ADVISORY NO. 14: Guidelines in line with the Enhanced Community Quarantine
Please be informed that Mayor Felipe Antonio B. Remollo and Governor Roel R. Degamo will be placing the City of Dumaguete and the Province of Negros Oriental under Enhanced Community Quarantine (ECQ) from April 3, 2020 to April 18, 2020. The ECQ may be extended depending on the assessment of both local government units.
In light of this development, the following shall be implemented and observed in the University:
Effective April 3, 2020, only three gates will be opened in the main campus, namely: Katipunan/Langheim Gate, Admin/Cafeteria Gate and the Laguna Gate. The security guards manning these gates will conduct the required thermal screening.
Only employees with quarantine passes issued by the city will be allowed to enter the campus. Correspondingly, only campus residents with those passes will be allowed to go in and out of the campus in accordance with the schedule stated in their passes.
All administrators, faculty and staff are advised to stay home unless otherwise directed, and duly covered by a clearance from the mayor's office. In accordance with Mayor Remollo's executive order, getting out of the house is allowed only during the period stated in the pass.
As far as practicable, academic and non-academic work are to be undertaken in a home-based setup.
During the ECQ period, the University Clinic will operate on a skeletal basis from 9:00 A.M. to 3:00 P.M., Monday to Friday.
Units that are essential to the upkeep, security and maintenance of University facilities, and delivery of food to stranded dormers and students shall maintain a skeletal backbone of personnel to cater to these needs.
SU Scheide Farm, Pamplona Farm, CENTROP and IEMS may continue to employ their personnel to the extent necessary to keep animals and other specimens alive during the ECQ period. This may include stay-in arrangements within the vicinity of their respective premises in order to comply with the ECQ.
Quarantine passes for campus residents will be distributed door-to-door by barangay officials or personnel.
Please be guided accordingly.