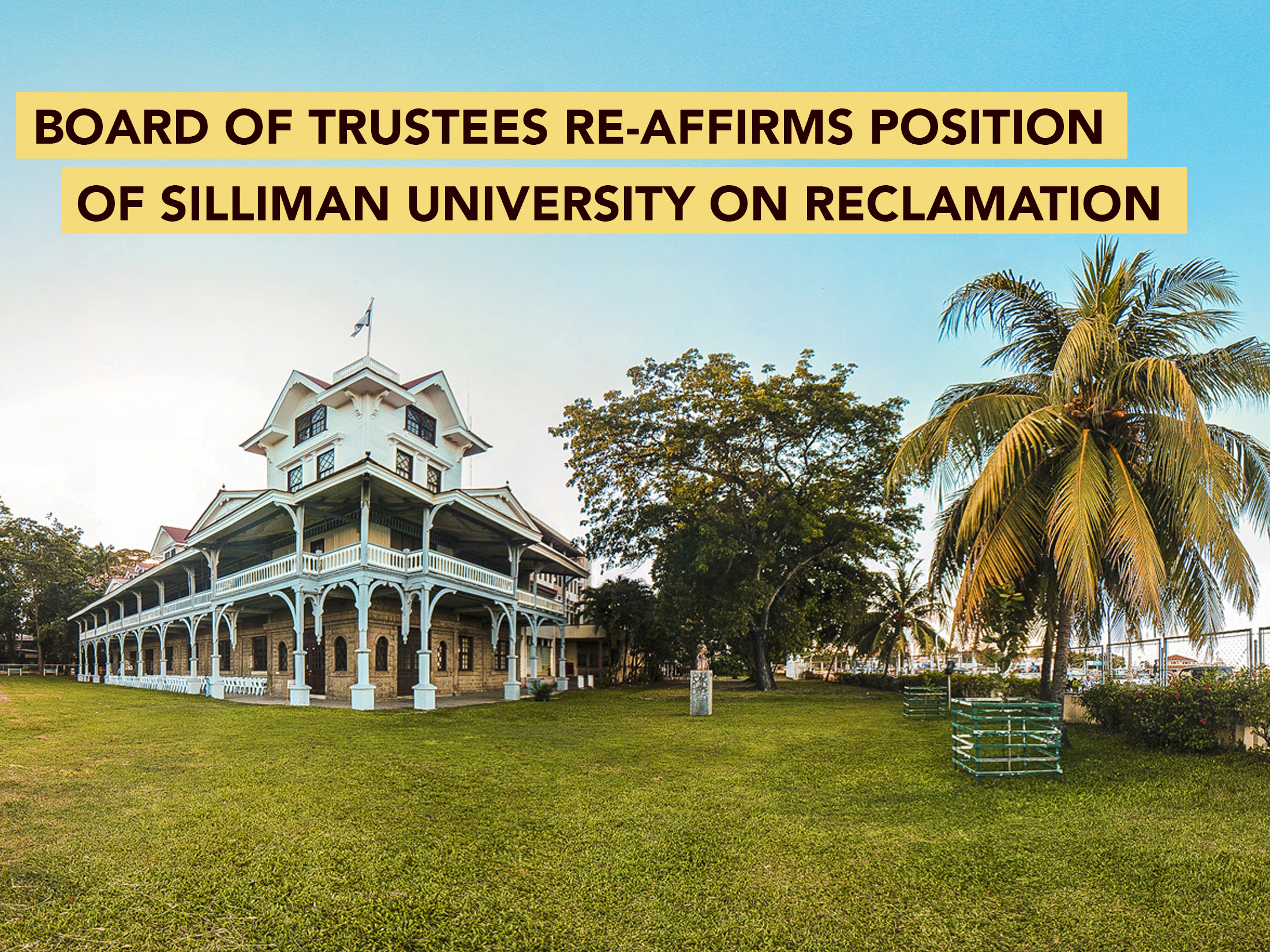 Board of Trustees Re-Affirms Position of Silliman University on Reclamation
The Silliman University Board of Trustees reiterates the long-time adopted position of the University on the issue of reclamation in Dumaguete City. 
For the past 40 years and up to the present, Silliman has been a leading institution in marine conservation in the Philippines. Studies made by Silliman scientists have determined that reclamation projects, such as the one being currently proposed by the City Government of Dumaguete, will cause damage and disruption of marine ecosystems not only in Dumaguete City, but also in adjoining areas. Coastal longshore currents will erode beaches through scouring and make adjacent areas shallower through accretion over time (example, Silliman Beach and Agan-an, Sibulan after the runway was extended towards the sea through reclamation). Presently, Dumaguete has four functional marine protected areas (MPAs), established several years ago with the technical assistance of Silliman, in the barangays of Bantayan, Lo-oc, Mangnao and Banilad. These MPAs are part of a system of protected coral reefs, seagrass beds and soft-sediment ecosystems in Negros Oriental that is meant to boost fisheries productivity, conserve marine biodiversity and support tourism. They are thriving with various species of marine life and are now in danger of being destroyed. 
Moreover, active fault lines exist near Dumaguete, particularly the Sibulan fault. Scientific studies have shown that reclaimed land is prone to the phenomenon of liquefaction in the event of earthquakes. Liquefaction is the reduction of strength and stiffness of soil caused by earthquake shaking. Such a phenomenon endangers the lives of people. 
There are other scientific, technical, social, economic and ecological reasons that do not support the proposed reclamation project of the City Government along the coastline of Dumaguete. 
The Mission Statement of the University declares that Silliman, being a leading Christian institution, is "committed to total human development for the well-being of society and environment." The Environmental Principles, Policies and Guidelines passed by the Board in 2018 also states that Silliman is committed to "the prevention of environmental pollution, the conservation and enhancement of our natural resources, and sustainability." 
Accordingly, the Board of Trustees re-affirms the position of the University opposing reclamation projects along the coastline of Dumaguete, not only what is being currently proposed by the City Government, but also those that may be proposed in the future.